Smart Lighting | LpS Digital | EnOcean

|
Jun 14, 2021
Lecture: Smart Lighting in Times of Covid
Smart lighting systems have the potential to close the gap between lighting control and building data analytics. Data – such as space occupancy – that was previously used only to control the lighting itself, is now available for additional services. The agility of wireless smart lighting systems removes previous restrictions for re-configuration and re-purposing to new, unexpected, and therefore unplanned use cases.
Lecture: Smart Lighting in Times of Covid
Using data to address the unexpected
23 June, 10:00 AM CEST (approx. 45min)

The recent Covid pandemic is such use case. It surely was unexpected and few – if any – new buildings had been built with such situation in mind. It provides an illustration of the importance of designing systems such as lighting controls not as fixed function, fixed purpose designs but rather as flexible and agile systems that can be quickly adapted to meet expected and unexpected requirements.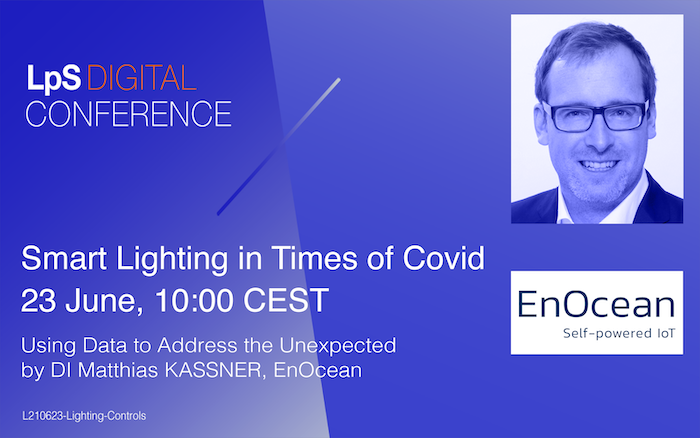 This presentation will examine the role which wireless smart lighting systems can play – and in fact do play – to address the challenges of today. It will describe typical use cases and benefits and provide practical examples of how such systems are used today to address the unexpected.
KEY LEARNINGS
Control systems evolve from single purpose silos to generic, data-driven systems. Their design must be flexible and extensible as some future use cases will be unknown.
Lighting systems have a central position in smart buildings since they usually provide the highest density of nodes and sensors.
Access to simple information – such as occupancy statistics – can make a huge difference both for expected and unexpected use cases. This was previously not always considered for making RoI type of decisions.

Dipl. Ing. Matthias KASSNER, Vice President Product Marketing
Matthias Kassner is responsible for defining highly innovative future EnOcean products and product marketing activities for the current portfolio. Before joining EnOcean, Matthias worked 12 years at Texas Instruments (TI) in various positions ranging from Wireless Field Application Engineer to EMEA Product Marketing Manager for TI's Application Processor portfolio. Matthias holds the degree of Diplom Ingenieur in Electrical Engineering from Technical University Ilmenau. 
___
© 2021 LED professional / Luger Research e.U.