Lumileds | LUXEON 2835 | SSL | Featured

|
Feb 23, 2022
Are your 2835 LEDs Delivering Value and Performance?
Globally, the 2835 LED is one of the most widely used LEDs – many billions are sold annually – and they find their way into an incredible array of indoor applications and luminaires. So, it's unsurprising that customers are seeking differentiated performance options and reliability that allow them to finely tune offerings to achieve specific application, efficiency, and cost objectives. To meet this growing demand, Lumileds is tripling the LUXEON 2835 Commercial 3 Volt options for lumen and lumen/Watt in 80 and 90 CRI; it's adding LUXEON 2835 Commercial 6 Volt parts that allow for fewer parts and denser arrays when needed; and it's highlighting technical performance that proves the Lumileds ongoing commitment to product quality and reliability.
LUXEON 2835 Commercial Proves Lm/W and Lm/$ Don't Come at The Expense of Performance and Quality
Continued expansion with new 3- and 6-Volt options highlight Lumileds attention to differentiated customer needs
"We're inviting anyone using a 2835 LED to just take a moment and compare the specs of their current LED to LUXEON 2835 Commercial," said Product & Marketing Manager Ryan Dong. "We know that lumens, lumens per watt, and lumens per dollar at the top of every OEMs list, and we're confident that in this regard, our performance is as good or better than any other. And when it comes to critical technical specifications, we think LUXEON 2835 Commercial stands above the rest. If there are better solutions other than another 2835 LED from Lumileds, we haven't found that data publicly available."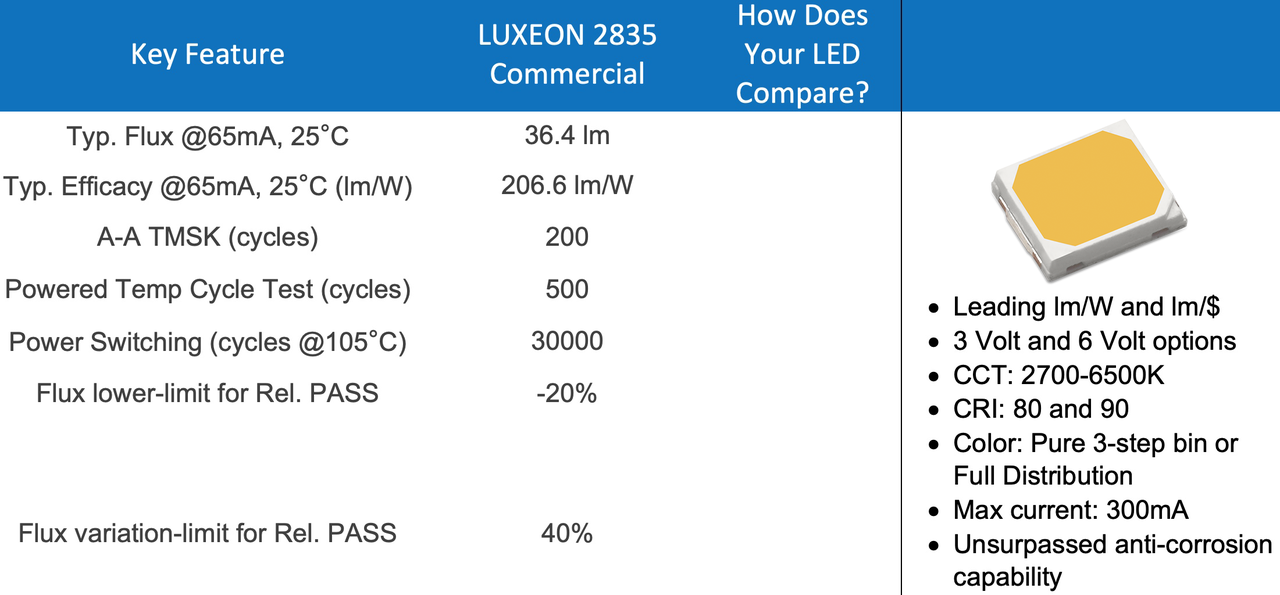 Complete specifications and information for LUXEON 2835 Commercial can be found on the Lumileds website and is available directly from Lumileds' global distribution network.
About Lumileds
Lumileds is a global leader in OEM and aftermarket automotive lighting and accessories, camera flash for mobile devices, MicroLED, and light sources for general illumination, horticulture, and human-centric lighting. Our approximately 7,000 employees operate in over 30 countries and partner with our customers to deliver never before possible solutions for lighting, safety, and well-being. To learn more about our company and solution portfolios, please visit https://lumileds.com.
For further information, please contact:
Steve Landau, Director Marketing Communications
+1 408-710-4090
___
© 2022 LED professional / Luger Research e.U.