Webinar | Store Lighting | Featured

|
May 12, 2021
WEBINAR, May 20th – Luxury Store Lighting 101: Innovation, Design, Sustainability
This webinar will discuss key aspects of lighting for store locations representing sophisticated retail brands. The focus will be given to the efficacy, quality, design and sustainability of a lighting scheme. The complete lighting supply chain is served by the webinar.
NICHIA, together with Louis Vuitton Moët Hennessy (LVMH), Formula Luci and Metis Lighting will deliver expert guidance on high-end retail lighting.

Thursday, May 20th, 2021
08:30 AM (NewYork/Detroit)
01:30 PM (London)
02:30 PM (Amsterdam, Berlin, Paris, Rome, Stockholm, Vienna)
04:30 PM (Dubai)

For high-end retail spaces, the webinar will provide guidelines on:
Designs based on brand alignment

Fixtures that work best

Effective LED solutions

Quality, efficiency and sustainability

The expert guest panel includes:
Nicolas Martin, sustainable store planning manager, LVMH
Claudio Scaroni, corporate client manager for FLI and FOLIO
Paolo Giovane, senior lighting designer, Metis Lighting
Alessandro Afeltra, lighting division manager, NICHIA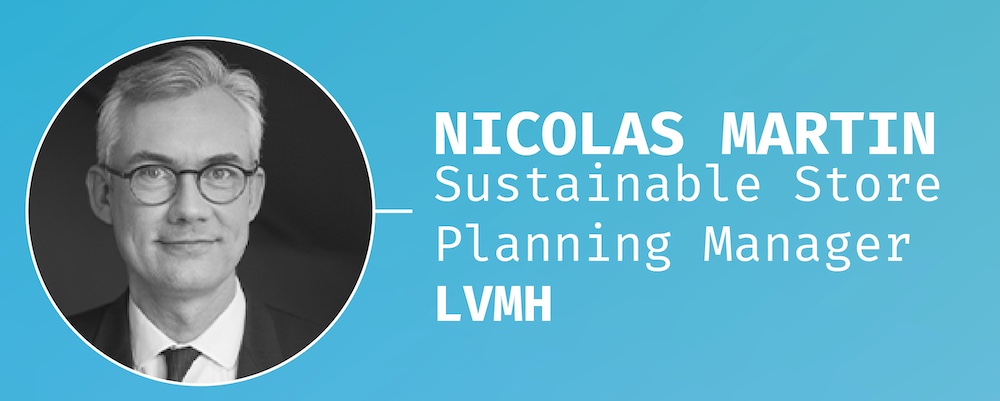 Nicolas is an interior architect. He graduated from Camondo school, based in Paris, in 1998. He worked in the design agency of Sylvain Dubuisson for 10 years, and 5 years at Dior Parfums as Worldwide Visual Merchandiser. At Dior, he oversaw the Group's first full-LED store at Galeries Lafayette in Paris. Nicolas joined the environment team in 2013. The objective being to reduce the energy consumption of the stores, without compromising quality, he started a program called LVMH Lighting with Christian Galichon, the Group's CPO. Since 2015, Nicolas has been developing the LIFE in Stores guidelines, our rating system. This became the Stores Awards in 2016, 2018, and now, in 2020. This rating system is covering all the topics of green Architecture. The next step is to train and influence all architects of the Group and to innovate in the field of smart building technologies. In March 2021, Nicolas becomes Sustainable Store Planning Manager for the group.


Claudio Scaroni, holds a technical degree in Electronic, is in the lighting business since the 2001. He worked for luminaire manufacturers such as Targetti and ERCO, where he was responsible for projects in architecture, churches and cathedrals as well as luxury retail respectively. He founded his own company Claudio Scaroni Development (CSD SRL) and supports business development at FLI and FOLIO, with focus in the field of lighting solutions for luxury retail. Claudio manages the entire project development processes, from the definition of the technical solution with the specifiers, up to the supply to the contractors.

Born in Milan in 1971, Paolo is trained in Industrial design and specialized in lighting design. He is Senior member of the Italian Association of Lighting Professionals (APIL) and holds the Lighting Industry Federation Certificate (LIF). After a prolific career in important lighting design studios (Equation Lighting Design, SKK Lighting, Liteq and others), he joins Metis Lighting in 2007. Ever since, he makes part of the significant growth of the practice, leading various lighting projects worldwide from interior spaces to big scale infrastructures, like the New International Hamad Airport in Doha.  Having collaborated with the most renowned Retail brands (Dior, Bulgari, LV, Alexander McQueen, Sotheby's, Graff etc.), he represents an expert on the field of sophisticated and highly technological lighting solutions, as well as complicated and innovative design challenges. He coordinates a large team of lighting designers handling a project from its conception to final commissioning. While working in tandem with famous architects and interior designers (Zaha Hadid, Antonio Citterio Patricia Viel, Peter Marino), Paolo matured a wide skillset balancing technology, high quality aesthetics and project management, capable of enriching the final design artefact with meaningful lighting.


Alessandro Afeltra is a Lighting Division Manager at NICHIA Europe.  With several years of experience into the lighting and display markets he developed strong knowledge into high end retail lighting, street lighting and high power density applications. With Electrical engineering background and previous work experience at a major Japanese cameras and optics manufacturer he refined combined consciousness of light quality, photochromatic balance and harmonic lighting perception".

A knowledge boost on: Designs based on brand alignment  |  Fixtures that work best  |  Effective LED solutions  | Quality, efficiency and sustainability
Join the panel of experts in a free live webinar that includes a 20+ minute live Q&A. There will be a live Q&A session moderated by arc editor Matt Waring.

___
© 2021 LED professional / Luger Research e.U.