High Power LEDs | Lumileds | LUXEON 7070 | Featured | LED

|
Oct 01, 2021
When Very High Light Output and Efficiency are Required for Demanding Applications, New LUXEON 7070 Checks All the Boxes
More lumens, higher efficacy, and lower system costs are the driving forces behind new designs for a broad range of indoor and outdoor high light output applications. Lumileds new LUXEON 7070, introduced today, is designed to outperform similar lead-frame and ceramic high-power solutions with leading efficacy and light output in a robust, small surface mount package. For any new or redesigned street light, high/low bay, horticulture, or other application that requires many thousands of lumens, LUXEON 7070 will be the clear choice.
With up to 2000lm per LED, LUXEON 7070 delivers the power, efficacy and solution cost reductions luminaire manufacturers need
"Across seven critical parameters, lumens per emitter, lumens per Watt, lumens per dollar, system cost, optical compatibility, ruggedness and lumen maintenance, LUXEON 7070 is the clear best overall value for new designs," said Noman Rangwala, Product Line Director at Lumileds. "We've worked in advance with Future Lighting Solutions, LEDiL and Carclo to develop asymmetric and symmetric optical systems available at launch so that manufacturers can immediately take advantage of LUXEON 7070's power and robustness." 
LUXEON 7070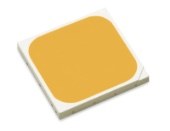 CCT: 2200 – 6500K

CRI: 70, 80, 90
12V forward voltage
Corrosion resistant treatment
High sulphur tolerance
7mm x 7mm footprint
Typ.1522 lm 184 lm/W
@700mA, 25°C, 4000K, 70 CRI 
Engineers from Lumileds and Future Lighting Solutions have already established a comprehensive ecosystem including drivers, heatsinks, optics, and technical know-how to support LUXEON 7070 solution design and production. Evaluation kits are available with driver and optics for turnkey evaluation. 
LUXEON 7070 is a game changer. Compared to a typical 5050 LED, a LUXEON 7070 delivers three times the light output. This allows for lower LED density that can reduce the size and cost of the PCB, optimize the heatsink, and potentially the optical system as well. 
LUXEON 7070 utilizes a special treatment designed for superior lumen maintenance and corrosion resistance in punishing conditions like atop a high mast, or in high humidity. It is hot color-targeted (85°C), binned for 3 and 5 step MacAdam ellipse and is immediately available in a full range of CCTs: 2200K to 6500K and 70, 80, or 90CRI.
LUXEON 7070 is immediately available from Future Lighting Solutions and Lumileds distribution network.
About Lumileds: Lumileds is a global lighting solutions company that helps customers around the world deliver differentiated solutions to gain and maintain a competitive edge. Together with its customers, Lumileds is making the world better, safer, more beautiful—with light. Lumileds partners with its customers in the automotive, mobile, IoT and illumination lighting sectors and collaborates with them to create innovative lighting solutions and to push the boundaries of light.
___
© 2021 LED professional / Luger Research e.U.