White Paper | Color Rendition | Featured | SSL
WHITE PAPER: Achieving Optimal Color Rendition with LEDs
A Review of Various Models for Classifying Light Source Color Rendition and Guide to Using LEDs to Achieve Fidelity Color Rendering for Retail and Other Indoor Environments.
One of the essential functions of human vision is perceiving color, which is an important source of information about our world. For example, the bright red color of a ripe strawberry tells us it is ready to eat. Humans see color as a function of reflectance—specific wavelengths of light reflected into our eyes. Lighting profoundly affects how we see color by either accentuating or altering how various wavelengths appear.
This White Paper explains color rendering—how light affects the appearance of the colors we see. It describes the various systems used for measuring the color rendition capability of light sources, such as the Color Rendering Index (CRI), Gamut Area Index (GAI), TM-30, and more. We compare these methods and discuss how they have evolved to provide more accurate assessment of LEDs for different lighting needs.
By properly applying these indices, you can create the right lighting scheme for virtually every type of environment—from retail stores to surgical operating rooms. We describe the superior color rendition capabilities of Luminus LED products, including Standard LEDs, SensusTM, PerfectWhiteTM, Hospitality COB SeriesTM, and SaludTM, and how they help architects and lighting designers to meet specific functional lighting objectives.
Authors: Paul Sims, Yi-Ying Lai, Tom Jory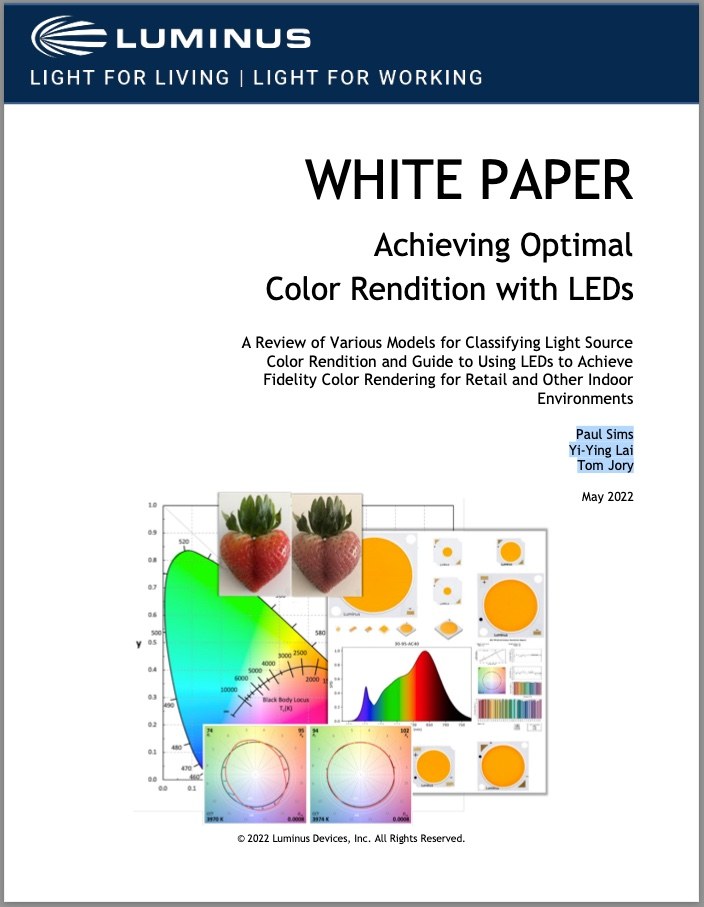 ---
© 2022 Luger Research e.U. – Institute for Innovation & Technology