White LEDs | Cree LED | Featured | SSL

|
May 02, 2022
XLamp® XD16 Premium White LEDs: Improved Optical Performance
XLamp® XD16 is Cree LED's newest Extreme Density LED, delivering up to 5½ times higher lumen density than Cree LED's previous generation of high-power LEDs. The ceramic based XD16 LED package addresses challenges with luminaire manufacturing, thermal design, optical design and reliability that have been experienced with competing small form factor LEDs.
XD16 LEDs are available in two versions: Standard and Premium White. The Standard version is optimized for tightly-packed arrays of multiple LEDs. The Premium White version upgrades the optical profile of the LED adding superior performance with secondary optics and reduced between-LED cross talk. XLamp XD16 LEDs are optimized for all lighting applications that require extreme levels of lumen density, including indoor directional, portable and aftermarket automotive.
Available in outdoor white and 70

-

, 80

-

and 90

-

CRI white 

ANSI-compatible chromaticity bins 

3

-

step and 5

-

step ANSI bin options 

Binned at 85 °C 

Maximum drive current: 2 A 

Low thermal resistance: 1.8 °C/W 

Wide viewing angle: 120° 

Unlimited floor life at ≤ 30 ºC/85% RH 

Reflow solderable

-

JEDEC J-STD-020C 

UL

®

recognized component (E349212)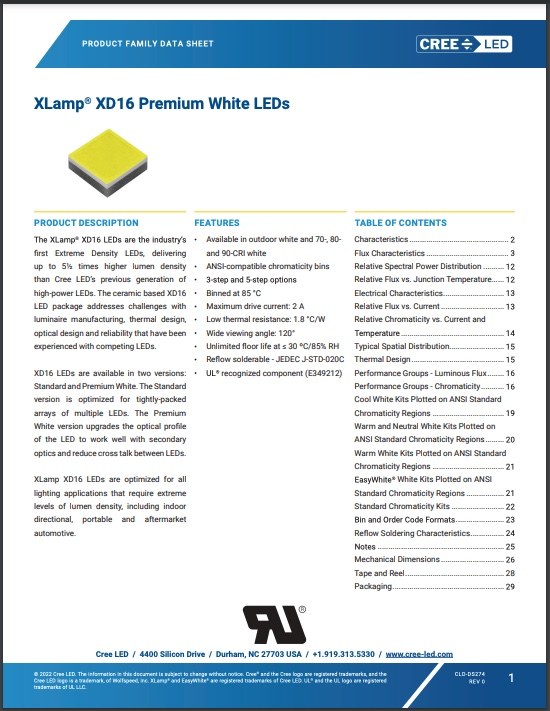 Contact info: 
Cree, Inc.4400 Silicon Drive, Durham, North Carolina 27703
Tel: +1 919-313-5330, US toll-free: 877-206-5657, 
Outside the US: 1-919-313-5330
___
© 2022 LED professional / Luger Research e.U.