Full-Spectrum LEDs | HCL | Yujileds | Featured

|
Jun 17, 2021
YUJILEDS Introduces AP Series Full-Spectrum LEDs
Full-spectrum technology enters a new era. YUJILEDS releases the AP Series full spectrum LEDs powered by the company's advanced phosphor and packaging technologies. The new product features an ultra-homogeneous spectrum achieving the closest match with the spectrum of natural sunlight in the industry.
This full-spectrum technology is a significant development in LED lighting as YUJILEDS focuses on high-performance, value-added LED technologies and solutions.
98% spectral similarity to natural light
With spectrum coverage from 400nm to 730nm, the AP Series LEDs come in three standard spectra of 2700K, 5000K, and 6500K corresponding to the CIE illuminants of A, D50, and D65, respectively. Compared to these standards, the AP spectra achieve 98% similarity within one compact package (3030), which is unprecedented for all LEDs in the market.
The spectra of YUJILEDS AP Series LEDs are smooth and continuous. There are no longer strong peaks or obvious gaps like a regular LED.

Industry-leading and ultra-stable color rendition
YUJILEDS AP Series LEDs deliver satisfying results in various metrics. For TM-30, the most comprehensive and convincing method for color rendition, the AP Series gives the Rf 98, Rg 101, and 99 color fidelities above 95 and average 98; For CRI, the product achieves R1-R15 values above 90 and average 97, and is stable on different color temperatures.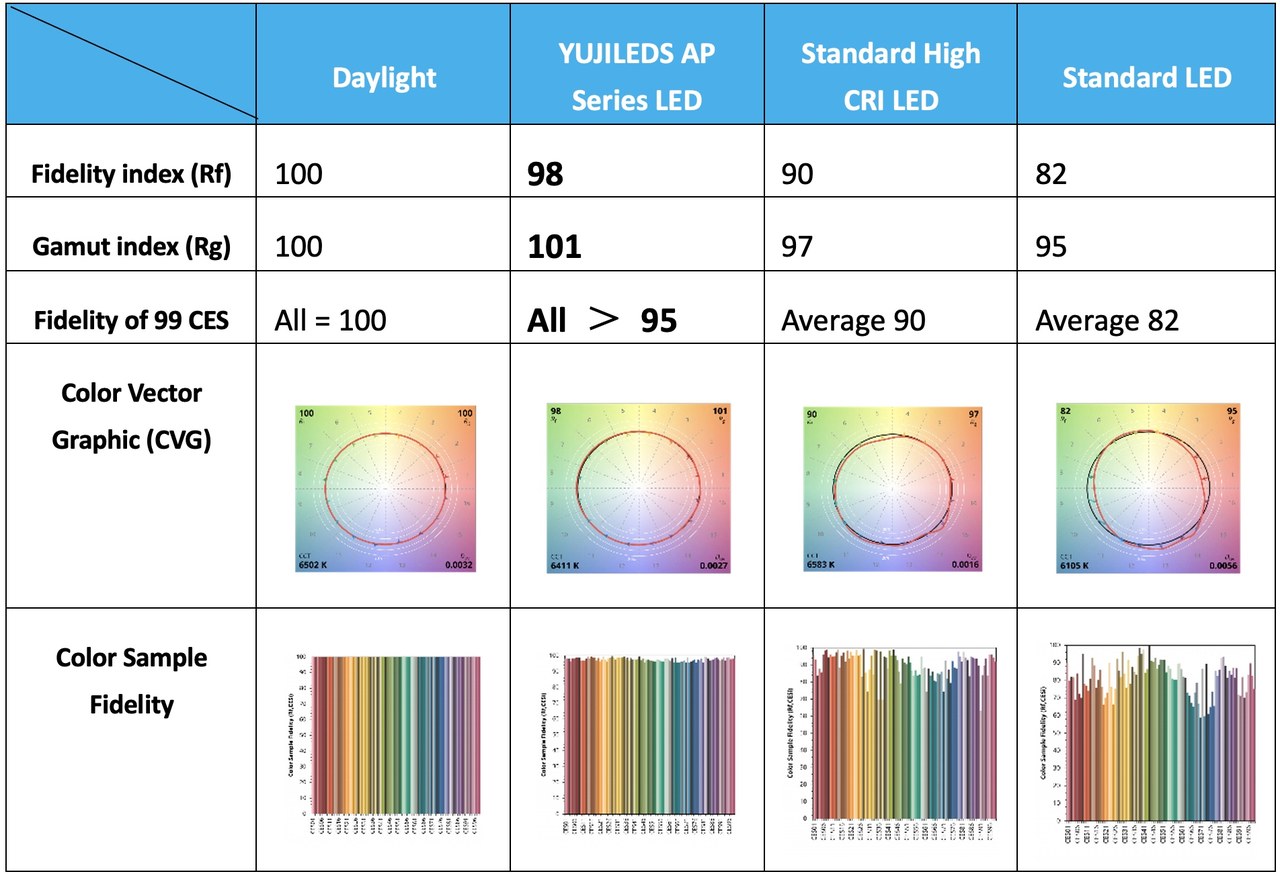 Halogen and daylight are the most frequently used color temperatures in the broadcasting lighting environments, with the superb homogeneous spectrum, the AP 2700K (TLCI 96) and 6500K (TLCI 99) are not compromised in the quality to ensure the correct colors on cameras.

For more information about the YUJILEDS AP Series full spectrum LEDs, please visit https://yujileds.com/product/ap-series-led/, or email on
info@yujigroup.com.
About YUJILEDS
Yujileds has a group of people who are passionate about creating maximum value for our customers. We are dedicated to developing LED phosphors, LED light sources, and final products and have accumulated unique experience in different projects. Currently, the company gathers more than 30 experts from various fields such as semiconductor, chemistry, optics, photoelectricity, circuitry, materials and color science, etc.
In the commercial markets, we are committed to providing comprehensive solutions for specific lighting applications by gaining an in-depth understanding of these markets. Our goal is not simply to provide LED products but to grow with our customers and share the business's success.
For more information about YUJILEDS, please visit www.yujiintl.com.
___
© 2021 LED professional / Luger Research e.U.