Event Post Show Report

|
Nov 15, 2017
19th CIOE - China International OPTOELECTRONIC EXPO
57,348 visitors from 67 countries and regions attended CIOE 2017, which is an increase of 13% compared to last year. 110,000m2 exhibition area presenting the entire optoelectronic ecosystem. 1,668 exhibitors from 34 countries and regions attended, which is an increase of 6% from last year. 3,653 optoelectronic brands were presented, which is an increase of 15% compared to last year.
What did our visitors say?
"I attended CIOE since its first edition. I witness CIOE 19 years' growth and have deep feeling for this event. Sincerely wish CIOE become better and better and make more contribution to China's as well as global optical communication industry." Liangzhen Du, Professor, ZTE
"We are very happy to be here at CIOE. The show is totally big. It also combines the whole supply chain. We see all the different potential suppliers and also many of the potential customers." Jose Pozo, Director of Technology & Innovation, European Photonics Industry Consortium (EPIC)
"It is my first time to attend domestic technical exhibition. Thanks a lot to CIOE's VIP Buyer Face To Face Sourcing Meeting. We achieved a lot from this matchmaking meeting." Jinsong Ren, CTO, Precision Manufacturing Center, Huawei
"CIOE is more like a parent who summons annual home-returning for all industrial players to gather together, to review the past and to look into the future. On the occasion of the upcoming CIOE's 20th anniversary, I wish CIOE grow stronger and bigger and have a bright future." XinYe Lou, Chief Optics Scientist, Baofeng Mojing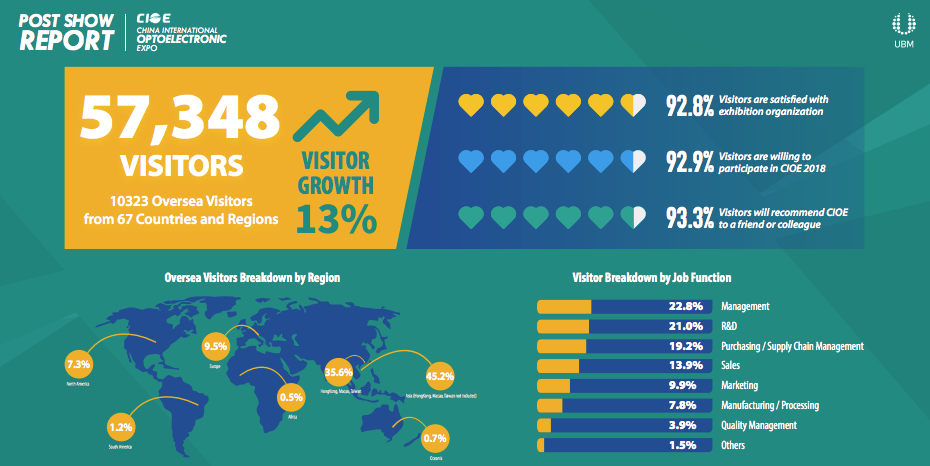 What did our exhibitors say?

"CIOE has become a very big exhibition and I guess it has become one of the most important event in the world in optoelectronic industry. It is a very important exhibition for the German companies as well, and I guess for companies in photonics filed worldwide." — Wenko Süptitz, Head of Photonics Division, SPECTARIS
"China is a big market. It's become very significant in the past few years. We have already been here for more than 4 years. We meet our customers here so this event is very important for us to explore Chinese Market. It's great potential business for us." — Hanan Shumacher,Senior Director Marketing and Product Management, Mellanox
"We always pay high attention to CIOE because it's largest optoelectronic exhibition in China, even in the world. We've been attending CIOE for more than 10 years. We promote our brand to the whole world and win the reputation for Made-in China at CIOE." — Zhenpeng Chen, Vice President, Guangzhou SAT Infrared Technology Co. Ltd (SATIR)
"Mitsubishi Electric has participated CIOE for 7 years. We met more customers here year by year. Along with China's optical communication market's growth, we believe Chinese market will become the most important market in the word." — Atsushi Sugitatsu, Head of Optical Component Department, Mitsubishi Electric
"CIOE 2017 emphasized laser technology and intelligent manufacturing with a featured sub-expo. It's a very smart topic which well-matched the theme of Made-in-China 2025. Many laser manufacturers are exhibiting at CIOE 2017!" — Xiangdong Cao, President, Wuhan Hongtuo Newtech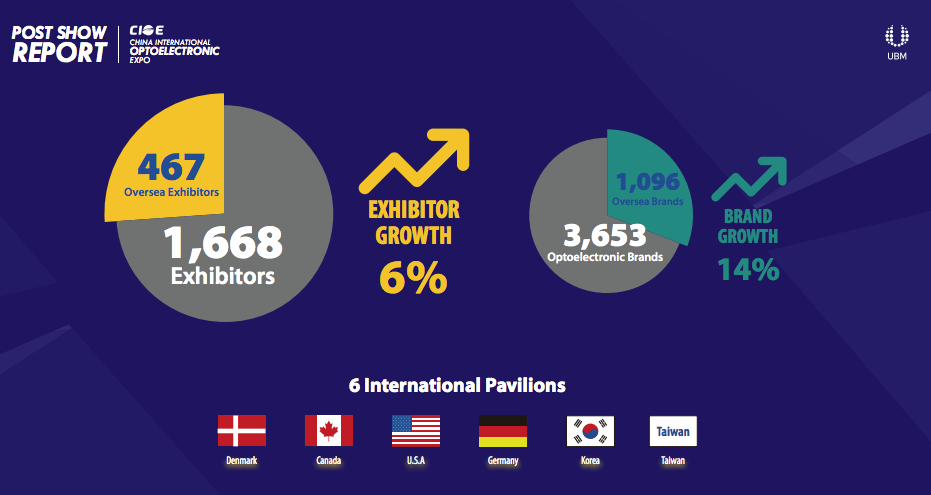 Concurrent Conference  - Connect You to the Future of Optoelectronics
China International Optoelectronic Conference (CIOEC) is a professional symposium held concurrently with CIOE. The conference provides a unique exchange platform for optoelectronics industries, researches and institutes. The topics will cover the full spectrum of optoelectronics industry, including optical communications, optical manufacturing, optical fiber sensing, AR/VR, infrared applications, laser technologies, data centers, etc.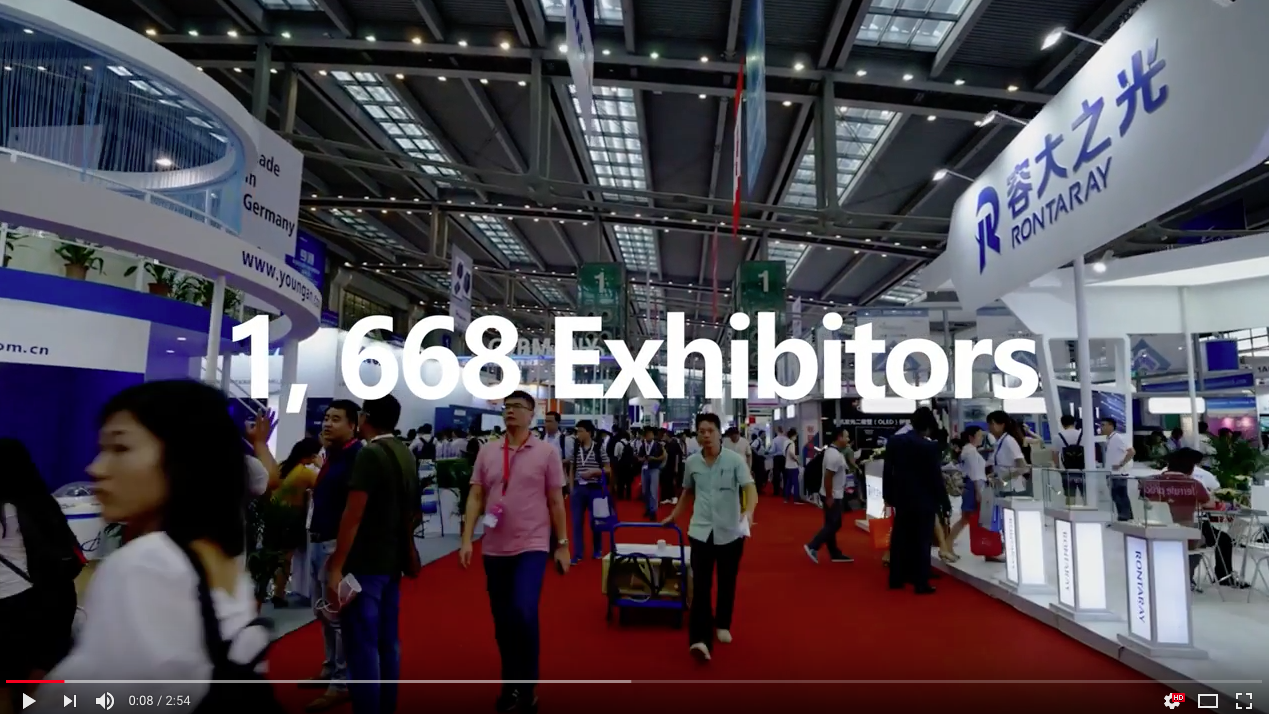 https://www.youtube.com/watch?v=UsLC_ErOa7Q&feature=youtu.be