Products, Materials + Tools

|
Apr 20, 2011
TESS Announces Two 20 Watt LED Bulbs Featuring High Lumen and High CRI
TESS (Top Energy Saving System Corp.), a leading LED lighting developer and manufacturer in Taiwan, has a debut on Taiwan's emerging stock market on April 20, 2011 and reveals two remarkable high efficiency LED bulbs to market: one is 20 watt 2000 lumen LED bulb and the other is 20 watt dimmable LED bulb. This new 20 watt 2000 lumen LED bulb is cool white version with small size and high lumen output and presents a superior luminous efficiency of 100lm/W. The other 20 watt dimmable LED bulb is warm white version and has a CRI of 90 that can accurately display the vividness and color variation of objects, its high lumen output is compliant with Japan Industrial Standards (JIS) for 100 watt incandescent bulb as 1520 lumens.
Technical Data: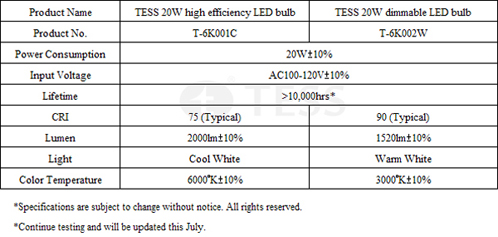 These two LED bulbs are specifically designed to meet the demands of high-end customers; both are equal to 100 watt incandescent bulb. To provide unrivaled quality and performance, TESS utilizes light source by CREE to keep high brightness and special circuit design allows stable dimming ability. The shape of two bulbs employs patented design originated by TESS which has been granted in United States and patent of other countries is currently under application.
"Give this bulb a closer look at its shape, the first thing you notice would be many openings on the white body," the President of TESS Sunny Tsai explained. "Heat has always been a major problem that reduces life span of LED bulbs, with this unique ventilation gaps to circulate air, we can effectively dissipate heat and prolong the lifetime of LED bulbs."
These two newly announced 20 watt LED bulbs feature small size, light weight and high lumen output and are scheduled to mass production this July. So far TESS has developed a completed residential lighting solution to replace incandescent bulb from 30 watt to 100 watt and even CFLs. TESS also invents dimmable series and color changeable series for different scenario.