Commentary

|
Aug 05, 2015
LED Innovation will Offer a Human-Centric Smart Lighting Platform Enabling Enterprise IOT
After a century of analog electrical light, the lighting industry has spent the last decade in transition to digital light sources; LEDs, sought to replace the tungsten filament. LEDs are now embedded in all market segments in both residential and commercial applications. The predictions of early LED pioneers such as Dr. Roland Haitz have become reality today: more lumens delivered at a lower cost with increasing reliability and quality of light attributes. As a result, the world of electrical light has accepted that LEDs will be its primary light source and contribute to saving significant electrical energy, reducing carbon emissions and providing increased safety and comfort in our homes, at work and even while commuting in traffic.
Today, we are on a fast track to the commoditization of light sources using LEDs. What we have yet to realize is that this change offers an enormous opportunity. The so-called digital lighting revolution is about to take place and early efforts in the market are already showing promise. Technology evangelists, the hi-tech start-up world and large technology firms equally are evaluating the opportunities at the intersection of the digital light sources and the internet of things (IoT). Market and technical requirements are in flux without standards and the direction is still not clear. How exactly will the market for intelligent lighting evolve and how quickly will it become commonplace?
At conferences around the world such as the LED professional Symposium and LightFair International, there are many presentations that focus on how IoT will advance intelligent applications such as human-centric lighting in combination with connectivity, sensors and data. A human-centric smart lighting system will require broad awareness with a deep level of systems understanding in order to provide the environmental and situational criteria that enable decision-making from a valuable smart lighting system. Algorithms and analytics will be the key differentiator to leverage data that are generated from sensors.
The goal is a seamless link between LEDs and selected use cases through secure and scalable connectivity of all established wireless and wired standards, the fusion with sensors (internal and external), processing power, memory and application programmable interfaces (APIs). Such innovation will be enhanced by a state machine embedded in the core of a new platform. It will offer both the lighting OEM community as well as the application developer community the option to customize services tailored around end-user needs, ultimately to develop additional value and business opportunities far beyond energy savings to their customers.
We believe that the realization of smart lighting will require a new and holistic platform approach and an ecosystem of sensor providers, analytics specialists and app developers. No longer can we think of a light source that is connected to other things, we must instead think about a connected platform that, among other things, also delivers light. In the near future, appliances that deliver light will also connect to the HVAC, printers, the security system and other building and city functions. Companies like Samsung Electronics are addressing this thesis by developing a smart lighting platform through close collaboration with sensor, analytics and lighting partners as well as leveraging a wide range of divisions that operate in different markets. It is a holistic approach to an opportunity that will ultimately deliver a true smart platform that forever changes the way we think about light.
Frank Harder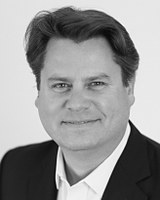 Frank Harder is the Vice President of Business Development at the Samsung Strategy and Innovation Center in Menlo Park, California. He holds an M.S. degree in Electrical Engineering from the University of Düsseldorf and graduated from the Octagon Leadership program at the Wharton University of Philadelphia.