LpR Article

|
Jul 04, 2016
LED Market and Development Trends from the Point of View of a Full-Range Trader in Lighting by Everlight
In an interview with LED professional, Ms. Beate Jungwirth, Director of Marketing & Communications and PR at Everlight and Dr. Christopher Keusch, Senior Sales Manager at Everlight, talk about the market and development trends in the area of LEDs. The experts also discuss Everlight's focus at the LED professional Symposium +Expo 2012 which takes place in Bregenz, Austria from September 25th to 27th.
LED professional: Costs are still a deciding factor when it comes to market acceptance. How do you assess cost trends in the component business?
Everlight: The newest market trend in general lighting moves in the direction of a higher cost pressure for LED lamps. In connection with this is the appeal from lamp manufacturers for a cost reduction of LED components in order to meet the requirements for the cost pressure for the end product. As a consequence this will create greater market acceptance from the consumer.
The so-called mid-power LEDs with wattages between 0.4 W and 0.5 W are an inexpensive design between low power LEDs (0.06 W to 0.2 W) on the one side and high power LEDs and Chip-on-Board LEDs (COBs) on the other. They make the cost reduction trend possible in relation to a future-proof lamp design. The origin of the mid power LEDs is the backlighting applications for flat screens.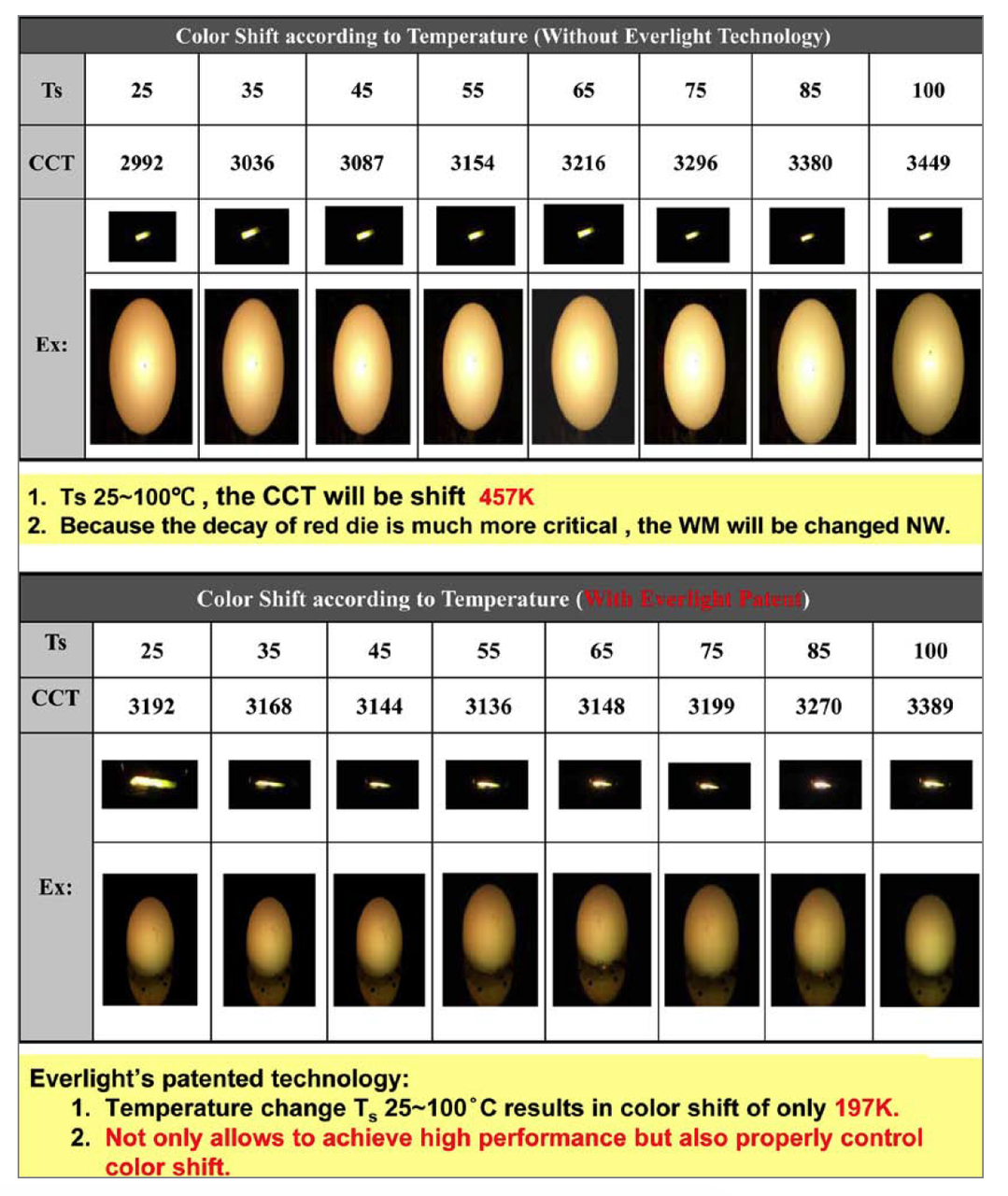 Figure 1: Everlight's proprietary technology reduces the temperature dependent color shift of high CRI white array LEDs that use phosphor converted white LEDs combined with red LEDs. The max. color shift over temperature is 200 K within a Ts temperature range from 25°C to 100°C
LED professional: Can you give us some examples of the main application areas for mid-power LEDs?
Everlight: Mid-power LEDs can be implemented very well in all non-directional retrofit solutions. They are predestined for linear LED applications. Traditional low-power LEDs with low wattage of up to 0.1 W and a power consumption of 20 mA are being used for tube light and strip light applications in order to recreate established fluorescent lamps with the required luminous flux and the desired homogeneous light emission. Tube light manufacturers are now looking for PLCC solutions in the mid-power segment with higher brightness and wattage. There are two reasons for this: First of all, requirements in regards to the brightness of the light source are generally increasing but the existing PCB layout and the mechanical dimensions of the semiconductor cannot be changed. Secondly, the number of LED components per tube light should be reduced while keeping a minimal light flux.
LED professional: Bulb replacement products still have the largest sales figures. What do you think about the market numbers and what are the arguments that speak for mid-power solutions?
Everlight: In 2013 there are supposed to be an estimated 257 million so-called A bulbs (LED-light bulb replacements) sold. With the continuous cost pressure, manufacturers of omni-directional (spherical beam) lamps also have the choice of replacing the high power LEDs with wattages of 1 W or more as well as COBs with the much cheaper mid power LEDs. These provide an excellent balance of luminous flux, power consumption and package dimensions. When assembled suitably on the PCB, optimal light distribution, light intensity and power dissipation is achieved.
LED professional: Cost pressure seems to be everywhere. From your point of view, what specific market and technology trends should be looked at right now?
Everlight: We see the main emphasis on PLCC LEDs with a high CRI value of >85 in the warm white color temperature area. This is a subject that is especially significant in Europe when it comes to interior lighting and has become even more important than efficiency!
LED professional: Everlight has developed a new system for color stabilization which you are planning to present at the LpS 2012. Could you explain the concept to us in a little more detail?
Everlight: The high efficiency COBs based on MCPCB have an intelligent color temperature stabilizer of absolute 200K over a wide temperature range of 25°C to 100°C (the so-called hot-cold factor). At the same time, underneath the phosphor layer, in addition to the blue LEDs, red LEDs have been inserted. Their emissions are regulated by temperature dependant resistors. This method provides for high color temperature stability of <200 K over a wide solder point temperature range of 25°C to 100°C. This temperature stabilization increases the color spectrum in the red range with a high CRI value of >80 is ensured.
LED professional: What deviations occur in LED systems without this compensation?
Everlight: The measurements with standard systems without color compensation have shown a deviation of the color temperature, the CCT, of about 450K over the same temperature range. The color changes in the direction of higher color temperature; from warm white to neutral white.
LED professional: Was the system comparison carried out on the basis of combined blue and red LEDs? There are also other methods where the red spectrum can be increased, like a 3-band phosphor. It would also be interesting to hear what influence the solution has on the CRI.
Everlight: The CRI value is more than 80 whereby the R9 value often shows the more important factor. The combination with a red LED offers a high R9 value and also yields a good balance between efficiency, CCT stability and the R9 value.
LED professional: What new products will Everlight be showing at the LpS 2012?
Everlight: In order to meet the requirements of the increasing demand for higher brightness and a wider range of PLCC housings, Everlight is going to present a large spectrum of new housing designs and wattages in the low and mid power segment in Bregenz. In Q3 and Q4 of 2012, the new products with the popular color temperature of 3000 K to 5700 K are going to go into mass production. The color temperature spectrum will then be gradually expanded to the entire ANSI range of from 2700 K to 6500 K.
The LEDs in the new 3020S series have a lower thermal resistance of only 50 K/W compared to the 3020 standard package and are therefore optimal for higher power applications. This version delivers a luminous flux of 9 lm to 14 lm (depending on the color temperature) at 30 mA and is especially suitable for light strips and panels. The 60 mA version, on the other hand, delivers a luminous flux of 15 lm to 27 lm and is also suitable for omni-directional or decorative lamps. The compact design of the 3020S allows for high packing density and small PCB measurements.
The same applies to the analog for the LEDs in the new 2323 series with a luminous flux of 45 lm to 52 lm.
LED professional: Everlight recently put the Shwo D series as a high power LED on the market. What developments have there been in the high power area?
Everlight: Everlight is going to present the new High Power LED from the Shwo D series on a ceramic substrate at 1 W at 350 mA with the popular dimensions of 3.5 x 3.5 mm in Bregenz. It is already in mass production with the color temperatures of 3000 K, 4000 K as well as 5700 K. Additional color temperatures in the ANSI range from 2700 K to 6500 K are going to be gradually added. Depending on the color temperature, the luminous flux ranges between 80 lm to 110 lm.
Typical applications for our high power Shwo D series are general industrial and commercial lighting, directional lamps (MR16, GU10, PAR) as well as spot lights.
LED professional: Do you offer products on a COB basis in this segment?
Everlight: Everlight presented the Chip-on-Board LEDs in the Ju series in May, 2012. They are based on a ceramic substrate with low thermal resistance from <1.8K/W. They have a power of 3.7 W and a luminous flux of up to 400 lm at color temperatures of 3000 K to 5700 K. With a CRI value of >80 and at the same time a higher efficiency of >100 lm/W, their overall performance is excellent. Additional 15 – 20W versions are being prepared for Q3/2012.
The COBs from the Ju series can (like all other COBs) be placed directly onto the heatsink using thermal conductive films without the SMT-process. This provides optimal heat dissipation, simple installation and reduced system costs. The COB Ju series provides a perfect light source for direct and decorative lighting for retrofits like MR16, GU10 or candle lamps.
Above all that, in Q4/2012 additional high performance COBs with performances of up to 40 W based on MCPCB will be presented. Like the versions from the ELCOB series that are already available, the 6.4 W and 8 W be equipped with color temperature stabilizers.
LED professional: Thank you for the interview.
Everlight: Thank you!