Resources | LpR Article | Research | Sustainability | Environment

|
Jan 15, 2018
Repro-Light - Looking for a Sustainable and Modular Luminaire Architecture
The Repro-light project aims to re-conceptualize the European lighting industry towards more sustainability and competitiveness in terms of production and time to market. This will be achieved through the implementation of modular luminaire architecture and a smart production scheme, demonstrated by the development of a reconfigurable customized LED luminaire designed to improve the customers' health.
The Project Objectives:
• Sustainable modular architecture: The luminaire will consist of building blocks (housing, LED module, optics), which will be stackable and can be reconfigured easily by the customers. The modules are programmable so not only the luminaire hardware (e.g. add or change light module, exchange optics, etc.) but also the software can be re-configured and updated (e.g. apply dynamic lighting) retroactively, even after it has been purchased.
• Human Centric Lighting: The luminaire of the future supports the well-being, health and performance of humans through optimizing the visual, biological and emotional effects of light, which is called Human Centric Lighting (HCL). Lighting parameters (intensity, light color) are varied to mimic the natural dynamic of daylight and invoke positive effects.
• Extended IoT Connectivity: Smart lighting increases the functionality of luminaires substantially through the collection of data (e.g. brightness, temperature, presence, etc.) and the connection to the Internet of Things (IoT) or building monitoring systems. The Repro-Light luminaire will be connected to the LiveLink system, the system of partner TX and will be able to adjust lighting parameters by itself by being able to collect and analyze data in an intelligent way.
• Industry 4.0 Compatible: The modular stackable architecture and the programmability of the Repro- Light luminaire for a higher flexibility towards the customers allows for lower production time and costs substantially. In the future, equal parts will be manufactured in high quantities at first and differentiation will only take place in the late stages of production by software, allowing more flexibility.
• Avoiding the programmed obsolescence: Through the integration of ICT-based components into luminaires the life cycle of LED luminaires has become substantially shorter - especially considering the long life time of the LEDs themselves. By providing the option to re-configure the hardware of the luminaire and update the functionalities of the luminaire through the software the Repro-light luminaire will not go "out of fashion". Furthermore, the LED module and the electronics can be disassembled separately, lengthening the life time of the luminaire and enabling re-use of the LED module in different applications.
Right from the beginning, the Catalonia Institute for Energy Research (IREC) was one of the driving forces for this project. Cristina Corchero, Head of Energy Systems Analytics Research Group and Gabriela Benveniste, senior researcher specialized in LCA, met with Arno Grabher-Meyer, Editor in Chief at LED professional to give him some background information on the project.
LED professional: IREC initiated this project and pushed the idea bringing together a very effective team for this research project. Can you tell us what the reasons were, what your expectations are, and when this idea was born?
Cristina Corchero: During the past 8 years, IREC has developed and implemented many projects related to innovative and intelligent lighting systems successfully. This time we wanted to go beyond technical challenges that this type of lighting presents when they are installed in highly demanding ambiences, and provide solutions that would answer to other requirements: sustainability, circular economy and fight against obsolescence. For this reason, IREC asked the Energy Systems Analytics group and the LCA team to provide their experience.
LED professional: Repro-Light is a research project that is now supported in the framework of the FOF-10-17: New technologies and life cycle management for reconfigurable and reusable customized products in the call Industry 2020 in the circular economy of the Horizon 2020 Work Program. The Repro-Light consortium has defined clear objectives with quite detailed features to be satisfied. Is there a dominating customer request that triggered the consortium to start this research or is there a general necessity to go in this direction?
Cristina Corchero: Definitely - more and more customers are requiring products that provide not only a technical solution to their requirements, but provide an experience and have added value. It is a fact that customers are willing to be an active part when purchasing any type of goods. Furthermore, the environmental consciousness is growing among end users. It is understood that we wish to keep our level of comfort, but not at the cost of the environmental.
LED professional: Please correct me if I am wrong: The FOF-10-17 call includes life cycle management which goes beyond modularity and also concerns recycling or disposal. Does your project also recognize this part, e.g. by looking critically on the used materials and layout? I am thinking, for example, of bio-degradable materials.
Gabriela Benveniste: Absolutely - life cycle assessment, a methodology that analyses all the phases of the life cycle of a product from an environmental perspective is going to be extensively applied from the design phase of the Repro-Light luminaries up to the end of life management. Different options of materials that fulfill the technical requirements but present lower environmental impacts will be proposed. This not only applies to those materials that apparently seem to have lower environmental impacts from the beginning, but also to those that can be easily recycled or reused at their end of their life.
LED professional: The defined goals sound pretty ambitious. Did you already define technology fields that are especially challenging to finding an appropriate solution or are the requirements equally high for all components and technologies of a luminaire system?
Gabriela Benveniste: We are considering different application fields. For instance, working and office environments are application scenarios that required specific lighting solutions but they need to be adapted to each user, depending on their working conditions (different schedules, type of work, presence of natural light, room temperature, etc.). Furthermore, these luminaires shall be easy to configure, easy to install and re-adapt if working conditions change. Another application field could be centered on the health and sanitary fields. Patients and elderly people are very sensitive to light conditions and there are many studies that prove that exposure to certain light frequencies can help them make a quick recovery. Again, these luminaires should be highly adaptable, as users may require different lighting options.
LED professional: In your features listing, you mention two key approaches for sustainability: Modularity and ICT (Information Communications Technology) based components. On the other hand this list includes features more related to the end-user requirements, including operators. These are IoT and Industry 4.0 functionalities as well as Human Centric Lighting (HCL). Are these requirements complementary or contradictory, being an additional challenge, or don't they have a strong influence on each other?
Cristina Corchero: We consider that these requirements are complementary and go hand in hand. From one side, this project aims at demonstrating how new IoT and industry 4.0 technology can help to improve the production times, provide high product adaptability and reduce energy and material consumption. On the other side, these requirements are aligned with the willingness of providing a new production paradigm that uses less to produce a high value product, and therefore are more sustainable from all perspectives.
LED professional: Until now, we have talked about technologies that are or have to be implemented in the luminaires. But finally these products have to be produced. In your project application for FOF-10-17, you are proposing a very young, still quite sophisticated manufacturing methodology, 3D-printing. Can you tell us something about this idea, and are there other sophisticated approaches in discussion?
Gabriela Benveniste: 3D printing technology is standing out as the fastest and cheapest manufacturing technology. It assures raw material savings which also implies energy and resources savings. Implementing this technology in a conventional manufacturing line was an objective that we have in mind to build a product that, with lower costs, could achieve good quality and reduced impact.
LED professional: During the project prototypes for different use-cases will be designed. Do you already have some use-cases in mind and why were these use-cases chosen?
Cristina Corchero: The specific cases are going to be defined during the project, but as a general idea, we consider that these lighting systems can be successfully implemented in offices (working ambience), with a specific demand of lighting or specific places where light is going to improve user life conditions.
LED professional: Thank you, I think this gives our readers a good insight into Repro-Light, but perhaps you could also give us an idea about your vision and expectations after the project ends. How will the results contribute to our lives?
Cristina Corchero: Our aim is to demonstrate that another way of producing is possible, combining both the technological innovations (3D printing, Industry 4.0), user requirements (functionality, customization, durability) and environment. Lights do not only provide a unique function, but they can also provide life quality.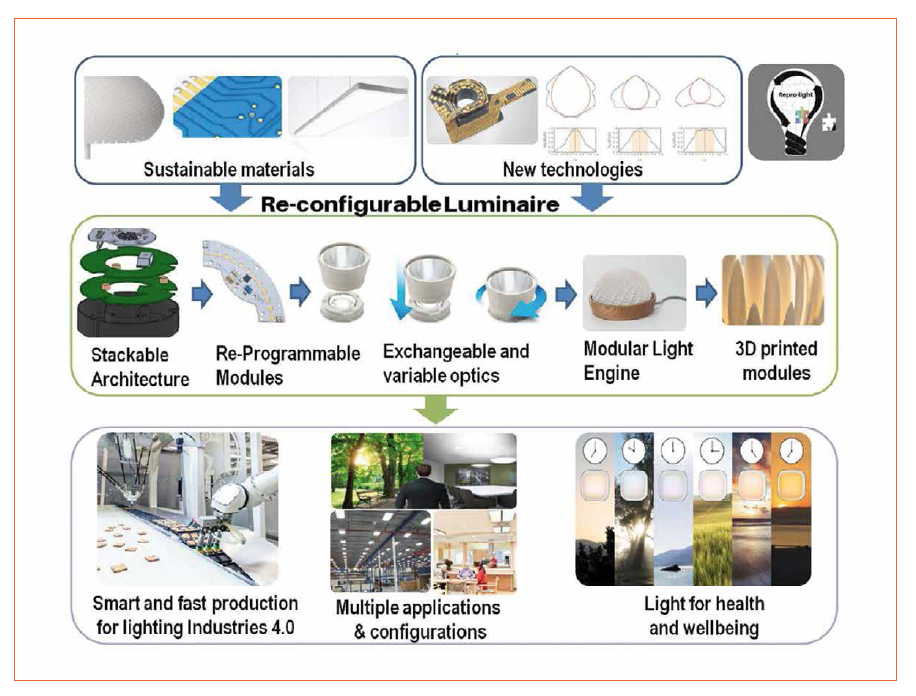 The basic project idea and its key features for a reconfigurable luminaire solution
(c) Luger Research e.U. - 2018