Trends | Smart Lighting + IoT | Resources | LpR Article

|
Nov 28, 2016
Smart Lighting Market and Technology Trends
Intelligent lighting technology that enables its users to control lighting through connected devices such as smart phones or remote controls is a big topic in the industry. A new report sheds light on different aspects of this business including drivers, restraints and opportunities. Jasmine Hinduja, Research Analyst at The Insight Partners, summarizes the major findings and how the trend to intelligent systems affects the companies regarding technology skills and strategies.
The current ecological imbalance in the ecosystem has transformed the way business was done traditionally. Today, a large number of companies are adopting a "Green" strategy to support sustainable development across the globe. Furthermore, private and public sectors are joining forces to encourage various smart initiatives worldwide. The market for smart technologies is growing rapidly, and lighting is one of the major prospects in this market. The global smart lighting market had accounted for $ 9.10 Bn in the year 2014, and is expected to cross the milestone of $ 51.50 Bn by the year 2025, growing at the CAGR of 17.1%.
Background of the Trend
The smart lighting market is highly influenced by the escalating concerns for the well being of the environment. Across the globe, energy conservation is considered one of the most important concerns, and efficient or smart lighting significantly contribute to conserving energy. Europe is the leading region for lighting system technology and human centric lighting. Presently Europe has various lighting associations rigorously working towards the deployment of smart lighting controls in the public and private arenas. Lighting Europe is one of the largest lighting associations in Europe, and has produced 400 scientific papers and conducted 19 events in smart lighting, in the year 2015. North America is considered to be one of the best potential markets in the lighting industry for smart lighting solutions. The operating cost of lighting in commercial buildings is estimated to be significantly high in North America, and smart lighting provides an efficient and cost effective solution. Moreover, energy policies and regulations to limit the consumption of energy are appropriately implemented in North America, supporting the development and adoption of smart lighting solutions in the region. Smart lighting solutions are also experiencing significant adoption in developing countries. Asia Pacific is the fastest growing economy in the smart lighting industry, followed by South America, the Middle East and Africa.
The lighting industry has been undergoing a radical transformation fueled by rapid improvisation in semiconductor technology and the development of LED lighting as well as the demand for energy-efficient and sustainable solutions. LED is known to be the most feasible alternative to its counterparts because of its longer life span and ability to consume comparatively less energy. Also, LED lights are anticipated to remain in trend for a long time and there is nearly zero probability of a phase out or ban on this lighting technology since the amount of hazardous chemicals in it are negligible. Additionally, it is easily recyclable and can be embedded/integrated with controlling devices. It has been observed that the interest of the population across the globe in controlling lighting within their facilities (including homes, offices, and other institutions) using their phones and smart devices is continuously growing. This is strengthening the foundation for further development of connected and intelligent lighting technologies.
The growing interest of users in controlling their lights has engendered several communication and lighting controls/technology firms to swap to the budding, smart lighting market. Although LEDs are the most prominent choice for smart lighting systems other traditional light bulbs such as High Intensity Discharge lamps, fluorescent lamps and CFLs can also be utilized in smart lighting.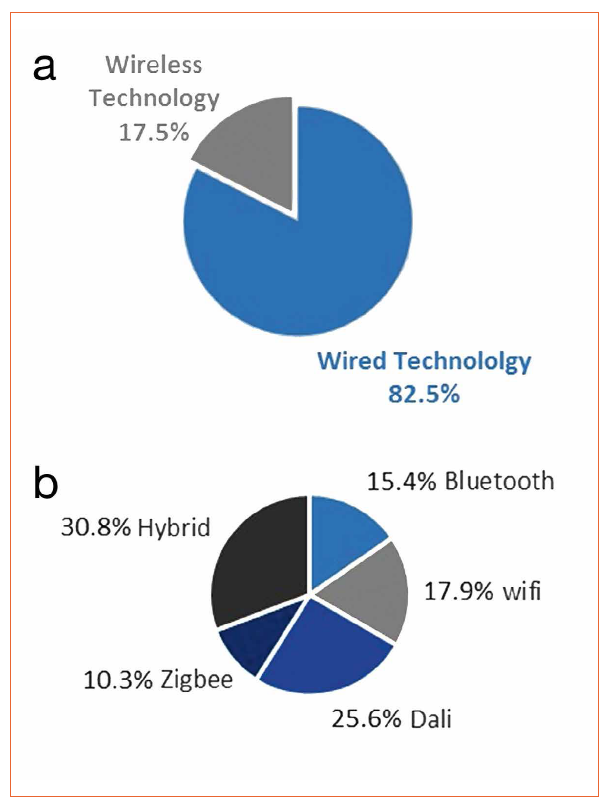 Figure 1: Global wireless smart lighting market share breakdown 2015 [1]: Wired (a) vs. wireless (b) technologies
Systems, Levels of Integration and Intelligence
The smart lighting systems can either be sensor integrated or non-sensor integrated. Sensor integrated lights are capable of adjusting the luminosity of lights by automatically detecting people and daylight with the help of sensors embedded in this system. Whereas non-sensor integrated lighting systems are still considered as smart as they are programmable. Due to significant development and innovation in wireless technologies such as Bluetooth, Wi-Fi, Li-Fi, etc., majority of upcoming smart lighting systems are expected to be wireless, hence the market for wireless smart systems lighting market is anticipated to grow at the compound annual growth rate of 23%.
The market for wireless smart lighting systems is mostly driven by increasing availability of open source software, advancements in developers' platforms, decreasing costs of components, maturing standards, pervasive mesh networking, multi-protocol gateway and chips, IP addressability and myriad WSN (wireless networking sensors) chip vendors. The development cycle of IoT based wireless products has enhanced from years to months. Also, the evergreen market of smart devices, such as smart phones, smart watches, tablets etc. is also encouraging the demand for wireless sensor based lighting systems. Furthermore, the wireless smart lighting market is expected to expand its presence in residential buildings, owing to the growing demand of wireless smart lighting systems for home automation and building automation.
Wired smart lighting technology currently has the major share and will continue to dominate the market in the future. Along with the forthcoming advancements in the wireless smart lighting technology, it is predicted to eclipse the wired smart lighting technology market share during the forecast period.
The WSN (Wireless Sensor based Network) are yet to gain popularity in the commercial as well as corporate infrastructures, as their installation in these facades require huge initial capitalization, although the market for these WSN in smart lighting is predicted to increase owing to advancements in sensor technologies eliminating the complications and glitches in current technology. The WSN market is expected to have an approximate market share of 4 billion by the year 2025. Growth is expected to pump in the initial years owing to tremendous development in smart homes and building automation, and reach its saturation point later, for the most part, in developed regions across the globe. Whereas, in regions like Middle East and Africa the shipments will increase.
The wireless smart lighting market has numerous protocols and lighting networks being deployed by various OEMs as there aren't any regulatory specifications over this technology.
Presently, majority of communication in smart lighting systems are DALI based. DALI (Digitally addressable lighting Interface) products establishes communication between smart lights and controlling devices such as smart phones, smart watches, tablets, etc. Also DALI supports various smart bulbs and lighting brands that include Osram GmbH, Eaton Corporation, GE Lighting, LG electronics and many more, which makes it more flexible and user friendly. ZigBee is another such platform that enables its users to control LED Fixtures, bulbs, remotes and switches. Philips Hue is the most popular smart lighting product supported by ZigBee.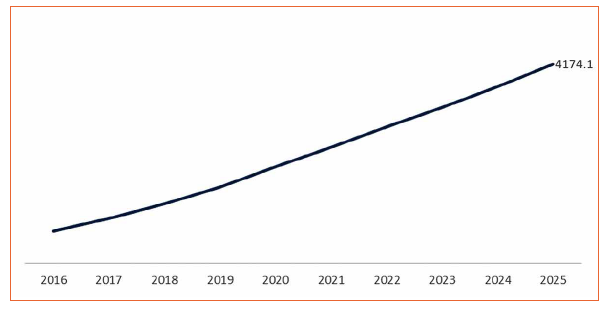 Figure 2: Global WSN chipset shipment revenue and forecasts to 2025 (US$ Mn) [1]
How It All Began
Phillips became a pioneer brand in smart lighting industry by introducing its first LED smart lighting starter, Philips Hue. Later on several other companies also launched smart version of their lighting systems, in order to maintain their market positions. Company's core strength comprises of its extensive focus upon R&D, supported by strong global brand image that aids the strong foothold of the organization globally. Philips face a tough competition from its other industry mates that are Osram, Acuity Brands, GE lightings and several startup companies venturing into this market.
Smart Lighting in the Different Applications
The smart lighting market is also broadly categorized on the basis of its placements, i.e., indoor and outdoor lighting. The outdoor lighting segment comprises of bikeways, parks, streets and parking lots. In recent years the segment has experienced major transformations resulting in rapid market growth. Here, LEDs are anticipated to capture approximately 85% of the streetlight market during the forecast period, whereas the smart streetlight market is estimated to reach 37% of the entire streetlight market. This development in outdoor lighting is anticipated to generate ample savings in maintenance costs and energy, gaining notable attention from both public and private sectors. The integration of occupancy sensors to the street lights has become a revolutionary innovation as it allows the street lights to operate in low intensity, saving up to 40% energy. The rate of energy conservation is predicted to increase further, considering the rising number of retrofitting initiatives taken by government and private organizations worldwide.
At the same time the indoor smart lighting market is expected to grow at a CAGR of 25% by the year 2025 driven by the demand to reduce energy consumption of the mounting population, meet the federal and state level regulations related to the environmental impact, and mitigate operational and maintenance costs. With the growing trend in Internet of Things and connected homes the residential indoor smart lighting is expected to gain a lot of popularity. In several developed countries this technology is in high demand coupled with other smart technologies like security cameras and similar home automation solutions. Companies like Zumtobel, Philips, Acuity Brands, and Daintree are some of the active players in the residential smart lighting market.
About the Obstacles
At the initial stage the smart lighting market was facing a lack of standardization, which was the major challenge hindering the growth of the future market. But now there are companies working towards building a common platform to control the smart lighting systems belonging to different brands and categories. IFTTT is an initiative taken to standardize the IoT platform. Currently, it has a limited number of supporting brands, but its ability to create a common hub for controlling all the smart devices with the help of a mobile phone is expected to flourish creating further opportunity for newcomers in the smart lighting market.
Outlook and Future Requirements
The lighting industry is currently going through a major transformation. As lighting is becoming smart it's no more just a matter of sockets, switches and bulbs. These smart lighting solutions are now sensor integrated and perform various other activities such as human activity monitoring, balancing the demand and supply fluctuations in power and much more. Currently, the technologically advanced algorithms drive smart lighting. Moreover, the rising trend of smart cities in cooperation with data analytics is anticipated to revolutionize the way the lighting industry operated a few years back. Now the lighting manufacturers are partnering/collaborating with IT organizations to fill the gaps about how the consumers perceive the latest lighting technology and make it user-friendlier, which is exhibiting a gradual shift of the lighting industry from hardware components to software and services. The upcoming smart lighting systems are predicted to be equipped with highly robust sensors for both outdoor as well as indoor lighting. The smart street lights would not only behave energy efficiently but also act as a crime detector enabled with gun-shot detectors and camera, air quality analyzer and perform data collection, analysis and offer this information to all the key executives, monitoring the city. Additionally, smart lighting will be making a huge impact on the work environment in companies. This lighting would optimize the usage of lighting in various corners of the office, such as boardrooms and cabins and also provide the employees with information such as density of people in a particular area of the work place and an ideal or vacant space in the office. In coming years, software developers and IT companies will also become an important part of this industry, generating several new opportunities for the smart lighting market such as the smart lighting technology that is anticipated to have a wide scope of demand in various industrial areas such as healthcare, agriculture, horticulture, media & entertainment and automobiles. There are several companies that have already initiated investment in the R&D in order to understand and develop a better utility for these smart lighting systems, resulting in a high growth perspective in the future.
References
[1] The Insight Partners Analysis, June 2016: Smart Lighting Market to 2025 - Global Analysis and Forecasts by Lighting Types, Application and Connectivity Technology