Tech-Talks Bregenz

|
Jun 02, 2016
Tech-Talks BREGENZ - Dr. Biing-Jye Lee, Chairman of Epistar
Dr. Biing-Jye Lee, Chairman of Epistar, had a discussion with Siegfried Luger and Arno Grabher-Meyer from LED professional about the latest trends and the future of LED, Laser and Solid-State lighting technologies. He also gave them his view on how the markets and technologies will evolve. In addition, Dr. Lee shared some of the highlights from this year's Light + Building as well as his view of current issues such as smart lighting, connectivity and new applications.
LED professional: Could you give us a short overview of Epistar's strategy and positioning within the LED business? 
Dr. Lee: Epistar was founded in 1996. Right from the beginning we positioned ourselves as a pure chipmaker. Since then we have also started to focus on different wavelengths of LED chips. Our products range from the red, yellow, orange, green and blue - all the visible range - and lately also included some of the infrared and ultra violet. We are trying to bring the so-called "one-stop shopping" to our customers. We endeavor to cover the full spectrum range, infrared, visible and UV technologies. 
LED professional: What are the main markets that you address? 
Dr. Lee: Currently, of course we still focus mostly on visible light. Backlighting and solid-state lighting need blue LEDs. In the future for micro-LED and smart, digital lighting you may need RGB mixing to support this market. 
LED professional: What about Epistar's high-voltage LEDs with a combination of blue and red LED chips? 
Dr. Lee: The blue/white LEDs plus the red chip still give you the highest performance but you need two channel controls. You need to control both channels because the two materials have different temperature characteristics. 
The Department of Energy in the United States, is continuously testing former blue/red chip bulbs and they are still running after 40,000 hours. The decay in lumen output is less than 5% and the color shift is negligible. For low cost applications a pure blue/white LED approach might be preferred, but the market is currently also asking for higher CRI values. 
LED professional: How does Epistar support system developments for specific markets and applications? 
Dr. Lee: To bring more value to the end customer, we started to work on an integrated service model. We approach, for example, the luminaire or TV manufacturers and address their needs. Then we look for the best solution within the complete supply chain. We have to involve companies with knowledge in phosphor, packaging, optics, thermal management, PCB designs, and electronics. According to the customer needs, we also have to modify our chips to meet their requirements. For example, recently we designed a new cost-effective and high-performance back-lit TV system. We have reduced the quantity of LEDs but we could improve the overall system costs and performance. 
LED professional: Could you tell us about the Chip-Scale Packaging technology? 
Dr. Lee: Epistar does have a highly sophisticated CSP technology in-house. For certain applications a semiconductor process during manufacturing is required. But in other applications our packaging clients take care of the module and we provide the flip-chip that fits their needs. 
LED professional: Some LED manufacturers have failed because they were competing with their own clients in some areas. What is Epistar's strategy when it comes to vertical integration? 
Dr. Lee: History tells us that the supply chain will compress after a certain amount of development time. To some extent this happens especially when it becomes a more mature commodity -then the supply chain collapses. Epistar has strict plans to stay a chip player but we want to work closely with the customer. We call it "Virtual Vertical Integration or VVI model". 
In certain cases Epistar's subsidiaries or joint ventures also offer module solutions to luminaire manufacturers with a complete integration of chips, drivers, and boards. This business is done through partner companies with packaging and driver technologies. Epistar will still remain focused on chips, but we invest in or co-work with other companies in order to offer solutions and new services.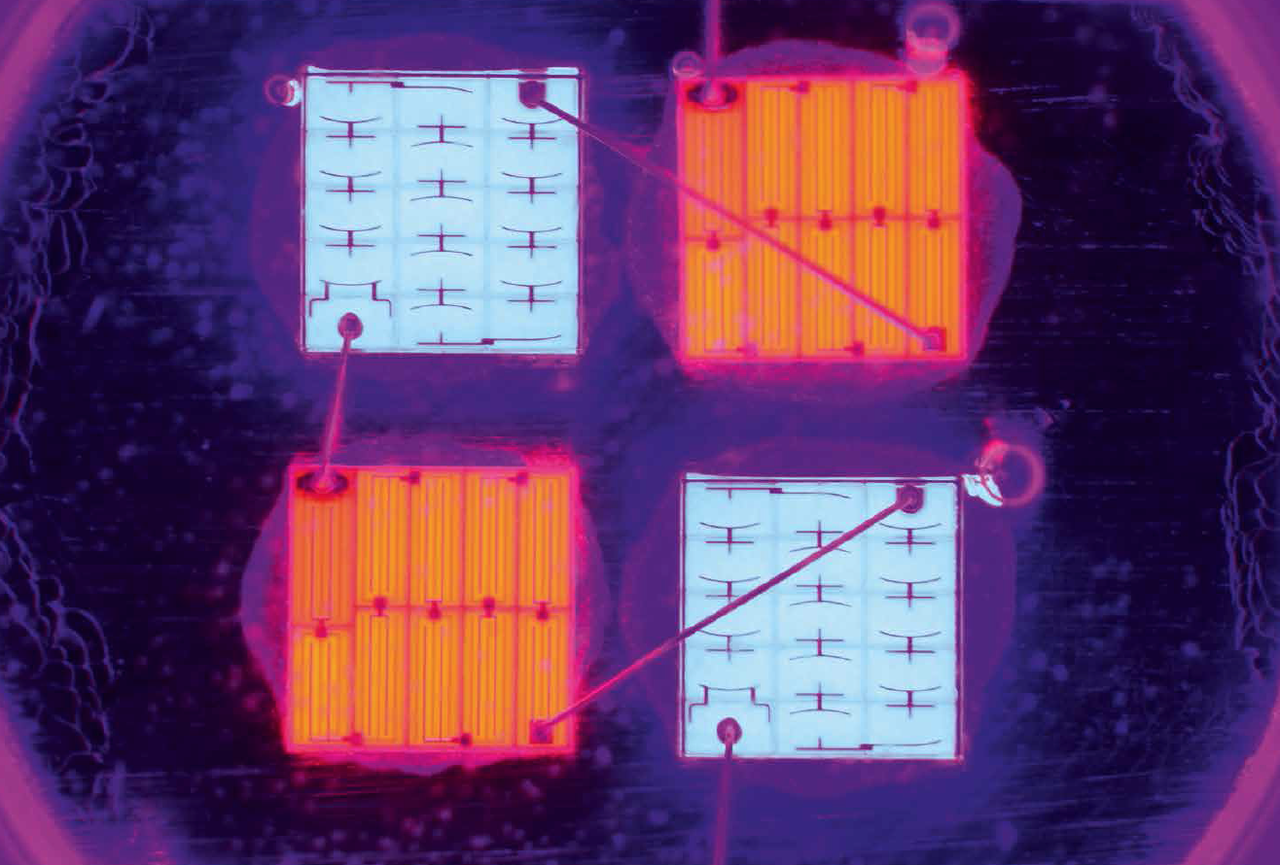 Figure 1: Epistar showed a combination of red and blue high voltage LEDs to generate PC converted white light in 2011 at LED Lighting Taiwan
LED professional: Does this generate additional value?
Dr. Lee: Yes, it does. Recently we found out that we can change some of our chip designs. For example, we have started working with a driver design company that has figured out the advantages of using high voltage. This company is confident that it could develop a new driver circuit, which is highly efficient, flicker free, and dimmable, by using the high voltage chips.
LED professional: How do you see the market shares for SSL, TV and automotive?
Dr. Lee: The percentage in revenue of solid-state lighting is roughly 45%. Worldwide, the high brightness backlighting LED market, is about 25% to 30% and automotive about 15%. Actually, since 2014 backlighting has been decreasing slowly and solid-state lighting has been increasing very quickly. I think solid-state lighting will go up to around 55-60% and backlighting will go down to around 15-20%. The rest of it will be divided between signage, automotive and other applications.
LED professional: Why is the automotive portion just 15%?
Dr. Lee: The automotive industry changes very slowly because a car runs more than 10 years. So it takes a long time to change from a current technology to a new one. In general, LED output power relates to chip area and chip area means costs and costs mean dollars. The problem is that the high power application in automobiles, the headlamp, has not been changed to LED lighting yet in most cars. A market analysis showed that in 2025 forward lighting using LEDs would still only be about 30%. Right now it's at about 3% but it will take another 10 years to get to 30%. That is very slow.
LED professional: What is your strategy in regards to GaN-on-Si technology and GaN-on-GaN technology?
Dr. Lee: We have been working on GaN technologies for more than 10 years now. And we understand that it is extremely competitive in the backlighting and solid state lighting market.
Based on the core technology that we have on mature growing - we can grow GaN-on-Sapphire and we can grow GaN-on-Silicon as well.
But with lighting, it may not be practical right now to use GaN-on-Si unless you have a fully depreciated silicon line. Because everybody knows that the lighting business is very challenging when it comes to prices. We're just putting out this idea to let people know that we are working on this material even though we're not sure that it will be of value for this business. However, it does show good potential for electronic applications.
LED professional: Could you give us an overview of Epistar's highlights at the Light + Building? What are your newest innovations?
Dr. Lee: One highlight is the high-voltage design where we can put the electronic driver-on-board. Instead of a down-converter we're using a boost-topology, which is highly efficient and easier to design. For TV applications we showed new LEDs with smaller footprints. We're also working on so-called micro lenses in the chip or just on the surface of the chip. In addition to that, we showed a filament light bulb that was developed by one of our customers with color temperatures of 2200 K at our booth.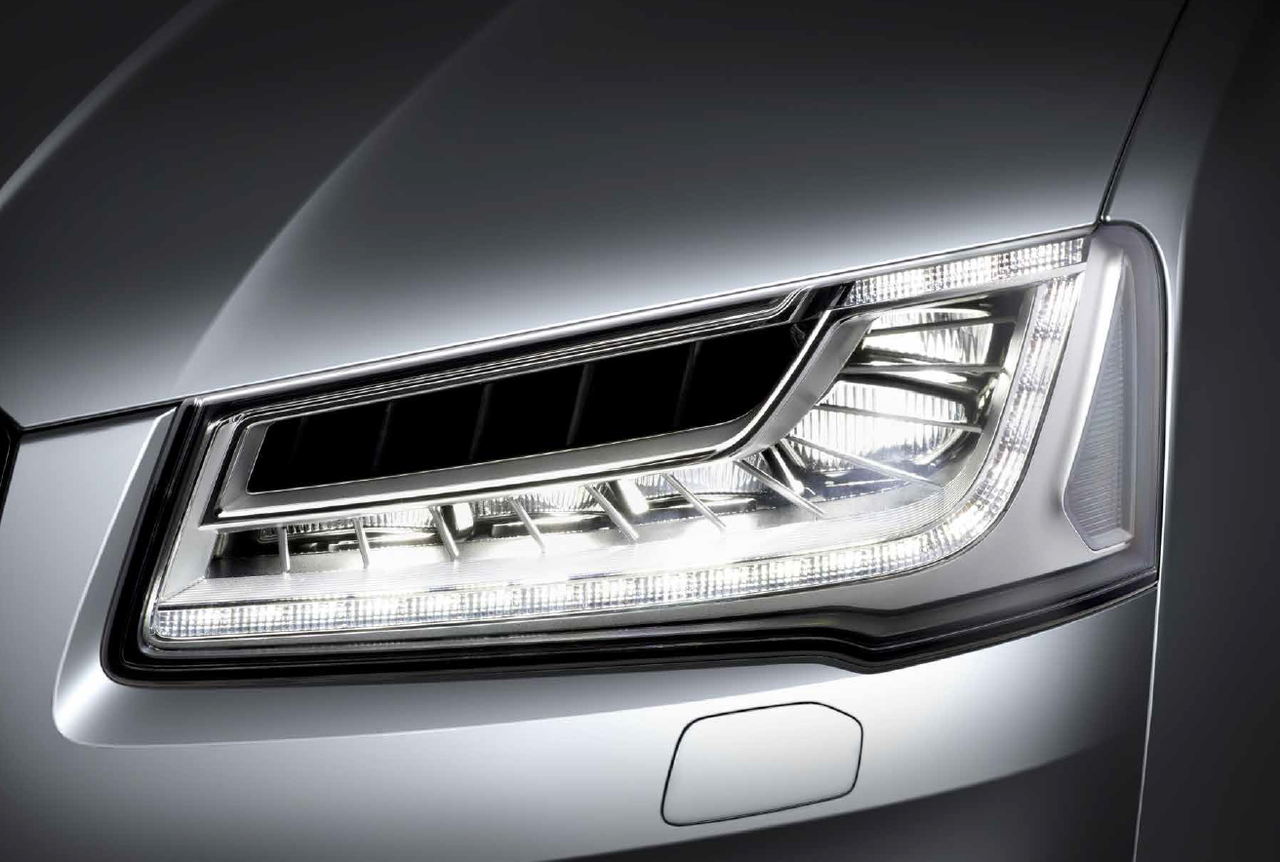 Figure 2: According to current market research it will take about 10 years for LED headlights to become mainstream. This is especially true of matrix headlights like this one from Hella/ Audi. One reason for this is the long life time of cars (Credits HELLA)
LED professional: How important is the filament market and what technologies are you using?
Dr. Lee: The filament market for decorative designs may count as about 15% globally but the classic retrofit market will decay over the next 10 years due to the long life time of LED bulbs.
In regards to the technology there is no place to get the heat dissipated so you cannot drive the chips in the high current density mode. You have to drive it in high efficiency mode - otherwise it would be too hot. That means we need more LED chips. The basic technology is the same.
LED professional: Are you also looking into horticulture applications?
Dr. Lee: Beside the decorative lighting applications, horticulture is also an interesting new application field for Epistar. We offer infrared, deep red and blue LED chips, which is good because the mixing of specific wavelengths is required for different plants.
A good example is a customer that needs different kinds of lights in different wavelengths to make the plants grow faster. In the first stage they need a certain wavelength to start growth but in the second stage they need a different wavelength so the plant grows the leaves. The leaves grow and they are very green. In the final stage before they take the plants to the market they use different wavelength mixing and put the plant under stress. The stress makes the leaves turn red within 24 to 48 hours and then they are ready to be sold!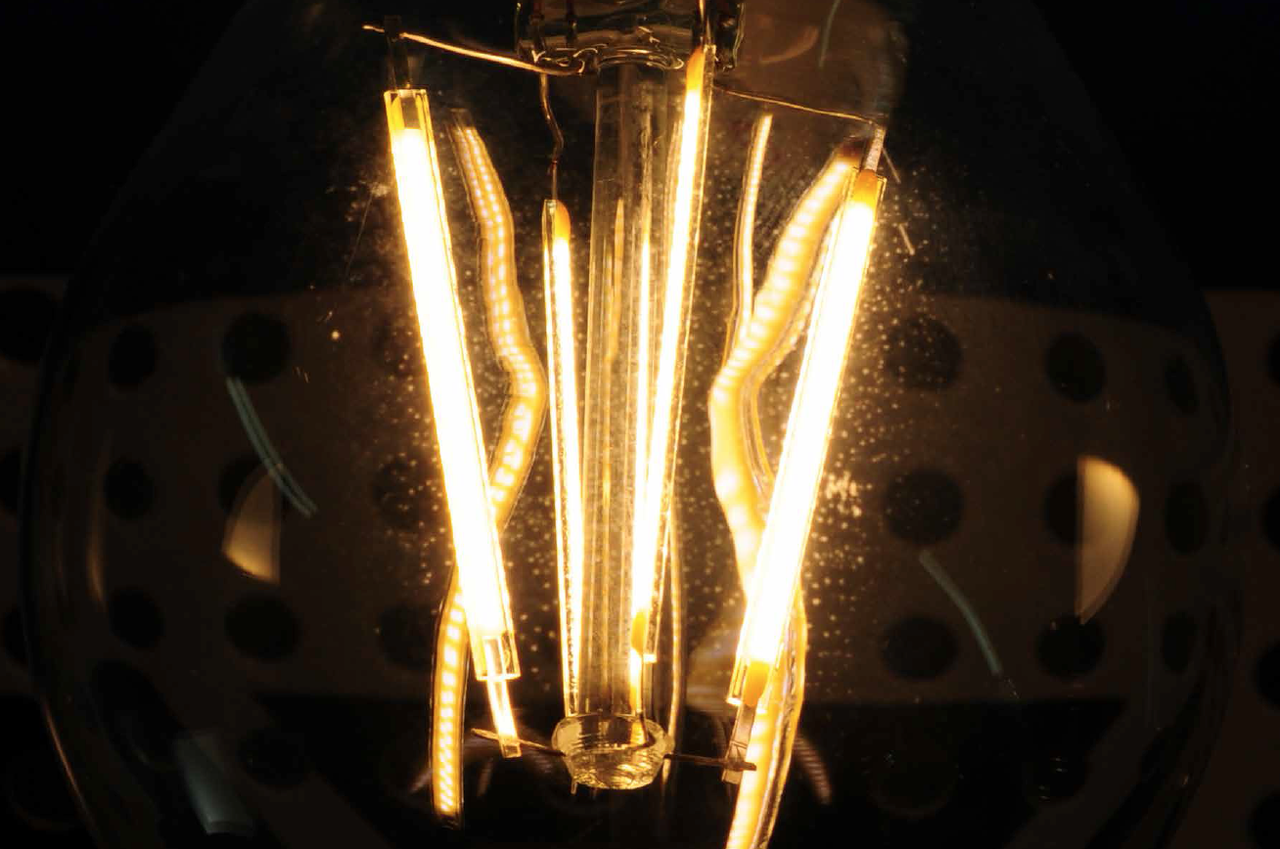 Figure 3: Because of their technical conditions, Epistar feels that the LED filament bulb market will be an interesting segment for LED manufacturers
LED professional: Since you worked with lasers in the past I'm sure you know that there are activities going on for white light generation with lasers in top automobiles. What are your thoughts on laser lights with phosphor conversions?
Dr. Lee: Laser lighting has great potential. A laser-based design can be optimized optical-wise because it's coherent light. With laser light the distances that one will be able to see could be up to 50% farther.
We have invested in a company that is working on laser. If they can come up with something good, we can jointly take it to the market. We can do the processing for them and grow the material for them and they can do the marketing or vice versa. We are still putting some effort into it.
15 years ago big LED manufacturers believed that the solid-state era would come and they put all their efforts into making the world's best high-power LEDs. But all of a sudden there wasn't high power - but rather - mid-power. Mid-power is the mainstream now and those companies have suffered a little bit with that change. So if you think that laser is going to be the only solution for future lighting you might end up seeing a lot of different applications that won't be possible or economical by laser.
LED professional: How does smart lighting influence your business?
Dr. Lee: No matter how smart, smart lighting gets - the LED chip stays about the same. But one thing that actually involves the LEDs is the up-coming communication and connectivity. Everything is going "smart" and there is not enough bandwidth to carry all the messages to the same place at the same time. What they are thinking of, is to use 60 GHz Wi-Fi instead of the 2.4 GHz that they use today.
Because 60 GHz is also line of sight we can simply use the LEDs with the so-called Li-Fi instead of Wi-Fi. So that would change the situation. With Li-Fi people are looking for Gigabits per second. It's still a challenge but it's doable.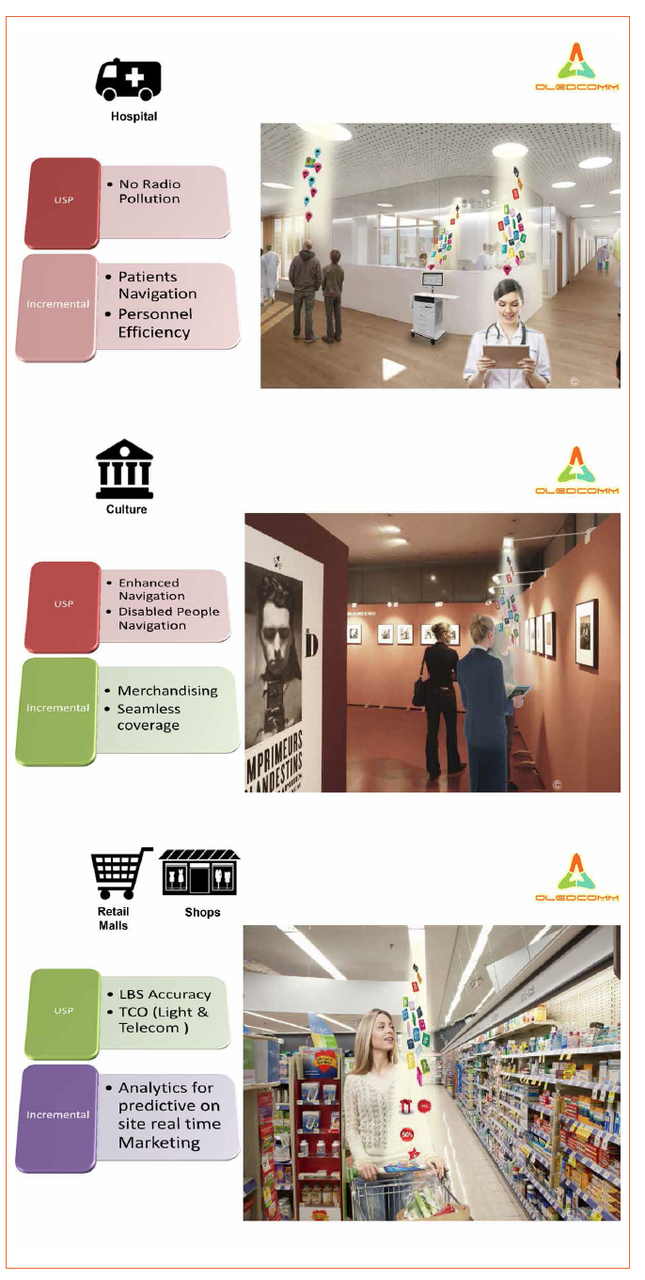 Figure 4: Smart lighting and the increasing demand for communication and connectivity calls for new communication methods as today's bandwidth is limited. This is the chance for LiFi in the future - probably beyond today's application ideas (Credits OLEDCOMM)
LED professional: What are the next steps in smart lighting designs?
Dr. Lee: Currently smart lighting is mostly driven by the communication signal or protocol such as Zigbee, DALI, Wi-Fi, and Bluetooth. Of course we hope that some of the visible light or some of the LEDs could be used in that kind of smart lighting as well. One other thing is that when they become really good we also expect a good growth of RGB mixing. Not just one color. And some of our competitors only have one color, which is blue, so we also expect that when smart lighting starts to happen, you will see more and better solutions with different colors. Not just warm white or cool white. But mixing because it will be made to your needs.
LED professional: Thank you very much for your time and the insights into your company! Hope to see you in Bregenz again at the LpS 2016.
Dr. Lee: Thank you.


Dr. Biing-Jye Lee
Dr. Biing-Jye Lee is the Chairman of Epistar Corporation, a world leading high brightness LED epiwafer and chip manufacturer, based in Hsinchu, Taiwan. He obtained a B.S. and a Ph. D degree in Chemical Engineering from National Tsing Hua University in 1980 and 1985 respectively. Dr. Lee began his professional career as a research scientist and a project leader at Industrial Technology Research Institute (ITRI), where he and his co-workers have successfully developed the first 780 nm AlGaAs laser diode in Taiwan. From 1992 to 1994, he became the research manager of Optoelectronic modules department. Under his guidance, his group has successfully demonstrated the first AlGaInP based LD and LED in Taiwan. From 1994 to 1996, he was the director of Optoelectronic materials and device division, responsible for the initiation of AlInGaP, InGaN and AlGaAs epiwafer production program. September 1996, he and his colleague spun off from ITRI and founded Epistar.
Dr. Lee has authored and co-authored over 40 technical publications. He also owns more than 35 patents. The Ministry of Economic Affairs awarded him for his contribution in the area of optoelectronic devices. He is now the Chairman as well as CSO of Epistar.