Tech-Talks Bregenz

|
Aug 09, 2016
Tech-Talks BREGENZ - Francis Wong, AVP Lighting Business Unit, Lextar
Francis Wong, Associate Vice President Lighting Business Unit at Lextar, visited the LED professional team for a Tech Talk in Bregenz after Light & Building 2016. Siegfried Luger, Arno Grabher-Meyer and Dr. Guenther Sejkora could discuss Lextar's history, current position, future orientation and strategies. Further exciting topics were the ongoing technology developments, the requirements on modern lighting systems, the latest lighting trends from Light & Building and the relevance of OLED and IoT technology for the company.
LED professional: Thank you very much, Mr. Wong, to you and your team for coming to the Festspielhaus for this TechTalk Bregenz. We really appreciate the effort you made to come here. This is a great opportunity to sum up your impressions of the Light + Building and also to answer some questions about Lextar, the LED business and lighting. Could you please give as a short company description for a start?
Mr. Wong: Actually, Lextar was founded in 2008 and the headquarters is in Taiwan. Our mother company is AUO - one of the largest TFT-LCD suppliers in the world - and the largest in Taiwan. We have a chip foundry in Taiwan and a packaging house in Taiwan and in China. We also have a lighting assembly line in Suzhou, which is near Shanghai.
In 2007 Apple launched a new notebook, the MacBook Air, where LED was used for backlighting instead of CCFL. This was the moment when AUO decided that LED would be a good strategy for the LCD industry. So they started up Lextar in 2008.
LED professional: So Lextar is 100% a daughter of AUO?
Mr. Wong: At the very beginning Lextar was set up as an epitaxial and chip factory. Soon AUO started to consolidate all the related subsidiaries, so Lextar became an LED chipmaker, a package house and also a lighting and luminaire maker. In 2014 Lextar's revenue was about $500 million (US), and kept flat in 2015 because the LED prices have gone down and the shipping costs have increased by 20%-25%.
LED professional: And there was a shift from backlighting to lighting as well, wasn't there?
Mr. Wong: Yes, you're right. By 2015 about 40% of our revenue came from lighting. So there was a big application shift from backlighting to lighting. If you look at the end application for something like a mobile phone or a notebook or TV - actually the notebook has increased very quickly from 100 million to 170 million devices a year. And also LCD TVs ramped up very fast during the last three to four years. Right now it is very rare to see CRT based TV - maybe in a very old hotel. But what I want to say is that the percentage of LCD is very high - maybe 95% or even more. Adoption rates for Notebooks are already 100% and for TVs are at least 80%. So I would say that there aren't much more LEDs to be sold for the backlight industry. That's why we moved our focus from backlighting to lighting.
LED professional: If you look forward to the year 2020, what do you think the ratio would be for backlighting and lighting for Lextar?
Mr. Wong: We still have a very big customer base for backlighting through AUO. So we will be able to maintain the portion. If you check the prices for backlighting, you will see that it isn't dropping as fast as it is for lighting.
LED professional: So it will still be a 40/60 ratio?
Mr. Wong: No - lighting will grow. We will keep the volume of backlighting but lighting will grow. We also have a new business unit, which is related to automotive LED. We believe the LED market in automotive applications will also grow very quickly within the next three to four years. The new business unit also includes UV and IR solutions.
LED professional: Can you please explain your strategy for vertical integration?
Mr. Wong: It is quite unique and we are the only company in Taiwan that does vertical integration for lighting. This means we produce the chip, we do the packaging for LED, we also make the module or replacement lamp and we produce lighting fixtures. And now we are also doing connected lighting, which means, in fact, software for lighting.
The major backlighting business provides LEDs for small portable devices. For mid-size LCD for TVs we provide a module because in this way we can still maintain very good profits in backlighting.
In lighting it's a similar situation. Of course, we are still selling the LED to the customer. But we have more value added products like LED modules. We try to enhance our value added service to the customer by providing fittings, which, in turn, improves the margin.
Our new business is automotive and UV applications. This is a very special application. In automotive, our product already qualifies for the certification AEC-Q101 which is a certification for car components. The 101 means that we can supply a single replacement device for the next 10 years. This is a requirement from the automotive industry and it's very difficult for the LED industry to maintain the performance of an LED for 10 years!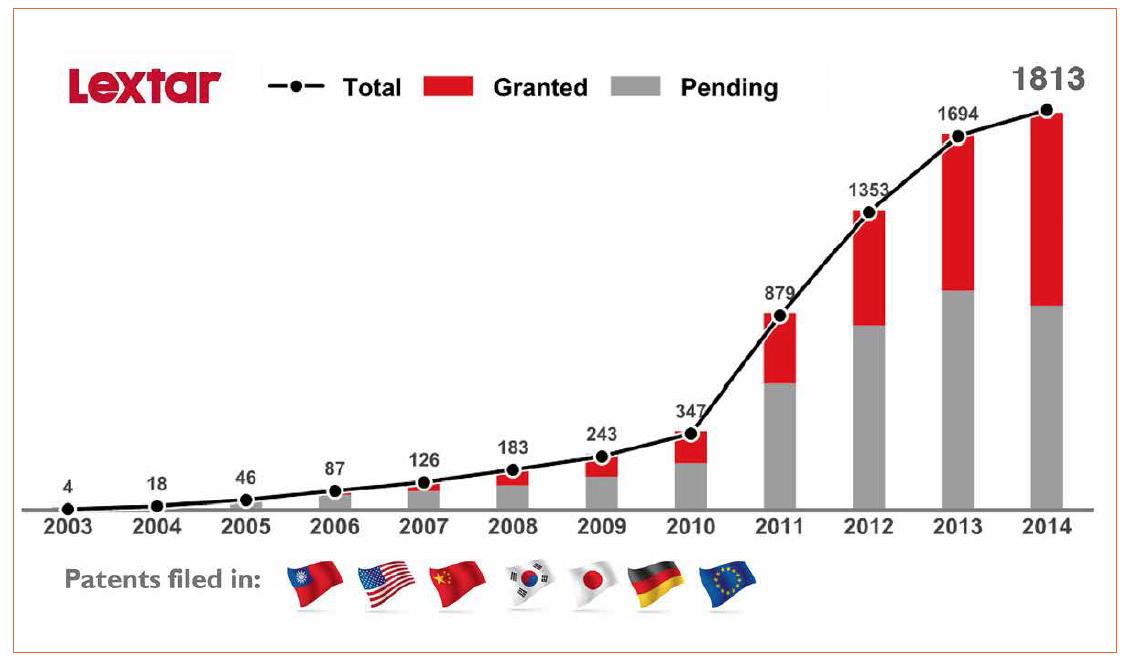 Figure 1: Lextar is set up as an innovation focused company with fast-growing patent numbers
LED professional: So you are present in all stages of the value chain - how big is your turnover with components compared to higher integrated products?
Mr. Wong: Like I mentioned for the backlight, 80% should be module based and for lighting there are about 50% module or luminaire based. So Lextar sells about 70% module based or luminaire based and 30% is component business. We are a company that is very rare - selling more modules than LEDs.
Other companies are profit centre oriented. One profit centre is running chips, the other does packaging and the third does luminaires - and each is accountable for his profits and losses. So the chip maker doesn't target the luminaire maker, but rather, other big companies. He does a lot of things for them but the lighting team probably has a better idea of what he could provide in terms of profit for the corporation.
At Lextar it is totally different. We handle everything from the chip to the luminaire. We can have our own strategy. For example, if we think there is a very good "LED idea" for the luminaire we will implement it into our lighting luminaire first.
LED professional: That sounds very logical. You can drive innovations in all areas. But what about the market itself? What about your clients? On a higher level, you are competing with your clients on the component level - so how do you deal with that on the market?
Mr. Wong: That's a very good question. In the supply chain for the module and luminaire business, we only do ODM. Our core business is still LED chip and LED packaging. Our company sells LEDs but we never sell luminaires under our own brand. We bring the idea to a luminaire company and we produce our products for them under their brand. So this is how we make a differentiation and different strategy in different sections. Therefore we are not competing with the module or luminaire manufacturers.
LED professional: In that case, you sell your customer components and if they want, you will also sell them the module or even the complete luminaire?
Mr. Wong: That's correct.
LED professional: Some companies try to become technology leaders or cost or price leaders. Where do you want to be the leader?
Mr. Wong: Although Lextar is not small we are not a manufacturing or capacity oriented company. We like to do new technology, innovations.
LED professional: What does this mean in terms of intellectual property and patents?
Mr. Wong: If you follow the Lextar IP portfolio we are probably the biggest one in Taiwan. In 2015 we were have approx. 2,000 IPs filed and granted. This is the highest number in Taiwan's LED industry. This is covering chip technology and package technology and also applications.
LED professional: Are your patents equally spread over the value chain or are they more in the chip and component sectors?
Mr. Wong: It's probably about 60% to 70% in chip and components. But we work in the entire field and do research in the whole value chain.
Driver for innovation is a combination of different things. As a technology driven company, I think the first driver is technology and of course the next thing would be quality. We are trying to make a quality product, not a low cost product. But the most important driver, I would say, is technology.
LED professional: To generate these technology driven innovations and IP - what percentage of your revenue goes into research?
Mr. Wong: Around 15%. I will explain how we see the contribution of new technologies to the evolution of light: Around 50 to 80 years after Edison created the light bulb, people started thinking about saving costs. This led to the invention of the halogen lamp. After the annual saving was fulfilled, people were thinking what else light could be. As a consequence, ambient lighting technologies were invented. Not only in places like the opera or restaurants, but also in residential lighting. They wanted to create mood lights for people.
And now we are moving to the next stage - IoT, the internet of things. Saving energy can be done because of better efficiency of the light source or the control gear. But IoT offers a better way - lighting can't only be controlled by humans, it can also be controlled by AI - artificial intelligence. So this will be a revolution for the lighting industry. Just controlling a lighting device is ok, but it's not smart. We will bring smart ideas to the control system.
To make it smart we need sensors, just like robots have sensors. A robot has to hear the voice, see the people. It is the same with lighting devices. So we have a new business unit that is working on a new opto sensor. We just buy it and embed it into the luminaire. For street lighting or public lighting you can embed a surveillance camera and monitor for safety reasons. Or we can embed an infrared sensor to sense occupation. Finally we also create the system or software platform that is behind the lighting device.
LED professional: Another topic seen as a driver for innovation is human centric lighting. Do you also do research in this direction?
Mr. Wong: We have to ask the simple question: why do people need light. Most of the time we have the sun for about 12 hours a day and you can see everything, you can work, you can walk. You feel safe under the sun. So actually lighting should simply recreate the sunlight and not just light up people. We shouldn't use only LEDs. LEDs are cheating people. I say cheating because there isn't white. There is only blue and yellow, green and red that makes you feel like there is white. But actually it's not white at all. So we are thinking about how to recreate a sunlight spectrum.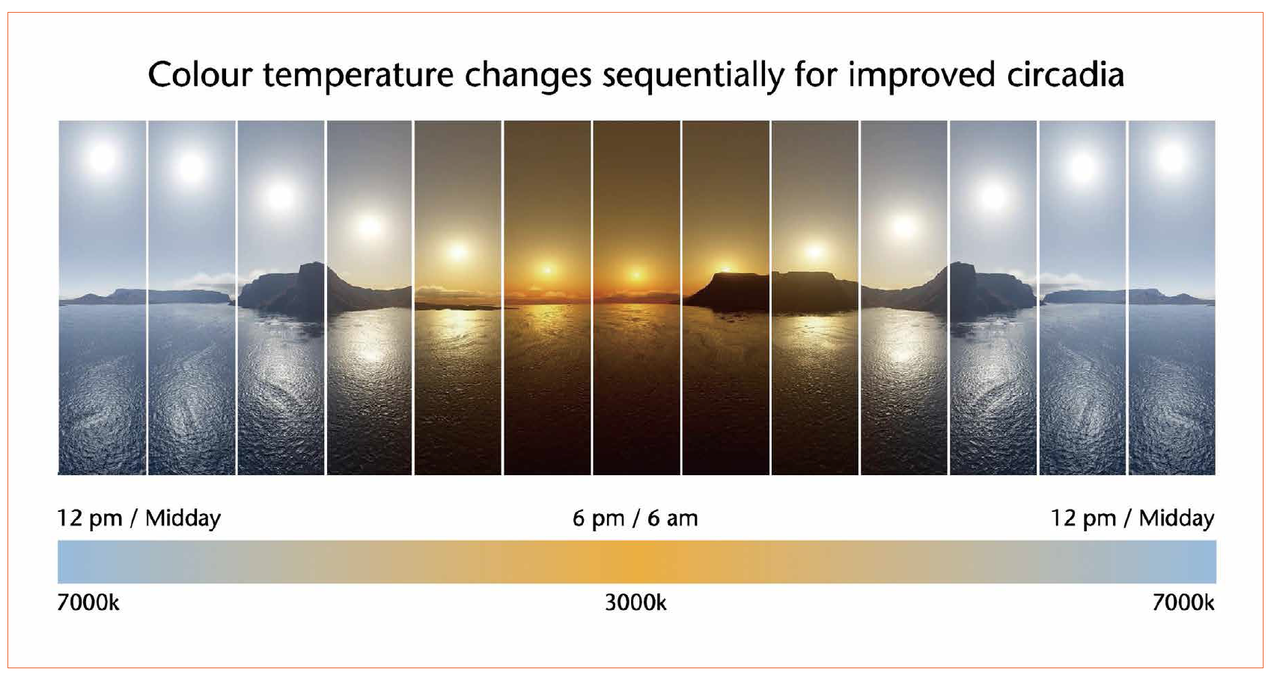 Figure 2: Lextar's goal, when it comes to human centric lighting, is to match the light quality of the sun as closely as possible - no easy task
When we talk about human centric lighting we are talking about how light can affect people biologically. For example, if you see sunlight in a cold color temperature you will feel energized and may go for a walk. But if the color temperature is that of a sunset, you would feel that it's time to go home. So there are two challenges in human centric lighting.
The first is how to create light close to the BBL - the black body line. The BBL represents the colors that you receive from the sun. In artificial lighting people often just take one 2700 K LED and one 6000 K LED and change the ratio between these two. Actually, there will be a color shift between the sunlight color and the artificial light color. You can feel this color difference, so it's still not human centric lighting.
Another challenge is how to create a continuous spectrum close to the sun light spectrum. Right now LED spectra have a very high peak in blue a little bit of intensity in the green and yellow and nothing else. Probably you are saying - oh we do the CRI 95. Yes, a little more in red but still not enough. So it's different to sunlight. This is another thing we need to develop, that's why technology is so important.
We use many kinds of technologies trying to do this - we have three R&D teams working on the different technologies to generate a continuous spectrum, similar to sunlight. We don't know what will be the best solution at this moment.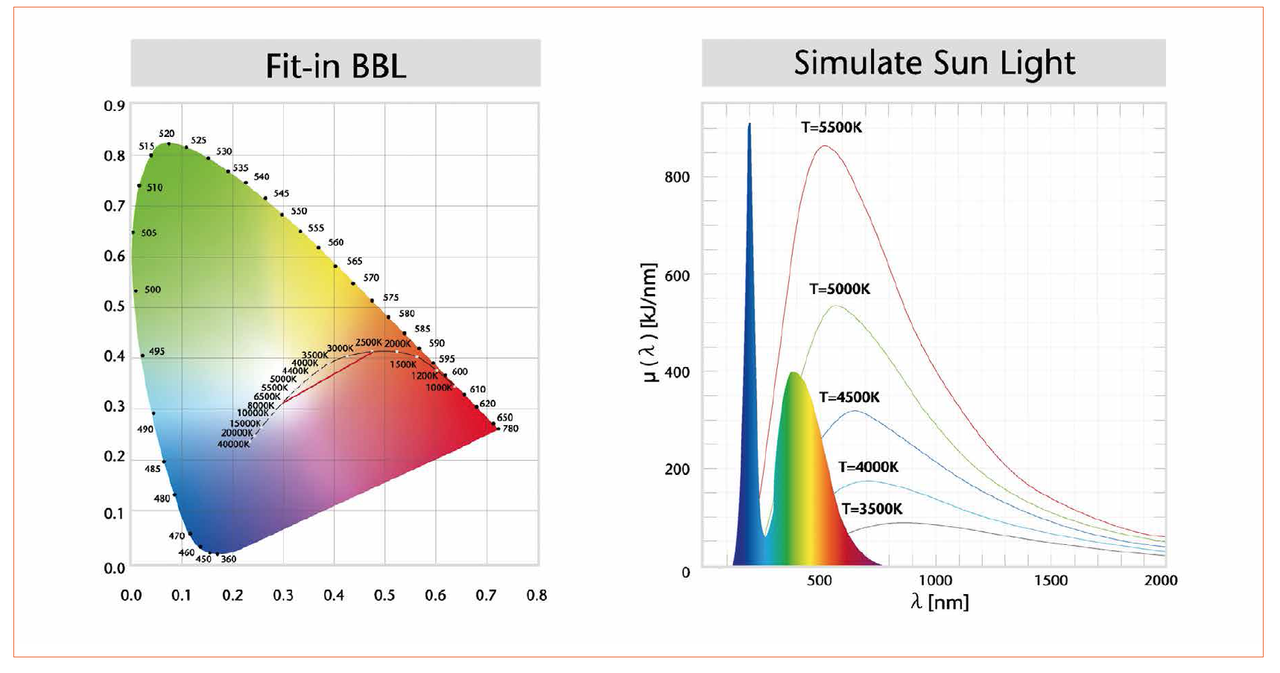 Figure 3: Francis Wong sees two big challenges for human centric lighting. One is fitting the black body line properly when tuning CCT and an exact reproduction of the spectral distribution of sunlight with LEDs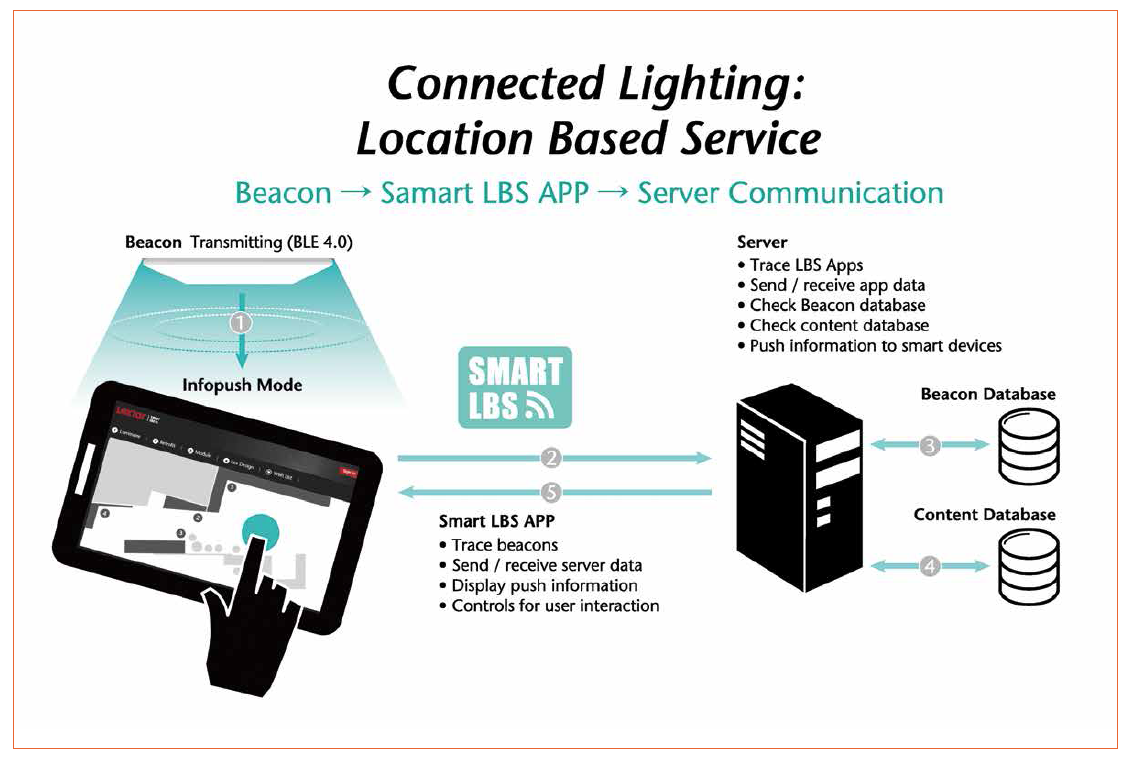 Figure 4: Lextar sees IoT as one of the major future topics and is well prepared with their connected lighting concept that provides a location based service
LED professional: So maybe we should now come to the Light & Building. I think it was a very interesting show last week, and I wanted to ask you - what was new from Lextar?
Mr. Wong: Actually at the Light & Building we demonstrated a lot of small, connected lighting devices. Most of our customers received a pad when they entered our booth so that they could use the pad when they walked around the booth to see what they were looking at. So if the customer saw something interesting they could click it on the pad and then they got get a quote or specifications.
So that was one thing we were showing but we also showed a lot of connected lighting devices. But I think the most interesting product that we showed was the lighting fitting with the automatic ambient light sensor. Another interesting product is a consumer lighting product that can create ambient light in your room. We tried to make it very simple - for example we take a photo - and upload it to the device and the device will read the color tone from the picture and the ambient light will create a color tone similar to it.
LED professional: So in theory you could take a photo from your last holidays and get back into your holiday mood! And if you look at the Light + Building in general, what were the most important trends you could identify?
Mr. Wong: I think IoT based controlling. That's the thing that everybody is talking about and also Human Centric Lighting.
LED professional: Were people only talking about it or did they already show products that can really be used for the market?
Mr. Wong: I think everybody showed products that could be used on the market. Most of the products are for home applications, a lot of them controls lighting by the smart phone. It's probably ok for the home applications but if you look at the history for adopting LED lighting, you can see the first implementation will always be commercial. The second implementation will be for consumer application. We believe this is same for the IoT. You have to create something for commercial applications first because they have money.
So at Lextar we spend more resources in commercial applications IoT. We believe IoT will be used in commercial lighting before customer lighting.
LED professional: At the Light + Building in 2014 almost every second booth showed applications with OLED and everybody said that OLED was the lighting of the future. But in 2016 there was much less attention paid to it. How do you see the future development of the OLED?
Mr. Wong: I'm not a fortune-teller but in my point of view there is still a gap between OLED and LED in terms of cost and in terms of efficiency. I think that OLED efficiency is certainly at a level that people can accept. But LED also improved a lot. Three years ago if I told you that I could make a luminaire at 100 lumens per watt you would have said that it's good enough. Today people are talking about 120 to 150 lumens per watt at system level. OLED right now is just about 100. So there is still a gap between them. But the OLED is a flexible light source. So for decorative lighting they are quite unique.
LED professional: Does Lextar drive its own OLED research?
Mr. Wong: AUO has its own because AUO manufactures them for small devices. But it's not for lighting or backlighting, it's display technology.
LED professional: If you look ahead and think about Light & Building 2018 - what do you think your position will be? What products will you be showing?
Mr. Wong: This year we just demonstrated a few IoT based controls for LED lighting devices. I think in 2018 this will be Lextar's main product line. But not just Lextar. I believe it will be the main product for everybody. I also believe that by 2018 human centric lighting will make a breakthrough.
LED professional: Thank you very much for the interview and for being so open with us.
Mr. Wong: You're very welcome.
About Francis Wong
Francis Wong is Associate Vice President of the Lighting Business Unit at Lextar Electronics. Mr. Wong received his Master's Degree in optics and photonics from the National Central University. He started working in the LED industry in 2002 and joined Lextar in 2013. Francis Wong is responsible for sales, marketing, product design, R&D and the supply chain of Lextar's LED lighting business. He has more than 14 years of experience in the LED domain, and is familiar with LED technologies, worldwide LED standards and regulations, and marketing.