Resources | LpR Article | Tech-Talks Bregenz | Engineering | Technologies | Simulation Tools

|
Jul 12, 2017
Tech-Talks BREGENZ - Jamie Singerman, Future Lighting Solutions
We recently sat down with Jamie Singerman, Worldwide Corporate Vice President, and Patrick Durand, Technical Director for Future Lighting Solutions, a leading provider of Solid-State Lighting technologies, engineering expertise and online simulation and design tools, to discuss the company's differentiators and their views on the ever changing lighting market.
LED professional: Thank you, Jamie and Patrick, for this opportunity to talk to you.
Jamie Singerman: Our pleasure!
LED professional: The first thing we would like to ask you for our readers is an overview of Future Lighting Solutions and the value proposition of your company.
Jamie Singerman: We have a long history in the Solid-State Lighting business. In fact, we were one of the first enablers of Solid- State Lighting high power, white LEDs, back in 2000. We realized that there was an emerging need that was very different from the traditional customer base we were serving as part of Future Electronics, and based on that need, we created a division called Future Lighting Solutions. Future Lighting Solutions is solely devoted to enabling customers to convert from traditional light sources to Solid-State Lighting. Frankly, our entire business model is built upon listening to customers - identifying their needs and their challenges - and then developing an infrastructure to serve them, whether that means people, tools or a back-end supply chain model. In this regard, we have developed four key value propositions for our customers.
LED professional: I see. So your business model has evolved and is built around these values. How do you define these in detail?
Jamie Singerman: The first critical element is to be able to provide the customer with a comprehensive system level portfolio. We are focused on addressing the needs of the customer at the system level. What are they trying to build? Is it a down light? Is it a troffer? How do they build that fixture? And what performance levels do they need to achieve? We make sure we have the right components and technologies to enable them to build the complete fixture in an efficient manner, considering cost, component selection, and in terms of time to revenue. In this business it's about agility of execution, speed to market and being competitive. Being able to deliver the full system to the customer is also efficient both for their engineering and procurement people.
LED professional: Beside the system level portfolio, it's also a question of the system-level expertise, isn't it?
Jamie Singerman: Yes, the second core value of our model is to offer our customers our cumulative years of lighting experience and expertise. Our job is to help the customer leverage the knowledge we have and understand the design options available to them.
We spend a great deal of time and effort training our people. Our strategy is to train at the system level to enable the customer to design their fixtures in as short a time period as possible. Nearly all of our system-level training is done in-house. Suppliers can train us on their portfolio, but equipping our people to support designs at the system-level is how we add value to the customers. Our lighting engineers are an extension of the customers' in-house resources.
LED professional: And the third core of your model is design-in support. Please elaborate.
Jamie Singerman: We have created an exclusive suite of more than 25 design tools aimed at accelerating time to revenue by assisting engineers to design lighting systems quickly and efficiently. Some of our tools enable complete system level design decisions, effectively building a bill of materials for the engineer, including the light source (LED, engines, module), driver, optics and thermal management solutions. We have over 15,000 LEDs characterized in our tools, so customers can understand the impact their decisions can have on their chosen components and systems. Our tools are regularly updated with new products and kept current by our team of professional lighting engineers located in our lighting labs in Montreal, Shenzhen and The Netherlands.
LED professional: And what about the fourth area of your value proposition, in addition to the portfolio and the knowledge support?
Jamie Singerman: The importance of supply chain management in the lighting space should never be underestimated. We take great pride in offering our customers comprehensive global supply chain solutions that are individually customized to their specific needs and goals. Much of this industry is project based, and many of our customers cannot plan their forecasts like in other businesses. It's simple; if you win a contract, you have short lead times to manufacture and deliver; yet lead times at the component level can be significantly longer. Our strategy is to manage their back end requirements. Inventory risk is a huge concern for customers. They don't want to sit with a significant amount of inventory that they may or may not need. We carry a deep and broad inventory of all the components in a design, so that when the customer wins the order, we're able to deliver whatever they need in a very timely fashion. We can manage multi-site scenarios globally and via a secure portal, customers have full visibility to inventory, to their unique programs and can manage their requirements real-time.
LED professional: Impressive and very customer-centric, I must say. Together with the technical and supply chain risks, there's also the financial risk in projects. How do you deal with this?
Jamie Singerman: We help our customers manage their financial risk and profitability by effectively being their inventory partner. We will bond inventory for them for months, ensuring they can pull what they need, when they need it. We therefore lower their carrying costs, help improve their cash flow, and minimize their bad and excess inventory. We view inventory as an investment in our customers - not a liability, like most other business models. We can also be very flexible on offering extended payment terms to further assist in their cash flow management. Another investment in our customers.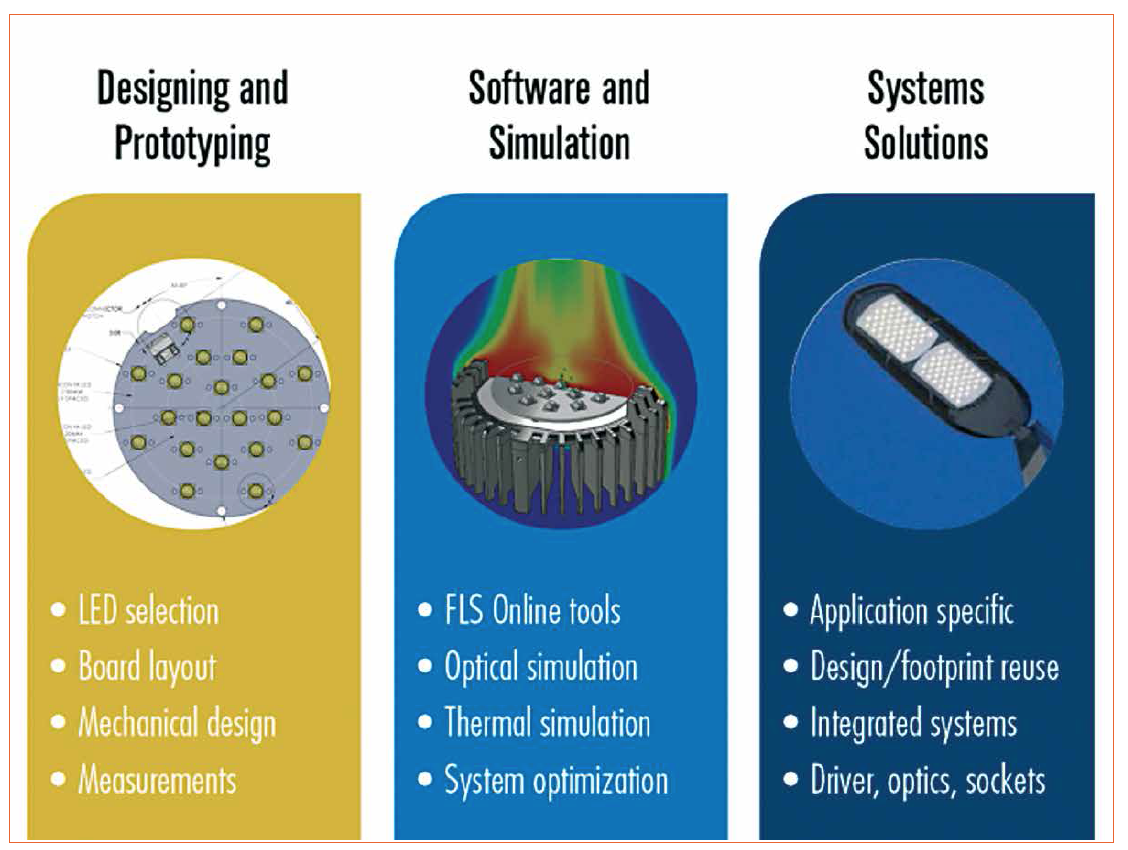 In addition to their online design tools, Future Lighting Solutions provides technical services for their clients in their three Lighting Resource Centers in Montreal, Shenzhen, and the Netherlands
LED professional: How do you handle the situation when a customer has a design with a specific component and he wants to run it for a longer period of time but the product has been obsoleted by the manufacturer?
Jamie Singerman: This situation comes up particularly in applications that are highly regulated such as in medical applications, where customers need to be able to provide continuity of supply for the same device over an extended period of time. We can absolutely work with the customer and hold parts, frankly speaking, for years, if that's what's required. The aerospace business has some of those requirements as well as other specialty markets. As I mentioned earlier, our model is designed to listen and respond to the voice of the customer.
LED professional: What applications are Future Lighting Solutions focusing on?
Jamie Singerman: Fundamentally, our customer base is comprised of fixture makers and other specialty lighting makers such as torch/ flashlight. Whether it's an indoor fixture, outdoor fixture, or specialty applications like medical, or emergency vehicles - all of these customers face the same challenges: Being able to access the right portfolio, building the right solution and getting to market quickly. Our strategy is to always have a solution for those customers and their fixtures portfolio.
LED professional: New applications are coming up, like horticulture lighting or UV applications for new niches. Can you talk a little about them?
Jamie Singerman: This business is always about looking forward. We are always looking at where the market is going in terms of applications and technology. Horticulture is a burgeoning opportunity now and we are also looking very seriously at the UV A, B and C markets. Although they are smaller markets today, the annual growth is expected to be in excess of 40% per year for the next four to five years. This growth is inevitable. The technology is ready; the applications are there, and part of our responsibility is to be ahead of the curve, so that when a customer wonders, "How can I leverage this technology to grow my business?" we are their partner of choice because we already have the tools, the products, the capability and the knowledge to assist them.
LED professional: Do you offer design support for these new application areas?
Patrick Durand: For both markets, we are already building application-centric design tools and bolstering the product offering. In horticulture and UV applications the important lighting metric is not flux or total amount of light - we need to be talking about light density. So if we take horticulture as an example, micromoles per second is the unit of flux for the horticulture market. But what is important for the plant is not the total amount of flux; it's the amount of light density that is required. From a tool standpoint, we are able to combine various flux measures, whether it's micromoles per second, milliwatts or lumens, and determine a total flux value by combining different options. With our new design tool you can enter a viewing angle, a distance and the amount of time per day, in order to translate that flux into PPFD and DLI and compare it with the different DLI requirements from a variety of plant species, to find out how much light is just enough versus too much versus too little.
We've also created an optical simulation tool which takes the total flux and converts it into a heat map of light density to determine the amount of light that will be enough for each type of crop, and whether to change the amount of light, the number of hours the LED lights are on per day and/or the distance to the plant in order to maximize the yield.
And from a UV standpoint, we're working on a new tool with a similar approach to our horticulture tool but adapted to UV-A, UV-B and UV-C applications. If you consider UV-A, where the primary market is curing and printing, we need to also understand the light density information. So we process the total amount of radiometric flux from milliwatts, and convert that to a light density when entering a viewing angle and distance in the tool where we generate an irradiance heat map. Therefore, what we need to understand is the light density and the time it takes for the material to cure. Using UV-C as an example, determining the amount of light density and the time required to disinfect either a surface area, a volume of water or air, is the objective we are trying to achieve.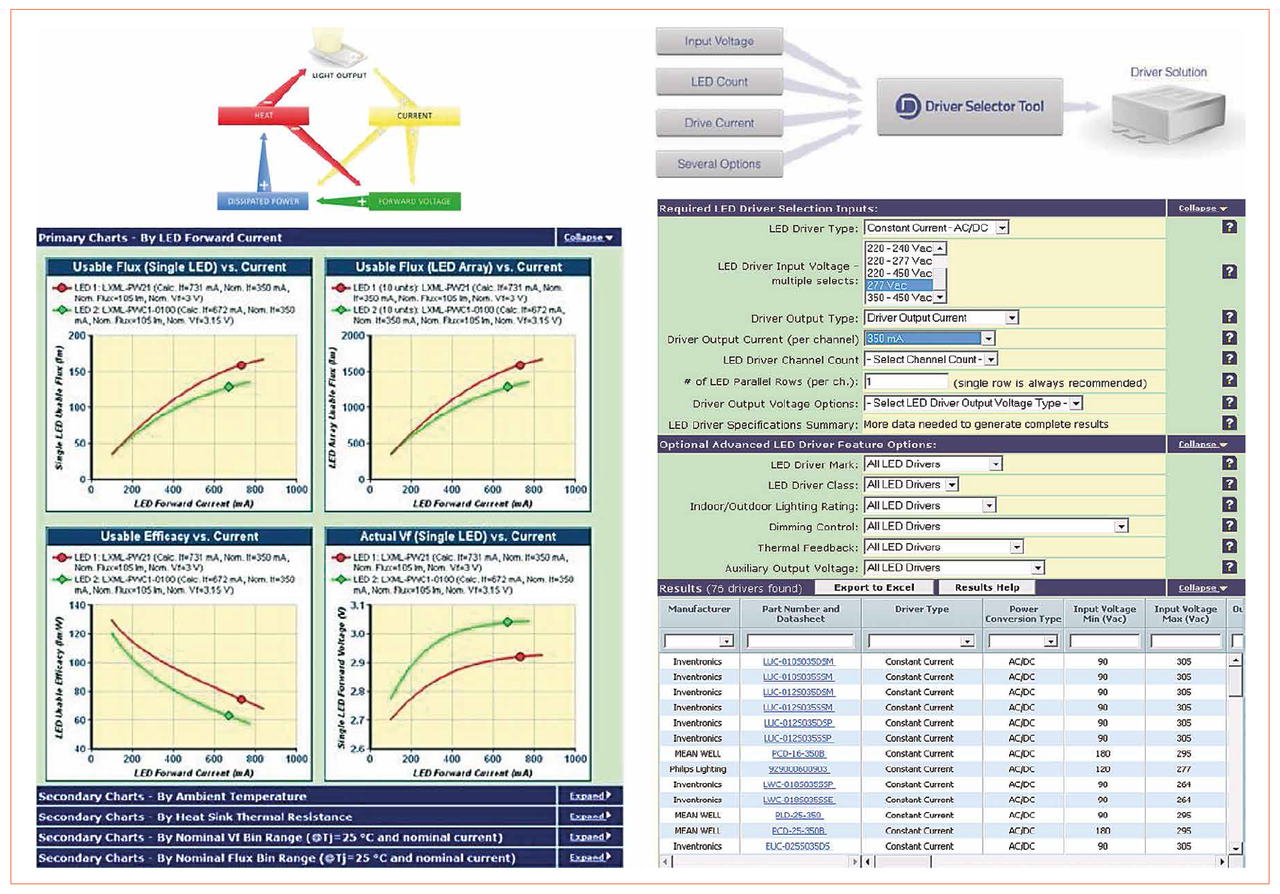 The "Usable Light Calculator" (left) and the Driver Selector" (right) are just two of Future Lighting Solutions' very helpful online tools
LED professional: Future Lighting Solutions offers a broad range of design tools already. How important are these tools for the distribution business nowadays?
Jamie Singerman: One of the keys to our success has been the development of a number of tools to assist customers in building products that make sense for their market. Our design support services are the accumulation of years of experience, which we make available to our customers. Several of these tools are available online, free of charge. We have thousands of engineers using these tools, saving hours and hours of work to help bring products to market quickly. Many customers don't have a tremendous amount of in-house engineering expertise, and this enables them to "outsource" some of this responsibility to us.
LED professional: Which tools are most important right now?
Jamie Singerman: The Lighting System Creator (LSC) is our workhorse tool and the most innovative and widely used by engineers. Within a very short period of time, by entering critical system-level parameters, the customer can develop a bill of materials to build a fixture. Customers can specify whether they wish to build using LEDs, Level 2's or modules, then complete the system by selecting compatible optics, thermal management and driver solutions. Within a very short period of time, the customer can create the fixture of their choice.
Our second workhorse is the Driver Selector Tool (DST). With the proliferation of part numbers at the driver level, driver selection can be quite complicated and confusing. We simplify the process by asking the customer to enter certain critical system parameters, and then the tool provides a list of suitable options from which to select.
The Usable Light Tool (ULT) enables customers to understand how much light will be emitted from the LED. This ULT is kept up-to-date by our lighting engineers and currently has in excess of 15,000 different LEDs characterized, enabling users to fully understand the implications of LED selection on their fixtures. It is, in our opinion, the most comprehensive LED design tool available in the market today.
LED professional: Patrick, you are Technical Director at Future Lighting Solutions. How do you update and manage the abundance of data, especially when you think about the continuous product updates that are occurring?
Patrick Durand: We collect data by being close to the market and by working in partnership with our suppliers. Many manufacturers supply us with the data sheets to ensure that we are current. There are so many new products being released at the light source level, driver level and optics level to design a luminaire, where it is becoming increasingly difficult for an engineer to keep track of all the innovation. Our strategy is to ensure that our tools are current so that when our customers are leveraging our tools they are working with the most accurate and up-to-date information available.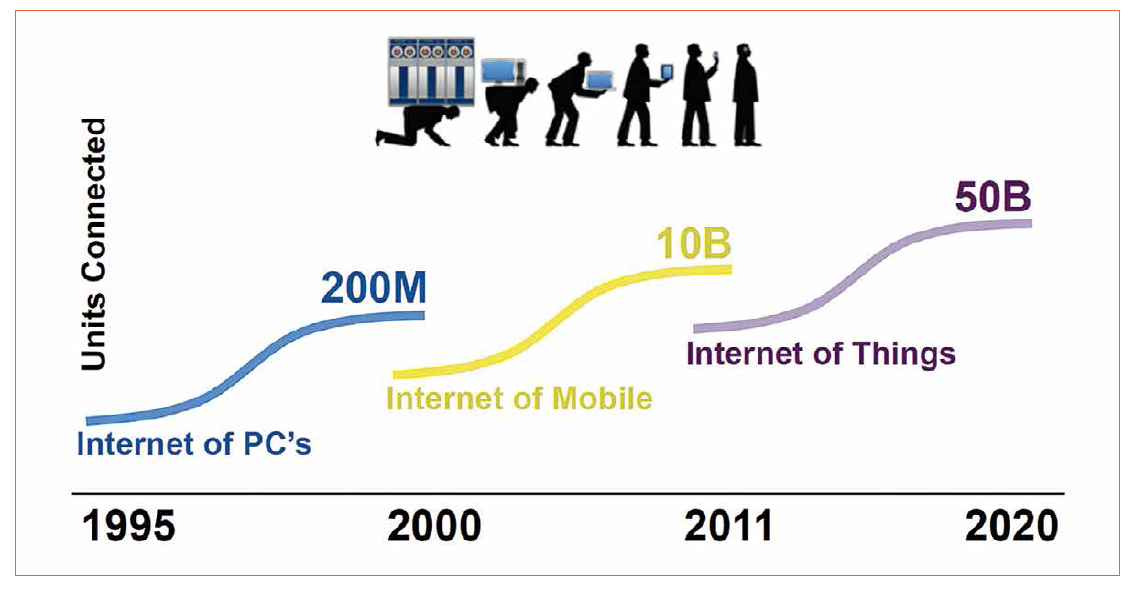 From a market perspective, FLS currently sees more requests for straight-forward lighting controls solutions than for complete IoT based solutions. Still, they always have an upgrade opportunity in mind. As for most OEMs, there are too many open questions regarding IoT technologies and standards
LED professional: Besides these tools, Future Lighting Solutions also provides lab support in different countries, don't they?
Patrick Durand: We have engineering capabilities and support in the major technical fields, namely in lighting design, as well as mechanical, thermal, optical and circuit design. These resources act as an extension of our customers' R&D organizations. We support them when they need assistance in, which they would otherwise have to outsource to a third party, thus increasing time and cost. Our responsibility from a design support resource standpoint is to make sure our customers can launch products as quickly, efficiently and affordably as possible so that they can remain competitive.
LED professional: At LightFair International, where you presented your company and services, we saw a trend going in the direction of Internet of Things and Intelligent Lighting. What do you think about this trend?
Jamie Singerman: We've seen significant changes in the business over the past 15 years. IoT and connectivity have been on the tips of people's tongues for a few years. The question is what level of knowledge is in the market - what level of stability in terms of platform adoption is in the market, and what the regional differences are. A year ago it was just a lot of talk and today it is people having to figure out what they need to do and learn. The early adopters will learn from their mistakes and get ahead of the curve.
Patrick Durand: We also need to make a distinction between IoT and lighting controls. We must not forget that lighting is a fragmented market. Our customers want something that is simple and that works.
Too often, one hears, "Here's something brand-new, revolutionary, that's going to change everything." However, all the disruptive technology that has been successful to date embraces what is already there, takes a few steps at a time - and then improves upon it. And we cannot ignore how lighting works from a business model standpoint. This is what we are working on to actually resolve. Where we're first starting is with lighting OEMs who want to be pro-active, and implement something so simple that we can do it without having to worry about big data. Our approach from a technology standpoint is about scalability, so customers can start with the basics, and then whether it is six months after the project or two years later, they can add to it as needed, essentially future-proofing the installation.
LED professional: These are really quite interesting considerations. What is your opinion in regards to the variety of interfaces and protocols for lighting controls?
Jamie Singerman: Because it's so new, many lighting OEMs are saying, "I'm going to wait until the specifier names the exact technology." The issue is, even the dimming signal to the LED driver varies by region; in North America, it's 0 to 10 volts, in Europe it's DALI, and in Japan it is PWM - just for the dimming signal to the LED driver. Then the control solution will also change depending on whether you're implementing a control solution for a small room or a few rooms in a building versus an entire facility. And finally, it's the building owner or property manager that may have their own personal preferences in terms of what they want to achieve. Another factor is: Is it indoor or outdoor? Is it area lighting or are we doing a full city for street lighting? Like everyone, we are monitoring the evolution so that we can enable customers with their solution of choice.
LED professional: What about tunable white light systems and the whole topic of Human Centric Lighting?
Jamie Singerman: We're seeing the demand for tunable white light growing, and not just from an interest standpoint, but with customers who need to launch products that have some sort of tunable white. Now the challenge is the control element. How do you actually get it done? Putting cool white or warm white LEDs on a board or a CSP array, or even if there are some new COBs that are going to be launched by a number of vendors that will do it - it's the control element that's important.
We foresee tunable white happening in three phases: Phase One is where we are right now, which is just cool white and warm white LEDs with basically a two-channel driver or something of that nature where you just change the proportion between the two CCTs to generate a desired color point.
Phase Two is cool white, warm white where you add in a third color so you can be on the black bodyline.
Phase Three will be to add in four or more colors to maintain a high CRI value while also maximizing flux and efficacy, so that when you're at one end of the CCT spectrum the lumen value is relatively close to the other end of the CCT spectrum. And with that comes sensors, because one of the major issues to resolve once multi-color luminaires are installed is, if there is a row of ten fixtures, they all need to look the same. Once we include LEDs of different colors, the LEDs degrade differently, the temperature is different depending on the current, and this is where a closed loop system with optical sensor feedback will be important.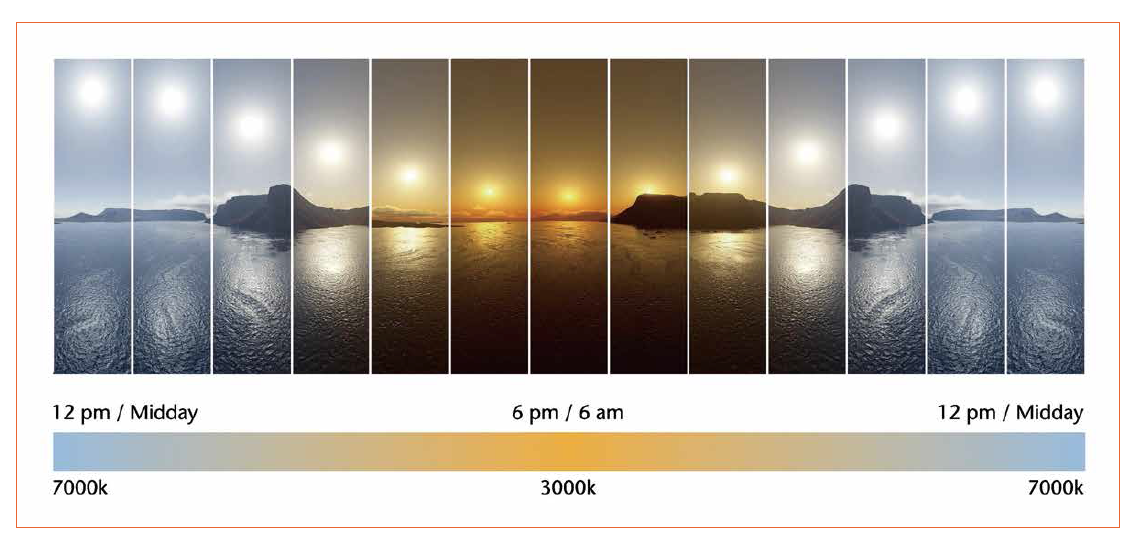 Jamie Singerman expects the tunable white technology development for human centric lighting to evolve in three steps: 1. Using just cool white and warm white LEDs 2. Adding a third (color) LED to better match the black body line 3. Using multiple LEDs of different color to further improve CRI and efficacy over the whole tuning range
LED professional: How do you see the importance of OLEDs for the market?
Patrick Durand: We see OLEDs being an eventual adjunct to the LED once the technology matures and pricing decreases to the tipping point, making it a practical light source. We've identified applications that are suitable for OLEDs. There are the obvious ones, such as high-end residential and high-end office, but there are others as well. What do we value about OLED? It's thin and can be flexible. But what's not being discussed enough is the spectral distribution, the quality of the light. With the LED there's a blue spike in the spectrum, but with OLED there isn't that blue spike. From a quality of light standpoint, a 90 CRI OLED will be superior to a conventional 90 CRI LED. If we take a closer look at the value proposition of OLED - interior transportation, like an ambulance or an airplane or a recreational vehicle where space is an issue - that's where OLED can possibly have an impact.
LED professional: What makes Future Lighting Solutions unique amongst the big distributors?
Jamie Singerman: We are partners with our customers. We don't see ourselves as a supplier to the customer. We consider our customer as a business partner from a technology perspective, component perspective, and a supply chain perspective. We're very much focused on how we can help the customer with their business model. It's very important for us to be able to add value and fill in the gaps. We make sure they're current in terms of product information, and as Patrick mentioned before, we're always looking forward and working with the customer so that the adopters of new technologies, new applications, can leverage our knowledge to be successful.
LED professional: We're coming towards the end of the interview and I wanted to ask if there is anything you would like to share with our readers in terms of strategies, market shares or new opportunities.
Jamie Singerman: Our model continues to evolve. The market keeps moving. Our strategy is always to listen to the customer - it's very simple. Understand what they need and deliver to those needs. As we say: "Making LED Lighting Simple". We'll soon be launching a monthly online newsletter featuring new products. This will go to engineers and buyers - people who need to have timely new product information. You'll be able to click on a button and go directly to a data sheet or order samples. The next step will be to turn that into an app, so they'll be able to access all that new product information directly on their phone or other mobile device. Again, it's all about understanding the market, looking while keeping our pulse on OLED, laser and other technologies, and balancing our resources on what generates business today and for tomorrow. And we're always looking for our suppliers and our customers to tell us anywhere there is a gap in their business model that we can fill.
LED professional: Thank you both very much for taking the time for this interview and for being so open with us.
Jamie Singerman: Thank you for the opportunity. We really enjoyed talking to you.

Jamie Singerman
He joined Future Electronics in May 1996, in the capacity of Corporative Vice-President – Worldwide Marketing. He joined Future following a successful career in consumer electronics distribution for over 14 years. In 2000, Mr. Singerman assumed dual responsibility as Vice-President of Human Resources as well as Worldwide Marketing, for the Corporation. In 2004, Mr. Singerman took on the responsibility of Corporate Vice-President - Worldwide, Future Lighting Solutions (FLS), a division of the Corporation devoted to implementing solid-state lighting technologies. Having traveled extensively, his efforts have been focused on market development, customer acquisition and strategic supplier initiatives. He has been instrumental in developing FLS into a global leader in the solid-state lighting arena.
Patrick Durand
He is the Worldwide Technical Director at Future Lighting Solutions (FLS) with 14 years of experience in the solid state lighting industry. Patrick leads the FLS Technical Marketing teams and FLS laboratory teams located in multiple regions around the world with the objective of providing world-class support to lighting OEMs in developing luminaires with the latest SSL technology from the light source to the complete system incorporating the LED driver, optic, thermal management and intelligent control solutions. Patrick has received a Bachelor of Electrical Engineering from Carleton University as well as a Bachelor of Commerce and an MBA from the University of Ottawa.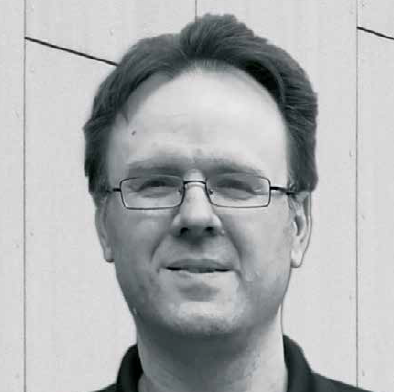 (c) Luger Research e.U. - 2017