Resources | LpR Article | Tech-Talks Bregenz | Manufacturing | Components | Systems

|
May 16, 2017
Tech-Talks BREGENZ - Philipp Henrici, President and Managing Director at BJB
It's unusual for a lighting company to be older than electric lighting itself, but BJB in Arnsberg, Germany is celebrating their 150th anniversary this year. LED professional's Siegfried Luger and Dr. Günther Sejkora spoke with Philipp Henrici, the President and Managing Director at BJB about disruptive technology changes, starting from petroleum lamps to electric lighting as well as conventional lighting versus solid state lighting. They also touched on the subjects of chances and drawbacks of LED component standardization, modular systems and automated production processes.
LED professional: Thank you for finding the time to come to Bregenz for our Tech Talk. We know that you must be very busy this year because of BJB's 150 year anniversary. Perhaps you could tell us a little about the company?
Philipp Henrici: In the 150 years since it was founded, BJB has been occupied with the subject of light. We started out with oil lamps and changed over to petroleum lamps. We developed a special burner that was so good that we could sell it to our competition. It was at that point in time that BJB made the strategic decision to operate as a supplier because it was clear that we couldn't operate as a competitor and supplier at the same time.
At the beginning of the 20th century, the next innovation came along – namely, the electric light. BJB quickly started to concentrate on sockets and became the world leader with this product.
LED professional: Why didn't the big lamp and light manufacturers claim that business area for themselves?
Philipp Henrici: That's a good question. The answer is probably because the socket is purely an OEM business and lamps with lamp-exchange is more of an end user business. It was simply a good fit with lamp producers and BJB developing lamp socket systems together. BJB has become the first place to look when it comes to innovations for the lamp industry. From the 1970's onward, all lamp innovations on the socket side were made together with BJB. Over time, BJB didn't only concentrate on the socket. In the "old days" we tried to build up other mainstays and today BJB is still the world market leader for lighting solutions in ovens. If you have an oven at home, you can be almost sure that your lighting solution comes from BJB. In the 1990's, when automation technology gained increasing significance, we started working with automation technology. We were one of the first companies that was able to hardwire lights automatically. In this way we have continuously been able to improve the position of our products on the market.
LED professional: And how did the LED change your business model?
Philipp Henrici: LED technology naturally turned everything upside down. In the old days, one needed a socket based system. Unfortunately, in the LED world, that isn't really necessary. Because of that, the years from 2008 when LED technology was intensively establishing itself, BJB went through a difficult phase. We had to completely reorganize ourselves and even question parts of our own business model. This is how we developed from being a provider of interfaces in lighting technology, to a component and solution provider. Today our program not only includes sockets, that exist in LED technology even though they aren't really necessary, but also everything that you need for the conception of a luminaire. It has to do with optics, fastening technology, automation and the printed circuit board itself. Those are all the things you can purchase from us. On the other hand, the customer can choose the components that they need for their solution themselves. We want to keep the market open and offer the customer as much freedom as possible.
LED professional: You mentioned sockets before ...
Philipp Henrici: Our philosophy is that our clients should have the option to exchange certain components that we offer. For that you need the appropriate interface. The client should have the freedom to use standardized solutions. A few years ago we brought the Linear Flat System on the market. This is a linear component that is equipped with a socket based interface. In the meantime, this solution has been standardized, the interface meets the IEC Norm and the lighting solution is in the Zhaga book 14.

LED professional: Is this system replaceable for the client; whether the luminaire manufacturer or the end user?
Philipp Henrici: It is replaceable for the end user as well. The LED assembly group can be exchanged without the use of tools, just like the traditional light bulb. It is standardized as an AC and a DC component.
LED professional: We are also interested in the market position of BJB. Does your business operate on a world-wide basis? Where are your main markets? And how is your turnover split in different product groups?
Philipp Henrici: Here you have to differentiate between the product groups. We have a market share of over 70% for lighting solutions for ovens. At the moment our turnover in the area of general lighting is a bit more. The turnover for household appliances is about 30 million Euros and for general lighting, which means conventional lighting and LED technology we make around 40 million. This year we are expecting 45 million in that category. Another 4 to 5 million comes in from automation solutions. But of course, the solutions help us to place our components more prominently on the market.
LED professional: Besides general lighting there are a number of other business portfolios that LED's reach today. Examples are the automotive industry and UV applications. What do you think about these fields and are you active in other business portfolios?
Philipp Henrici: At the moment we are focusing on household appliances and general lighting. I don't want to rule out other portfolios but at the moment they are not our focus.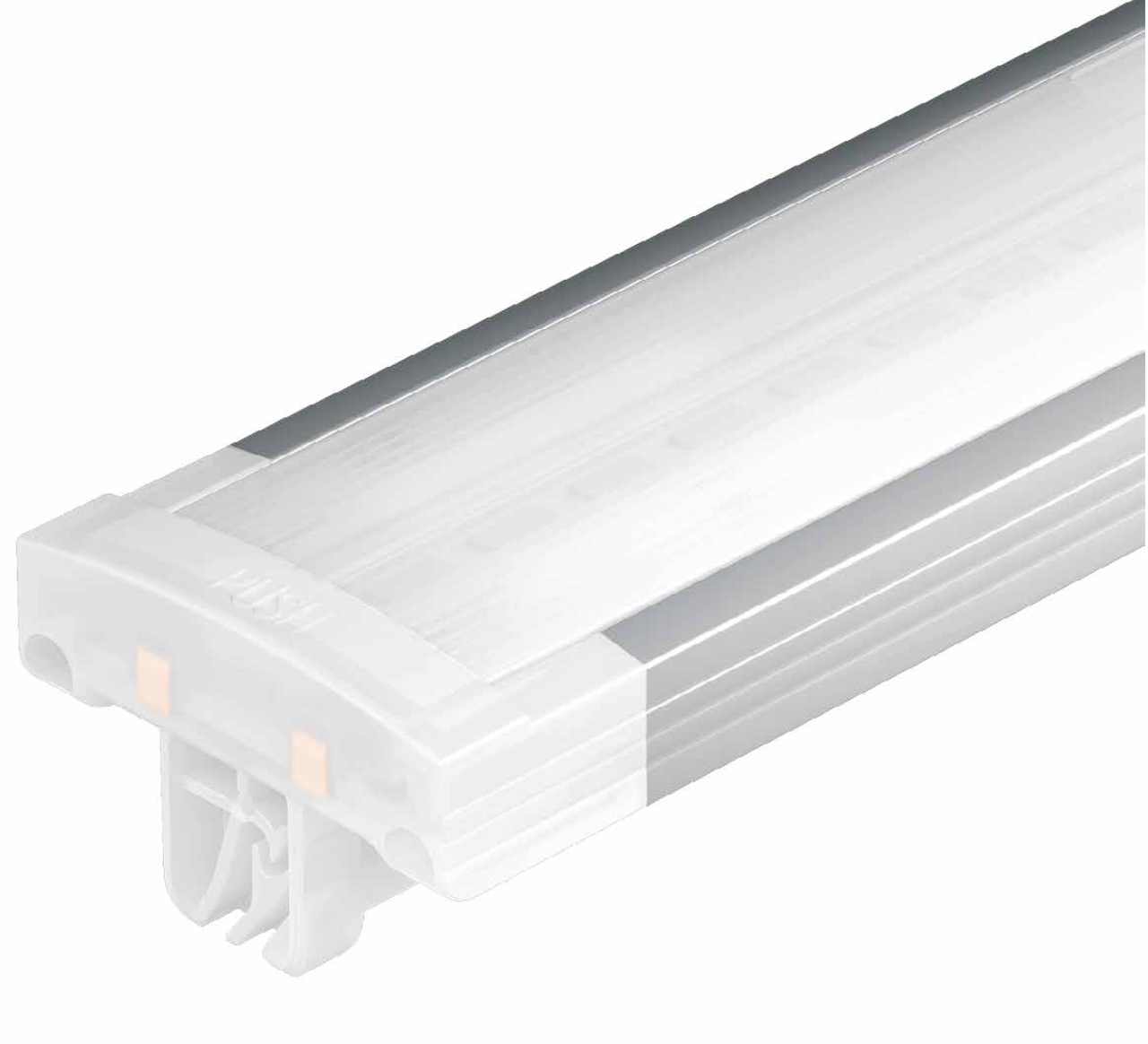 BJB's Linear Flat System became a Zhaga Standard in book 14. This approach combines easy application for linear systems, similar to FL tubes, without compromising LED technology requirements
LED professional: What does your market share look like divided up geographically?
Philipp Henrici: We sell about 80% of our products to foreign countries. This doesn't only include exports because we also manufacture some of our goods outside of Germany. About 80% of the value added is in Germany. Our biggest markets are Germany and the USA (about the same volume) followed by Italy, Spain, England, Japan, Poland and Turkey. Those are the 8 biggest markets.
LED professional: You mentioned before that BJB originally came from the non-electric lighting sector and then made big changes. And then there was the technology change from the conventional lamp to the LED. How did that change affect BJB?
Philipp Henrici: The technology change had a disruptive character. In the old days, when we used conventional lighting, you had to have a socket based interface, a light socket. In modern times,
we don't need that, even if we are convinced that it still makes sense. The old socket business has been getting smaller by around 20% per year since 2008. And when that happens you have to come up with something to stay on the market.
LED professional: So the traditional sockets have had to be replaced by clamps.
Philipp Henrici: Well, in many cases it is a printed circuit board with an SMD clamp on it, which we also have in our program. But of course you can't compare it to the socket interface that we had in the past. Connecting terminals have always been in our program but we only developed the SMD clamp in connection with LED technology.
We have developed towards the module. And you have to differentiate here. On the one hand we have the standardized components, like our Linear Flat System, that we want to have as an open system. On the other hand, we offer our customers PCB solutions. With respect to standardized solutions, however, we can't compete with the giants in the industry. We are very responsive to the needs of our customers and do everything we can to make their special solutions possible. Right now we are the only company on the market that has active components, passive components, like fastening technology and optics, right up to automation, in one portfolio. In this way we can offer the client advantages with components that are aligned with each other, that others can't deliver.
LED professional: But those are customer specific solutions that can't be mass produced.
Philipp Henrici: When it comes to passive components, those are standard solutions or close to standard. For example, our COB- connectors are already aligned with the standard. We are also willing to find the required solution together with the client.
LED professional: You just mentioned the keyword "COB connectors". One might see the COB solution as a counterpart to the customer specific LED-board.
At the beginning of LED technology, there were only customer specific solutions, and you were pushed right out of the business but you have found the way back into the business with standardized modules through your COB connectors. How do you see this development? Will there only be standardized solutions in a few years?
Philipp Henrici: I believe there will be both. LED technology offers completely different possibilities for the luminaire manufacturer when it comes to design. And if they want to implement a special design they probably don't want to use standards. On the other hand, if they want to offer solutions that are cost optimized, they won't be able to refrain from using standards.
There are standards in all branches of industry. The automobile industry is the big example that uses standardized modules that are equipped with standardized components. That is an economic necessity: if costs have to be reduced, you need standards. That is why I believe that when it comes to luminaires in big volume, standards will prevail.
LED professional: Are your COB connectors oriented on Zhaga standards or do you create your own standards?
Philipp Henrici: Both. Right now there are 6 Zhaga standards in regards to COB connectors and we offer connectors according to them. But these standards have only existed for the past one or two years. We have about 80 connectors in our program because there weren't any standards before. We will continue to offer what the market requires in the future as well. I can imagine that in the future, because of the Zhaga standards, our variations will decrease.
LED professional: Is Zhaga a standard that you absolutely need in your portfolio?
Philipp Henrici: Absolutely. We are also a member of Zhaga. We have always pushed the standards. The industry is always saying that it wants standards and there isn't any other committee that is engaged in them. If there ever is another committee, then we would be willing to work with them as well. But right now, Zhaga is the only committee that has set standards in motion.
LED professional: COB connectors can be seen as an evolutionary development of the socket.
Philipp Henrici: That was our idea, as well. We developed the idea, which we also patented, in order to not have to solder. When the first COB modules were developed, you still had to solder even though the lighting industry was used to working with plug contacts. We started to look for a solution and that's how the COB connector technology came into being.
LED professional: On the other hand, you developed in the direction of LED modules, which was a new direction for your company. How much did it change your business in the areas of product development and/or production?
Philipp Henrici: A lot. First we had to make the decision to get involved with active components. It was clear to us in 2008, already, that we had to do something and further develop ourselves. The question we asked ourselves was: If the interface, meaning the socket, is discontinued, should we turn in the direction of luminaire development or illuminants? We decided to go with the illuminants because that would allow us to keep concentrating on our existing clientele, namely, luminaire manufacturers. We didn't want to become competition for our customers.
Since the established lamp manufacturers didn't want to work together to bring a socket based solution to the market, we decided to do it ourselves. Because of the amount of know-how required and the vertical range of manufacture it turned out to be quite a challenge. We had to start working with electronics and new production technologies and the supply chain. But when you are confronted with this type of disruptive technology, you always have to find new paths.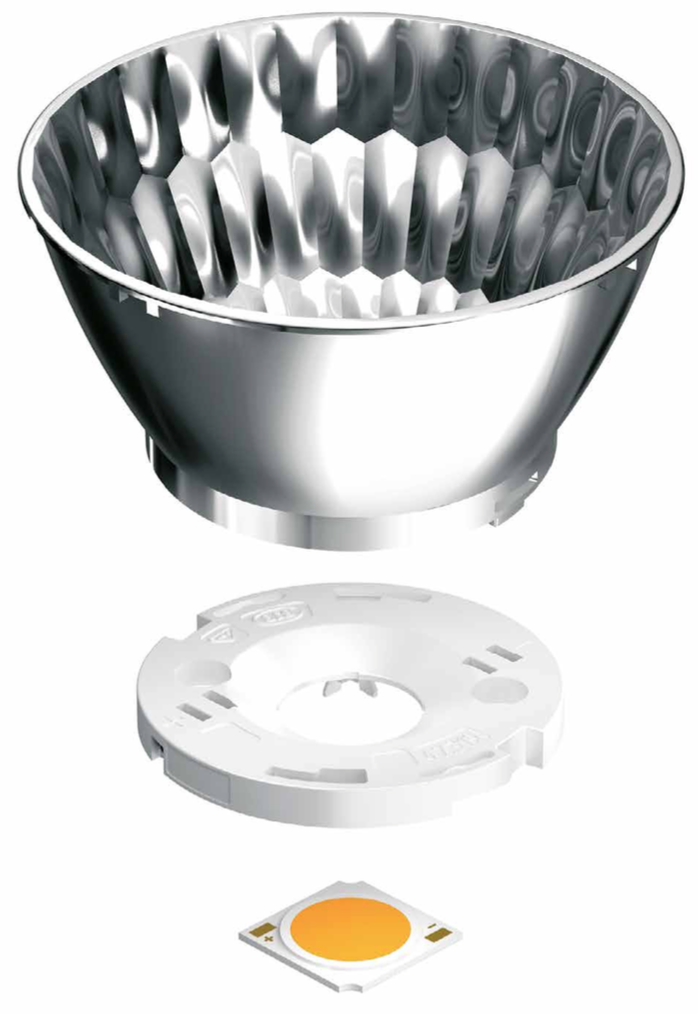 BJB offers various complete solutions for CoB including holders and optics
LED professional: You said that you didn't want to compete with your customers, but what happens if your customer wants to move in the direction of illuminants?
Philipp Henrici: Our customers are free to do as they please. You don't have to buy the module from us, you can purchase individual components. We produce the end product. That is, at the most, a component, and the customer is still the luminaire manufacturer.
LED professional: What is integrated in your modules?
Philipp Henrici: There is the LED on the PCB, the plastic socket and the optic is also integrated. And if you take the AC option, the driver is also integrated. We have AC and DC solutions. The market demands both types. Some people say that the trend is heading towards AC solutions while others say we still need DC solutions because of the light quality. If we talk about the flicker index, I will need a DC solution to place the capacitors. I believe that there will be both in the future and we have to offer both types to our customers.
LED professional: The LED meant a complete shift for you in the area of components. How does the LED affect the area of automation?
Philipp Henrici: That hasn't been concluded yet. When the LED started it was a step back for production technology. In the old days, everything in a big company was automated. Housings, reflectors, assembly, wiring – everything was manufactured automatically. And then when the LED came along, we had to start soldering by hand again. We saw that as a step backwards and started to offer solutions that would allow for the automation of luminaire manufacturing also with LED's. We presented
these solutions at the last light+building event.
The automation process will change in as much as the wiring complexity lessens compared to what it was like in the old days. There is also a lot of potential when it comes to assembling the components. Solutions have to be found where the printed circuit boards are not attached with screws any more, but rather, with appropriate fasteners. And that's what we've been working on during the past few years. There is a lot of potential, especially now that LED solutions are coming in quantities. But you have to be flexible as well, because the life time of a product is quite a bit shorter than it was before.
LED professional: Did expanding your product portfolio towards lamp manufacturers have an effect on your markets or did it remain the same since your customers are solely luminaire manufacturers?
Philipp Henrici: With regards to general lighting, our customers come exclusively from the area of luminaire manufacturing. But the value chain didn't only change for us, it also changed for the luminaire manufacturer. Our portfolio includes optics that we can offer which are lighting technology elements. In the past, reflectors were used and that was usually the domain of the luminaire manufacturer. Today lenses are used and the luminaire manufacturers lean towards buying the lenses from manufacturers like BJB. The value chain is altered everywhere.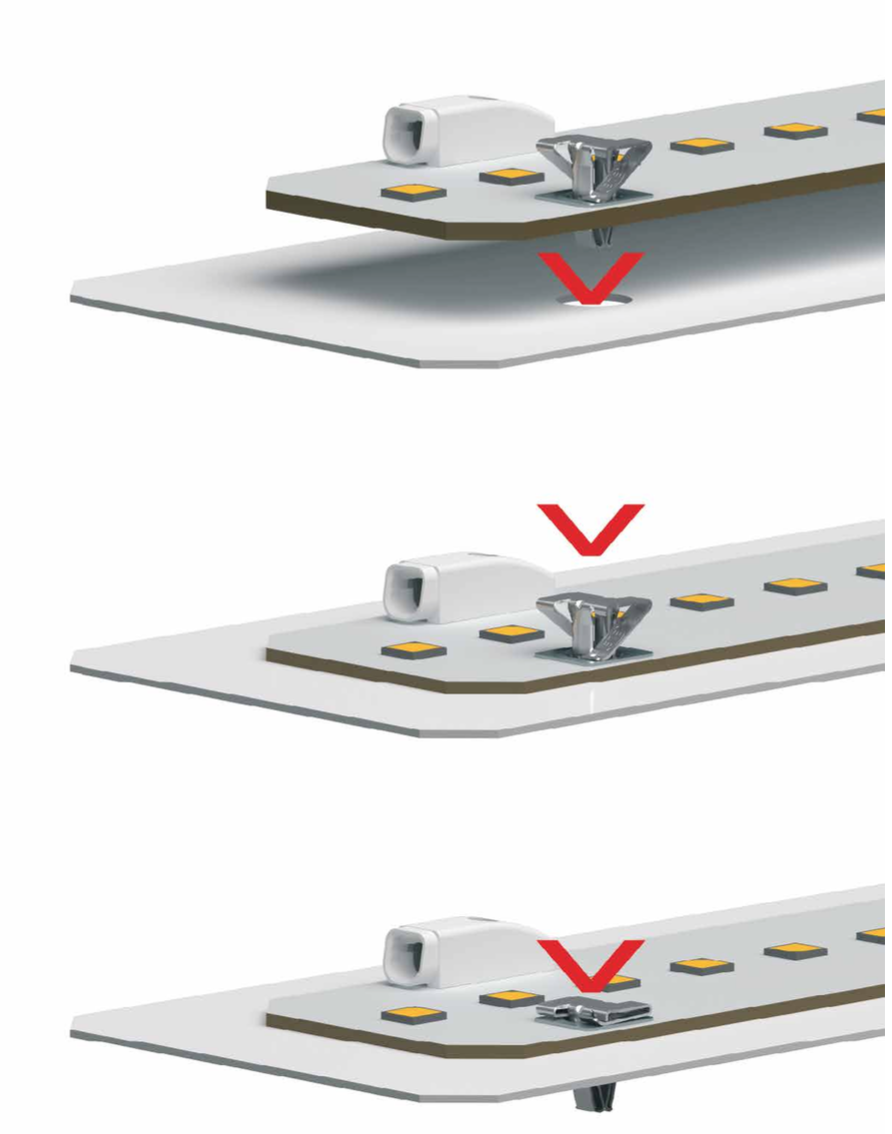 BJB's "push-to-fix" solution for the automatic assembly of printed circuit boards replaces the screw
LED professional: You have already integrated forward, will you keep moving in that direction? You integrated the AC driver so will you integrate a DC driver in the future?
Philipp Henrici: In regards to standard drivers, that won't be the direction we take. There are driver solutions that are especially adapted to our components so we are dependent on driving our own innovations forward. Take,
for example, the Linear Flat System: It is available as an AC solution and therefore we have to integrate the innovation into the product ourselves. We presented a system at the Euroshop where we could click the Linear Flat Module onto a conductor rail. You can sink the driver into the conductor rail, which places high demands on the form factor of the driver. Since there wasn't anything like this on the market and we needed one, we developed this driver together with a partner.
LED professional: Are there other, innovative approaches that you can tell us about?
Philipp Henrici: We developed the "push-to-fix" developed for the automatic assembly of printed circuit boards which replaces the screw. Right now the printed circuit boards are mostly screwed into the luminaire and this is very time intensive. With the "push-to-fix" the printed circuit board is just pushed in. The SMD push-to-fix is an further development in which the element is set and soldered in the production process. The printed circuit board can be set and fixed automatically later.
LED professional: What research and development topics do you see as important in the mid and long term for your company? What key technologies does BJB need in order to stay successful?
Philipp Henrici: Optics is becoming increasingly important and reflector technology is used less and less. The direction we are going is new materials and new solutions, individual solutions for lighting guidance and dissemination. All these things have to be integrated in the automation process. Right now we have electronics, the LED and optics. If we want to integrate them into the automation process they will all have to be aligned with each other. The industry will develop in that direction and we will have to do a lot of research and development work.
LED professional: You used to develop systems together with the lamp manufacturer and then offer components from the system. In the meantime you are developing your own system solutions more and more and offering them. If I think about which systems will be relevant in the future, Smart Lighting comes to mind. Will you be moving in that direction as well?
Philipp Henrici: We will definitely have to engage in that. Digitalization is moving forward and the LED is also a type of digitalization. But the path goes on and you can see at every trade fair that the lighting industry is occupied by it. Personally, I still haven't seen "The Solution". I think that's because a standard hasn't been created yet. If we talk about IoT, all of the equipment has to communicate with each other and for that to be possible, they all have to speak the same language. But if everyone thinks they have to push their own standard through, it is going to be difficult. We'll see if the industry can agree to a standard.
It would be foolish, in today's world, where everyone is talking about this subject, for us not to concern ourselves with it. Last year, at the light+building, we showed a demonstrator that is based on the THREAD standard.
LED professional: I'd like to come back now to your 150 year jubilee: Does BJB have any special events planned to celebrate?
Philipp Henrici: We will have an Open House. We are very closely linked with the city of Arnsberg and we want to do something for our employees as well as for the citizens of the city. So we plan to combine the Open House with a corresponding event where we will erect stands with food and drinks. The stands will represent our international locations and the food will be specialties from the different regions, like Japan or Spain. I hope it will be are great time to everyone that attends.
LED professional: In that case we'd like to wish you a great event and success for the future. Thank you for taking the time to talk to us!


Philipp Henrici
Dipl.-Jur. Philipp Henrici MBA is President and Managing Director at BJB GmbH & Co. KG in Arnsberg, Germany. He studied law at the Friedrich Schiller University Jena and Freie Universität Berlin, where he received his Dipl.-Jur. degree in 2002. In 2006 he received his MBA at University of St. Gallen, Switzerland. He started to work for BJB in 2007 taking over several management positions in USA, Hong Kong, Taiwan and Japan. In 2008 he became President/ Managing Director at the BJB headquarters in Arnsberg.
(c) Luger Research e.U. - 2017