Smart Lighting + IoT | Tech-Talks Bregenz | Resources | Outdoor Applications

|
Oct 12, 2018
Tech-Talks BREGENZ - Rico Kramer, Inventor, Founder & CEO, esave ag
In recent years there has been a strong focus on safe communication and controls in the lighting industry. The success story of esave ag, however, started much earlier, when Rico Kramer, the founder and CEO of esave, travelled to Taiwan due to his dissatisfaction with the quality of early LED replacement bulbs. What the former Apple employee learned there led to the development of the esave concept and its technology. In the interview he talks about his intentions, the beginning of esave, wireless technologies in general, system security, commissioning, system incompatibilities, markets and their peculiarities.
LED professional: Thank you for coming to Bregenz for the TechTalk.
Rico Kramer: Thank you for inviting me!
LED professional: The first thing I'd like to ask you is to tell us a little bit about the company esave.
Rico Kramer: esave is about 9 years old now. The idea came around 2009 when I traveled to Asia for an event. I was very interested in LED lighting, especially lights with a warm color because at that time you couldn't find warm LED lights in Europe that could be put in existing holders. I went to an exhibition in Taiwan and I was shocked. They had all kinds of warm lights there and I also saw high-power LED streetlights for the first time. That meant that the streetlights had 140 Watt. I had never seen anything like that in Europe and I realized that it was a very good idea. I wanted to take the streetlight back to Switzerland with me and start selling LED streetlights even though I had no idea about lights. At the time I was working for Apple. So I went to the local government and asked them if they would like to test LED streetlights on the road and they thought it was a great idea even though the only advantage I could tell them at the time was the extremely long lifetime.
So we installed the light on a street for testing. The owner of the street and I were there on the first night and we were shocked when we turned the light on for the first time. It was so bright that we thought we would only need one luminaire for the whole city! It was so bright because although the original had 125 watts I thought that I would need more in Switzerland and installed 140 watts - not realizing the higher efficiency the LED would have. And that was the beginning of the idea for esave.
So we turned off the light and I went to see a friend of mine who is an engineer and told him that I had a problem. I told him that I had done an experiment with a streetlight but that it was much too bright. I needed someone to help me change the light level without changing the wiring and asked him if he had any ideas. He came up with the idea of trying to change it to wireless, which I thought was a great idea. We decided to work on the project together and it turned out to be the first esave controller.
A couple of months later another friend of mine, a software engineer, developed the first software to control the luminaire. And so, in 2009 we had the first wireless controller using PC software. In 2011 we registered the name "esave", internationally, and opened an office. We started to visit luminaire manufacturers to present and to sell our controller.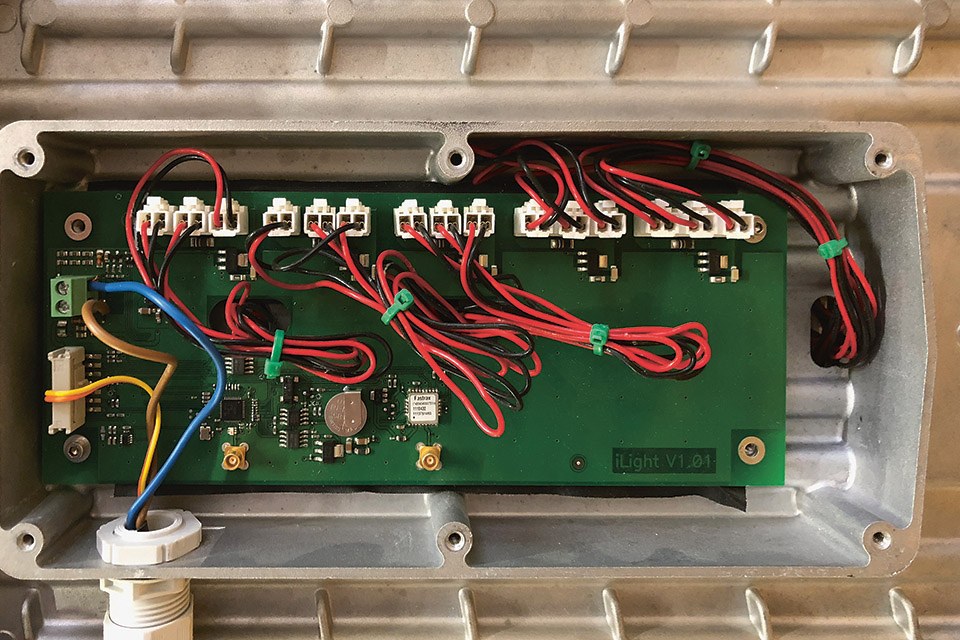 The first prototype of an esave controller built in a luminaire
LED professional: The name "esave" suggests that the main purpose of your products is to save energy. Is that accurate?
Rico Kramer: At the beginning the idea was to save energy but we soon learned that this wasn't the only thing that the market wanted. The market wanted other functions as well. And I thought energy saving could be the way for us to enter the market because everyone was familiar with that. If I went to someone and said, "I have an IoT luminaire" they didn't know what I was talking about. But if I explained that we have a "smart light" that dims when there is no one on the street and therefore you can save energy and also make your city safer because the light recognizes when there are pedestrians as well, they understood that this is what esave means.
Rico Kramer candidly talked about IoT and LED lighting technologies and his business
LED professional: I think that saving energy is a good door opener in Switzerland but you are also in other markets - like the Middle and Far East. Is energy saving also a good door opener for those markets?
Rico Kramer: The Middle East, Far East and even Russia aren't focused on saving energy. Their main focus is people control. For example, in Singapore you have a small area with a high population made up of many different cultures. And their interest lies in knowing, not only about automobile traffic, but also pedestrian traffic. For them it is much more important to make the right bus stop in the right area and to know where there are pedestrian traffic jams on the sidewalks.
In Russia, on the other hand, they have many traffic jams with cars and they need to know if they should change the lines on the roads - like to make a truck lane or something similar. And this is what we can determine with an intelligent sensor. Here you're not saving energy - but you save resources.
LED professional: That means that, especially in this market, the step that is pushed by a lot of luminaire manufacturers to provide other data is already required.
Rico Kramer: Yes. They need this data. For example, in Singapore they have a lot of rain during the summer. If the rain is really heavy you cannot drive your car. But it's just a small area where this problem arises. If we can detect how much rain is coming, you can put up signs that say, "Please drive slowly because heavy rain is expected". This is the type of information that is important. In Germany, to give you another example, the dust resulting from cars is a big problem inside the cities. And now you can have sensors that measure that dust.
LED professional: Are these sensors yours or do you provide an interface to use other sensors?
Rico Kramer: At the moment we have a deal with Theben. They are a really big sensor technologies company and we now have a weather station ready that measures rain, temperature and the light level, so we can detect what level of light is needed on the road depending on the conditions. If it's wet, you need a little more light. We have an interface that is open for various sensors from different companies. But we also have our own sensors, like the new radar sensor where we measure the exact amount of traffic on the road and what type of traffic it is: cars, pedestrians, bicycles, etc. When we measure that, we can make the correct level of light. It doesn't make sense to have following lights on the big highways. But this new sensor will allow you to see if you have the right light level in respect to the amount of traffic on the road. We can measure the traffic per minute or up to an hour and then we bring the whole road up to the correct light level.
For example: We are in Bregenz now. Let's say the festival is finished and a lot of cars are leaving Bregenz. The sensor can measure the amount of traffic and bring the light level to a higher value to make the road safe for drivers and pedestrians, alike.
LED professional: Where did you get the know-how to find the right algorithm to do that? Do you work together with specialists in that field?
Rico Kramer: We follow the European norm that tells you exactly what light levels you need at a certain amount of traffic. We leave the system open because what is good for Europe is not good for Asia. In Asia we have ten or twenty traffic levels that we can set up. In Europe you can only move three steps up and down but in Asia you can move up to twenty steps up and down.
LED professional: Coming back to your company, you said you started the company about 9 years ago on your own and that the company grew very slowly. But what is the current state of esave? How big is it?
Rico Kramer: esave has grown a lot in the past year, mostly because we have joined more markets. We have 10 people now working at esave Switzerland and we have around 15 handicapped people, not from esave, but working for us, doing easy jobs in the production like packaging. Integration is very important to us. We have a franchise company in Russia.
It is very important to have local staff because Russia isn't a very easy market to penetrate. All production happens in Switzerland and we ship the products to our offices in the different countries. Then we have a sister company in Dubai. It's called esave Middle East. There is also esave Singapore, which is also a franchise. They also have a light designer working for them.
LED professional: So you have centralized development and production and have local distribution or sales offices.
Rico Kramer: Correct. We need the local people to work the markets. When you go to Asia as a European you have many handicaps - starting with the language and going on to the food. The locals know the market; they know the people, and the language. If I go there and speak English they just say, "See you next time."
LED professional: So your markets are Europe, Middle East and Far East, is that correct?
Rico Kramer: Yes - and Russia. The fastest growing market for us is the Russian market. I think it will become the biggest market for lighting in the near future.
LED professional: When we met in Basel I believe you said that you have two options: The first option is to provide the complete system, which consists of the luminaire, including your controls, the driver, and so on. The second option is to work together with other companies and only provide the controls and the driver. The real core - or the heart - of your system is the intelligence. Is that correct?
Rico Kramer: At the beginning we had the controller. And we had no chance to join the market. That is why it took a while to expand. Then I had the idea of integrating a luminary. So we started design luminaries here in Switzerland and we came up with "Stillness". But it was extremely expensive. And then we won a tender in Bern (the capital of Switzerland) for 1,000 luminaires. And that's when the name esave was born for luminaires as well. But we can't go out in the market and sell lots of luminaires. So we have to be open to give other companies the chance to join the tender with esave. And that's what happened. The next 3,000 luminaires were from Asetronics, a Swiss company. They joined in and we also won a second tender, which made it possible to open the market much faster.
Anyway - esave now produces the first intelligent LED modules. We have matched core chips with LED technologies where you only need new housing for a luminaire and everything is inside - in the LED module.
There are many standards, like Zhaga, but products aren't compatible with each other. In the future, this will be a big problem. How will you manage a city? You have various manufacturers for LED streetlights each one needs a certain sized LED module. Lifetime of a luminary is very long, but design lifetime is only around 3 years. They don't have the PCB boards in stock. So if something breaks, you have a big problem. It's not like before when all you had to do is to change the light bulb. Now you have to change the whole luminaire. So my idea is to match everything together, make one luminaire design and one light source design and plug it in and it's ready to go. This is what esave produces, but we don't sell it. We have licensed companies that go onto the market with this type of luminaire. So we are focused on the intelligent parts and the partners will sell it.
It was presented at light + building as the first intelligent LED module with multi-lenses, sensor technologies ready and water proofed.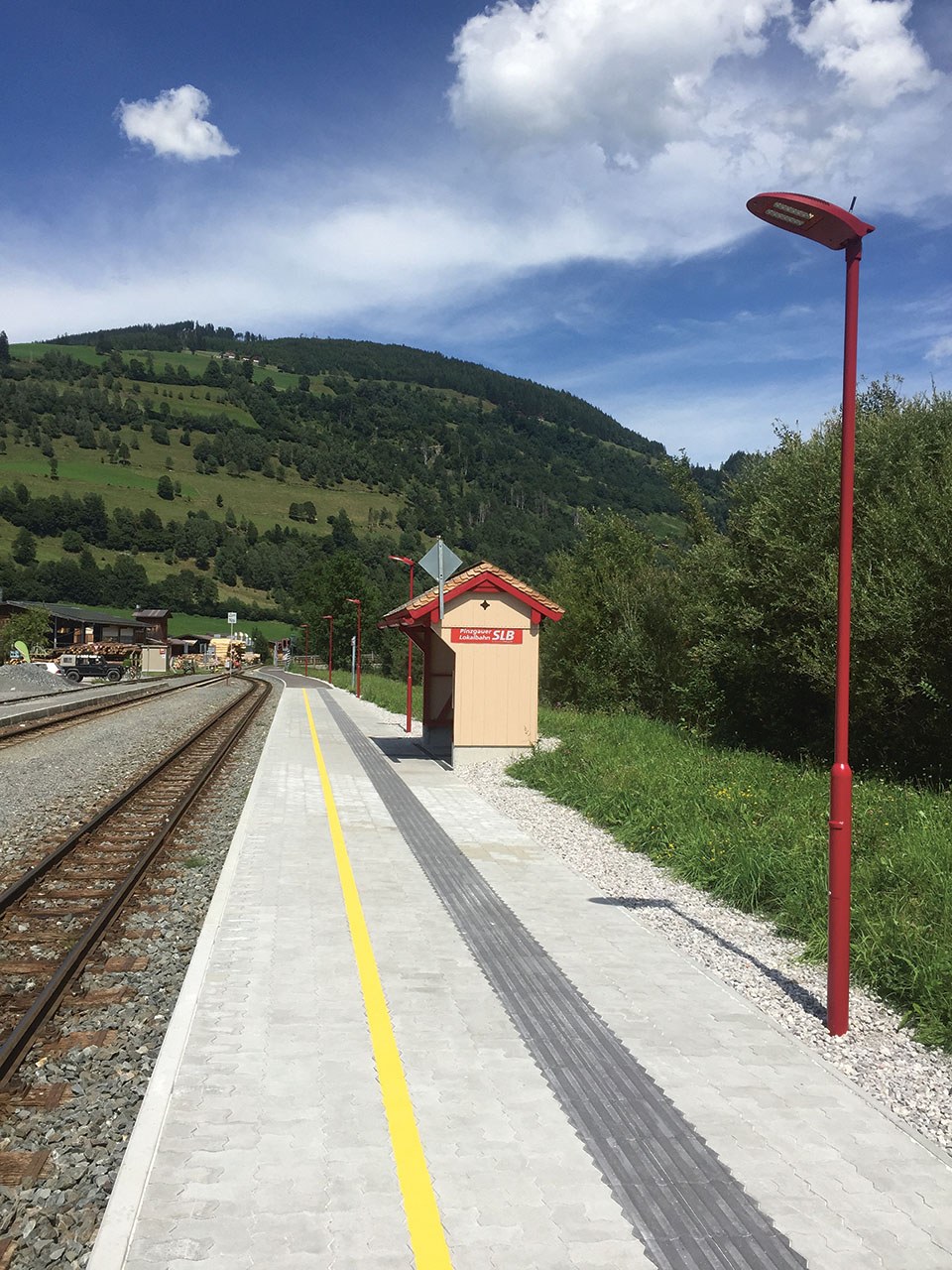 In the meantime esave luminaires are being sold all over the world for any type of infrastructure. Here they are being used at a train station in the Pinzgau in Salzburg, Austria
LED professional: So what's the strategy of esave?
Rico Kramer: If I think about it - esave didn't really have a clear strategy as it grew. The first idea was to save energy - but the big players closed us out of the market. So then we started to make luminaires with controllers so we could get into the market and now we are a player. But the new market with IoT and intelligent parts, sensors and matched technology and everything that is coming in the future, it isn't that easy. My opinion is that we need standards.
LED professional: Let's talk about standards: There is an ongoing discussion about communication protocols. Most bigger companies want to have their own protocol - not open to other companies. For indoor lighting, we now have - after years - the DALI standard. It's now the common standard. I think you have your own protocol now - so in which direction would you like to go? Do you want to open it for other companies for the development of sensors, for example?
Rico Kramer: Yes, we've been thinking about what we should do about the standard for a very long time. We have seen that if we open the protocol we could have problems with hacking and those sorts of things. So it's more a question of safety. All the big standards have the potential to be hacked. This is why we leave the protocol closed, but we distribute the chips that have esave protocol included. That means the sensor manufacturers can make their sensors and put our core chip on it and it is compatible with our product. This is the best way for us to do it. It's like Lego blocks: You can make your own design and put the Lego communication inside and you'll be compatible with us.
LED professional: You opened the market for the communication module but you haven't opened the protocol.
Rico Kramer: That's correct. It doesn't make sense to open it now. We want to go forward - we want to be on the market. What we see today is the new Bluetooth 5 protocol. It is very interesting to us but it isn't ready. In future, when we have Bluetooth 5 on our controllers we can let standard controllers and standard sensors in that communicate via Bluetooth 5 with the esave network. I think that could be the first opener for others to join the esave standard. So we would have bridges that bring Bluetooth 5 to the esave 2.5 protocol.
LED professional: You are not only working on hardware innovations. What I saw at the Light + Building in Frankfurt was a very interesting Software management system for Smart Lighting.
Rico Kramer: That's correct. We have two products: We have the control software that runs on a Windows based computer that can manage up to 250 devices. It's a stand-alone - so you can set up your devices, you have no maintenance costs. You communicate with the lighting system via a USB stick. The system does exactly what you have set up. We also have the cloud version sl control. It is based on connected gateways. Each gateway can control up to 250 devices. If you look at the city of Chur - where we are based - we have 4,000 luminaires and we installed 26 gateways. So with this platform you have the chance to get a lot of information from your city. You can make heat maps - for example, to find crowded areas during the night. You can see traffic jams and where the most visitors are. On a Saturday, for example, you can see how many people go to a bar. We also have radar sensors installed that show us exactly what is happening. Is it a traffic jam or is it people walking? Your navigation system may tell you there's a traffic jam but it's possible that it's only a bus. Our sensor technologies will be able to tell you if it is really a traffic jam or pedestrians or a bus. To analyze the information we need a web platform. In big cities they want to have only one platform to control everything. So we don't only have the light function in this platform, but we have now also added water, gas, and district heating for Russia is also integrated. We have different log-ins.This means that the people from the water can log in and enter their changes or their services by word code or by QR code. They can check, for example, if a pipeline is broken and exactly where it is broken. We see this as the new future. It's a web platform, it's cheap and it's easy to handle. It doesn't matter whether you use android or apple. This is what we are working on right now.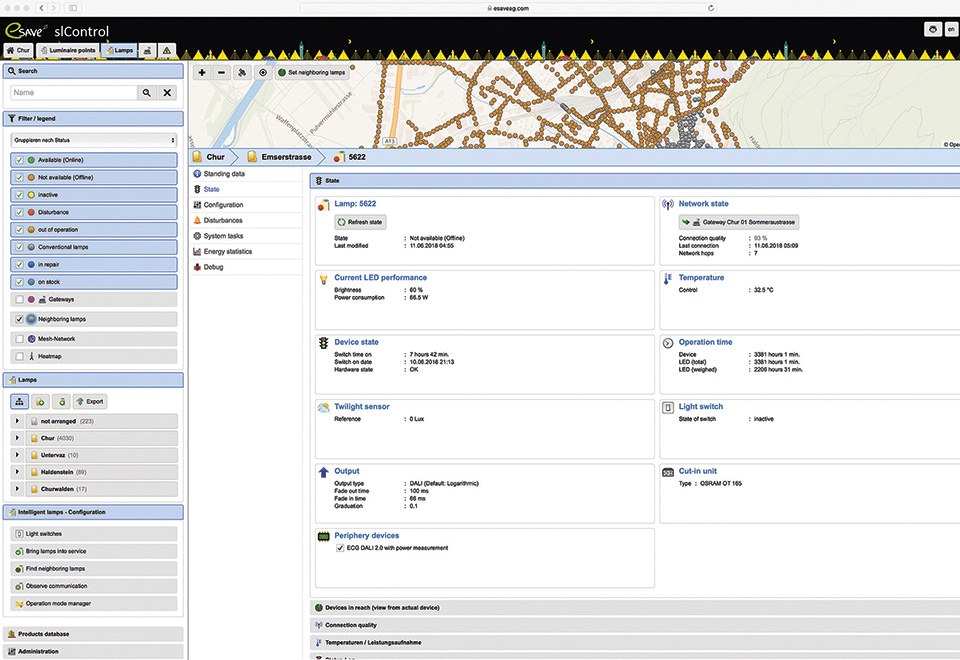 An important item in any lighting company's toolbox for operators is the software. esave's software is available as a standalone as well as in a cloud version
LED professional: You said you're able to manage 250 luminaires with one gateway. Other systems claim to be able to manage many more. Is this a limitation for your system?
Rico Kramer: No, it's a hardware problem that limits the number of devices you can manage. They don't have enough RAM to manage more controllers. But every problem can also be a solution! If we have a number of gateways in a city and one breaks down - the luminaires will automatically go to the next gateway. So you have a redundant system. We have been observing this in Chur. Also when we have heavy snow, if you use LoRa, your antenna is down and you have no communication. But esave uses a Mesh network. Every luminaire searches for another way and if one way is not available, maybe there is another. So this is good if you have more gateways.
LED professional: So the network is able to communicate with all streetlamps using this redundant network?
Rico Kramer: Not only streetlamps. Chur has started to build a new school building and we are managing the luminaires outside and inside. The system can control the light level by sharing the information about the level of brightness outside and the temperature and inside we can make the level of light right for the students. If the people move from inside to outside we can turn the lights on outside.
We don't say 'OK, here you have DALI standards' because DALI is a good idea but it's not a standard. Everybody has their own standard included in the DALI protocol. And that's a big problem. For example: If I want to use a Dali driver from A, I can't have the same protocol to read out the driver if it's from B. You need a different protocol to read out every driver.
LED professional: With Dali we have the standard and we also have several standardized extensions and non-standardized extensions.
Rico Kramer: Exactly - that's what I mean. And it's a big problem at the moment.
LED professional: You were saying before that you can communicate with the house and with the infrastructure within the house. Could this be a step in the direction of using your esave protocol not just for outside and streetlight systems but for indoor lighting as well?
Rico Kramer: That's correct. We are working very hard with our engineers to move indoors as well. But we are looking only at public housing - not residential housing. Residential housing is not the right market for esave.
LED professional: If you set up a system that is based on lighting, at the moment outdoor lighting, a problem may occur due to hot or cold temperatures. Some of the electronics fail and then some of the luminaires fail. What happens with your communication system if some of the electronics fail?
Rico Kramer: esave is designed for very hot and very cold temperatures. Our range is from -35°C up to 82°C. The problem usually comes from the driver. If the temperature is minus 5°C, 10°C or 15°C they don't produce any energy. It's a big problem because the streetlight is not running and esave is not running because we need the power from the power supply. But we have a reaction time on the software. This means that the luminaire must be offline more than seven hours in order to send an alert. And this gives us time to find the problem. But this shows the government that certain luminaires are making problems and they can have it checked. On our side, esave controllers are ready for high and low temperatures. We do our testing in St. Moritz, Switzerland where the night temperatures often go down to minus 35°C and the system runs very well.
LED professional: If you set up a system on the basis of esave how much effort is involved in installation and commissioning?
Rico Kramer: There is an easy way and a complicated way. So it mainly depends on how much the client invests at the beginning. If we talk about the standard installation (the not so easy way) is where you have a luminary with an esave controller inside. The installer just has to switch out the old luminaires for the new ones. He only has to set up the power. There is no need to install additional cables. The new luminaire identifies itself by flashing; you walk with your tablet to the luminaire and store the GPS coordinates from the tablet as an address for the luminaire. You can do this luminaire by luminaire. This only needs a few minutes to walk to the luminaire and then a second or two to set up the luminaire.
LED professional: Do you need addresses for the luminaires?
Rico Kramer: No, they are identified by flashing. The easiest way is with the gateways. For the gateways we deliver three QR codes with every luminaire. One is in the luminary, one is outside the luminary and one is to put on the pole for maintenance and service later. Now the city will send the luminaire positions in an excel sheet to esave, so we can import the existing luminaire points from the old luminaires. Now every luminaire point is inside the gateways. The next step is the installation. The installer goes to the luminaire, scans the QR code - the luminaire needs not to be online. He now can match the QR code and the already stored position of the luminaire. At night, when the light turns on, the gateway searches for the new luminaires and automatically sets it to the right light level that has been predefined in the system. The installer just uses the profile that was set up in the beginning for that particular road. You only need one or two seconds to install an intelligent luminary. Right now, there are 4,000 luminaires in Chur. They installed 100 luminaires a week and they just don't have the time to spend five minutes on each luminaire. It has to be a system where everything sets up automatically.
LED professional: We talked about going from lighting to urban infrastructure. You mentioned things like water and gas. But there are other urban infrastructures like parking systems. Do you see these systems joining in the future? Which one will be the leading system that the communication is based on?
Rico Kramer: Everybody would like to believe that they will be the main system. It's hard to predict what will happen. I can only tell you that we are working very diligently on our system but we have a communications standard - IoP - and we've opened it this month. So other systems can read the esave data from the server if they have a license. We can also read in data from other systems. With the new communication API we are open for the future.
We have two link points: We can bring other systems or other sensors into our network via the esave core chips or we have the API, which enables us to speak with other servers. I think that it is very important for the customer that we aren't too closed.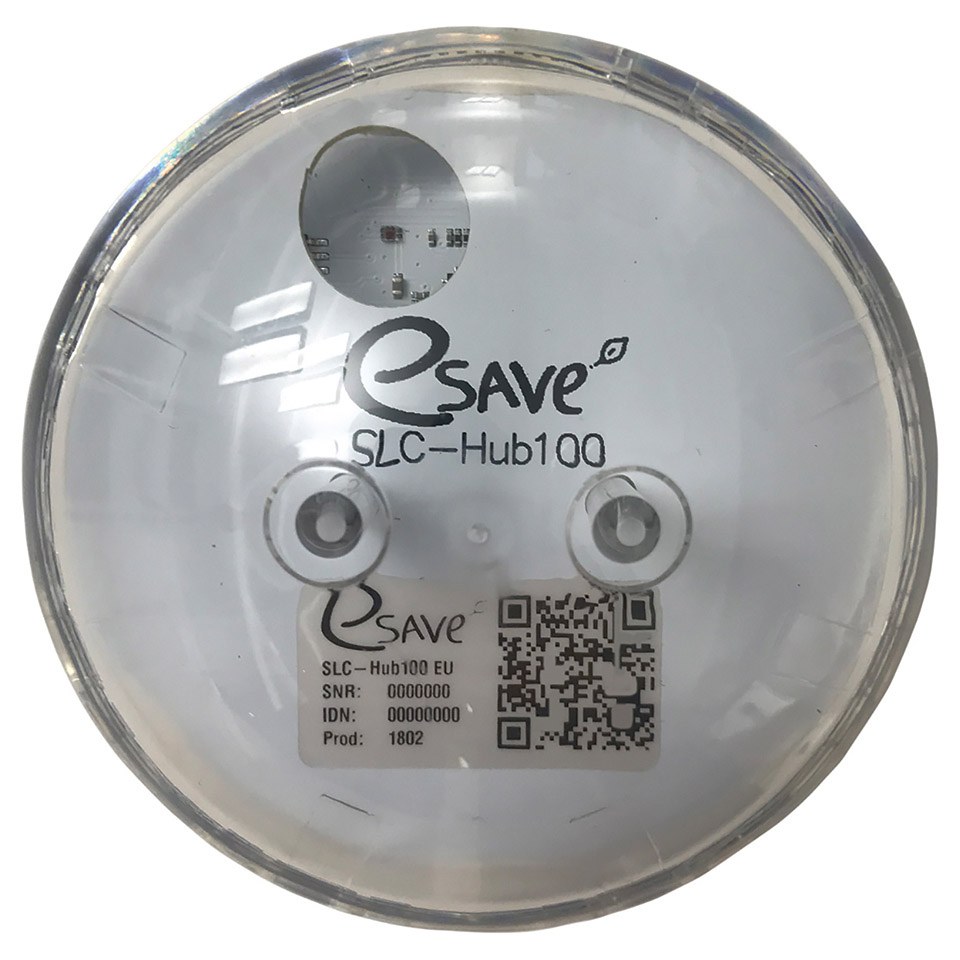 The latest member of the growing esave family is a Zhaga Book 18 socket based luminaire controller that transforms any conventional street light with this socket into a smart IoT capable street light
LED professional: You mentioned that you didn't want to open your protocol due to safety issues. Privacy and safety are very critical - especially in Europe. It's always critical, but I think that Europe is very careful when it comes to privacy and safety concerns. You said that the advantage of esave is that everything is on the chip and that makes it difficult to hack. Can you go into detail about that? Do you have safety measures on your chip or in your protocol?
Rico Kramer: We have many safety features inside. One is that the communication is not based on a normal protocol. We use our own protocol so you can't find our network. It's hidden. It's an industrial standard and not the 2.4-gigahertz network that you use for Internet. We also have IES encrypted technology. Every communication from chip to chip is encrypted. And we have also encrypted the software inside the chip. And if - somehow, someone is able to hack that, we also have the possibility to find that particular controller through the gateways. Every gateway must register automatically through the mesh network and if we did not produce the serial number we will find the controller.
The next question is about privacy. What is accepted as privacy? We have our server in Switzerland. Russia wants its server in Russia, the Chinese want the server in China and in Dubai, they want the server in the Emirates or Dubai.
In Russia they don't have the Swiss standard of privacy. Some of the links have to be opened so the government can see things. The same things happen in Asia and other countries. So we are hosting it in Switzerland.
LED professional: What's about compatibility over time?
Rico Kramer: Some of our competitors work with SIM cards. This can be a compatibility problem. So now we have 2G networks and we're moving to 4G and next year we'll be going to 5G. And when the next generation comes along all of the luminaires that were installed with a 2G SIM card won't run. On the esave side - we are very happy to have our own standard. Over the past 9 years we've had the same protocol. So the people that started 9 years ago with esave still have the same functionality on their controller as they did back then. We give them the firmware updates and they know that this is something special. We might have a change in hardware design but generally the functionality stayed the same. We believe that this makes us trustworthy in the eyes of our clients.
LED professional: In closing would you like to tell us a little about your plans for the future?
Rico Kramer: I can tell you that we are joining the Zhaga consortium. We have engineered a Zhaga controller. This means that the Zhaga socket - they come from Tyco - can be used to install the controller or sensor for a luminaire. For example, right now we need smoke detectors but why not use the Zhaga socket for something like that? In the future the buildings may change. Where there was a coffee-break room there might be a meeting room. So you need a different set of sensors. Why not just unplug it and plug it in where you need it - it meshes automatically. These kinds of ideas make the future very interesting for me.
LED professional: Thank you very much for your time.
Rico Kramer: Thank you.