Tech-Talks Bregenz

|
Sep 02, 2016
Tech-Talks BREGENZ - Sebastian Huelck, Director Lighting, EBV Elektronik
Solid State Lighting has not only changed the way that light is generated but also how areas or objects are illuminated. It has changed the whole industry and business. Sebastian Huelck, Director of Segment Lighting at EBV Elektronik GmbH & Co. KG, discussed these changes and the new requirements for modern distribution with Siegfried Luger and Dr. Guenther Sejkora. He explained the transition of distributors from pure logistic specialists to one-stop shops and full service providers, and commented on regional differences. He finished off by giving insights into the future projects of the company.
LED professional: Thank you for agreeing to talk with us about Solid-State Lighting in the field of distribution. Could you give us an idea about the changes in distribution, logistics and what EBV offers in general in regards to SSL?
Sebastian Huelck: I think that the whole story started around the year 2000 or 2001. In those days the electronics component distributors weren't involved in lighting at all. And distributors were what you might call "box shifters", so it was just basic logistics. If you look at the evolution of distribution you see that it has developed towards value added distribution. Today we do solution selling and application marketing. First of all you need to act as a one-stop shop. And it's not only the LED light sources from die to package to module to light engine, but it's also the whole eco-system that comes along with it like thermal solutions, optic solutions and electronic solutions which are ECGs (electronic control gears) and also RF controls.
LED professional: Is it only the Solid- State-Lighting sector that has changed so drastically, or is the entire business now different?
Sebastian Huelck: It's the entire business. It also refers to the whole semi-conductor world, in general, whether it is automotive, generic industrial applications or if it's healthcare or whatever market segment you look at.
LED professional: So your business nowadays not only offers components, but it also offers solutions or support to generate solutions, is that correct?
Sebastian Huelck: Indeed, it goes far beyond traditional distribution. We put together what we believe are the most suitable devices to optimize the solution in a particular application area. So if you split up the SSL business and look at it from a light or LED source, point of view, you have devices that are being used primarily for area lighting applications like troffers, panel lights and linear lamps. This is really the domain of the mid-power LEDs. If you look at the retail space, shop lighting and especially track lighting, this is a domain for COB (chip on board) devices. And then if you look at street lamps, tunnel lights, area lighting, and flood lighting, those still remain a domain of high-power emitters. We are also expecting a change there in the future, probably towards CSP (chip-scale packages). If you look at these three major segments, we need to put together the most suitable optics solutions - refractive optics, reflectors or hybrid optics or any kind of light guides. You need to sort out the right driver topology depending on the wattage and the efficiency you want to achieve. The right controls: so for example, indoors, people prefer BLE (Bluetooth Low Energy), esp. BLE 4.2 with mesh support and Zigbee Light Link and for outdoors we see a trend towards LoRaWAN (Long Range Wide Area Networks). And then there are the thermal solutions that need to be optimized as well.
LED professional: Do you select your suppliers according to your application specific solutions?
Sebastian Huelck: That is absolutely right. That's why we need a number of suppliers. We position the suppliers according to their strengths. Not everyone has a very broad portfolio. Some concentrate solely on COB technology, others have a particular strength in Mid Power, others in High Power and/or infrared products and others in UV-A and UV-C for industrial applications.
LED professional: In regards to the complete spectrum of your offer: we know that you opened a lab in Germany a while ago to measure SSL solutions where you also offer design-in support. What else is included in an offer from EBV?
Sebastian Huelck: Services. In the end the question is always how to differentiate from our competitors and how to differentiate from low-cost offers from the Far East, for example. You mentioned the EBV Light Lab that was basically started about five years ago where we offer photometric and radiometric measurements for our customers.
In terms of thermal services we even provide CFD (computational fluid dynamics) analyses to make sure the customer is using an optimized thermal solution. We can analyze it, and based on the results we can come up with improvement proposals.
If you look at the electronics design it is often underestimated. People tend to squeeze out the last efficacy drop of an LED light source but they often don't look at the whole picture. If you lose efficiency in the LED driver part, of course the system efficiency will drop. We also do the analysis there so we come up with the right ECG (electronics control gear) solution.
LED professional: This sounds like your business is split up into a research and development part and the logistics and delivery part. How can you be sure that if somebody comes to you for the development of new lighting solutions he will come back to you to source the components?
Sebastian Huelck: First of all I need to figure out how we structure it. We have a sales organization. Parallel to that, EBV has founded. what we call the Vertical Segments. that are split up into market segments and technology segments. So we have, for example, FPGA and RF & wireless as technology segments and Automotive and Healthcare as examples of the market segments. There is also a segment we call Lightspeed, which takes care of the whole optoelectronics field besides optical fiber communication.
These segments are business development and marketing organizations. So there is the application marketing part putting together the single components to a most optimized, suitable solution and the consultancy part of it. Taking it even further, what we are currently working on is a further evolution from application marketing to application engineering.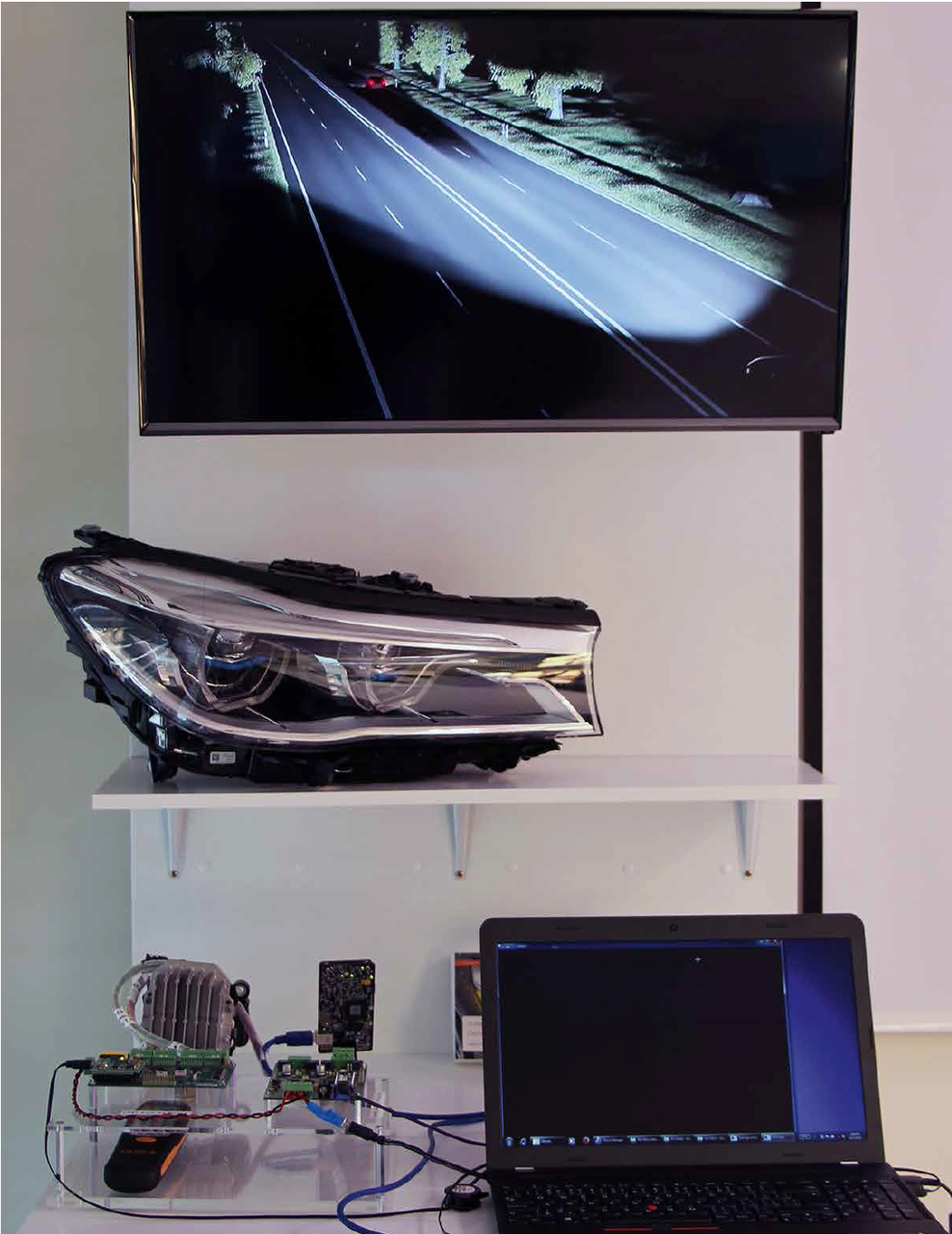 One very important segment for EBV is the automotive setor that is represented in their "Lightspeed Experience Center" by a LASER headlight
LED professional: Can you explain what you mean by application engineering?
Sebastian Huelck: Our next project will be building up what we call the "Lightspeed Experience Center" in Munich. Our intention is to showcase future technologies that are just not here today, or which people have thought about but haven't yet realized. This will create a type of "think tank".
But going back to the question of our customers returning and buying from us: This is indeed our intention. In the end, from a pure marketing perspective, it would be a customer retention program. So usually people buy from the sources that they trust. A distributor needs to have justifications for his margins. If you look at the Asian distribution market it's just a few percent. We have higher margins and therefore customers do expect this consultancy role that we are fulfilling. And customers appreciate it.
LED professional: How do you handle the fact that you are required to have material in stock for delivery in the long run?
Sebastian Huelck: That's a very good point. The complexity and diversity has changed and increased dramatically. If you look at the good old fluorescent tube types and the according ballast, for example, you have product development cycles of roughly three to five years. Now you have a cycle of 6 months to a year. So you have a vast number of diverse products that need to be handled and the manufacturer, in general, doesn't like to keep stock because of capital lock-up. They are concentrating on production and they need to have a logistics partner that is actually taking out those parts from their warehouse. So the basic function of the distributor is the warehouse. It's all about availability. People cannot wait for weeks or months for their products. Secondly, if you look at a PCB consisting of many different parts, you can't buy directly from each manufacturer and purchasing managers like to do package deals. Thirdly, you are also playing the role of a bank. Depending on the region that you're selling to there are always different payment conditions. So, as you can imagine, in Eastern Europe or in Russia, you have different payment terms than you have in Central and Northern Europe.
LED professional: If we look at all the components delivered to the lighting industry, what percentage go through a distributor and what percentage are bought directly from the primary manufacturer?
Sebastian Huelck: It really depends on the regions you are looking at. For example, if you cluster the world into the Americas, APAC and EMEA: Japan has three major luminaire manufacturers: Sharp, Toshiba and Panasonic who share roughly 70% to 80% of the market. In the Americas, especially in the US, you have a similar situation - you have three to five major lighting manufacturers which are often served directly. In EMEA the situation is completely different. We have a very scattered, fragmented market. We have roughly 3,500 luminaire manufacturers in more than 50 countries. You can imagine that this is an ideal distribution market because you have a high mix and low volume and you have a long tail of customers that you need to address and do business with. This is something that manufacturers simply can't do.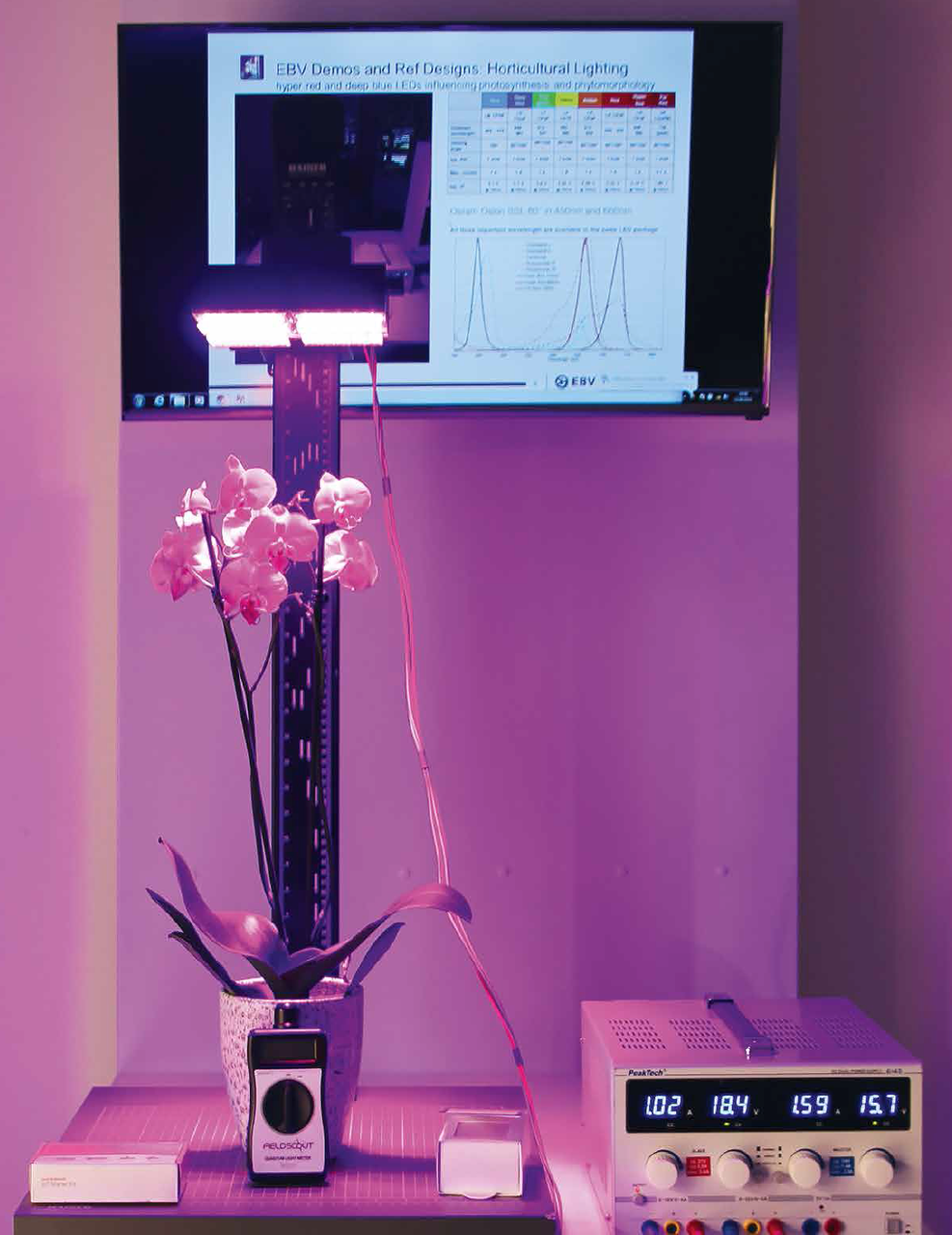 Horticulture lighting is another application that is demonstrated in the "Lightspeed Experience Center"
LED professional: So the main volume in EMEA goes through distributors.
Sebastian Huelck: Yes, that's absolutely right for general lighting. But it's a different situation in the automotive world. In the automotive lighting market you have the big brands and just a few others which are served directly or where distributors only worry about fulfillment.
LED professional: And your distribution concept, including services – how are you networked on a global scale?
Sebastian Huelck: Let me put it this way: Avnet consists of Technology Solutions (TS), which addresses the computer world, including hardware and software solutions. And then you have EM, which is Electronics Marketing selling electronics components and providing engineering design-chain services. In the Americas it's all about Avnet EM which takes care of the whole area. In EMEA we have a different model that we call the "Speedboat Model". There are several companies: EBV Elektronik, Avnet Silica, Avnet Abacus, Avnet Logistics, Avnet Embedded, MSC and some others. This model combines the agility of smaller, focused companies with considerable resources of a major corporation, to serve the widely varying requirements of our customers. Our biggest LED partner is Osram Opto Semiconductors, followed by Samsung LED. With regards to LEDs we have no overlapping lines in between the speedboats in Europe.
LED professional: What do you see as the main future benefit for customers in applications? Will it be color changing, or IoT or something else?
Sebastian Huelck: That's a very important question. What added value can we provide? And one of the answers would be LiFi / VLC (Visible Light Communication). The speed of WiFi is typically 100 Mbs or 1 Gbs whereas with VLC we talk about 10 Gbs or even more than that.
The modulation of choice for LEDs is amplitude modulation. It would be easy to vary the intensity of the light using ASK or OOK data formats. However multi-carrier methods like multi-tone (DMT) of orthogonal frequency division multiplexing (OFDM) boost data rates to these high bit rates of many Gbs if you use VCSEL (Vertical Cavity Surface Emitting Laser) diodes.
If you think about wireless transmission of ultra-high resolution video such as 4K or even 8K material this technology could be your choice. In addition, it has a major advantage that it causes no interference to RF-based devices. This makes wireless communication possible in RF hazardous areas such as hospitals and onboard of aircrafts. And if a person is standing underneath a dedicated luminaire source, i.e. the hotspot, you don't have to share the connection with others. You would have the full speed.
LED professional: But isn't the link unidirectional?
Sebastian Huelck: No, it's bi-directional. In general, both a receiver and a transmitter are placed at either end of the communications link, which is a transceiver. You need to ensure the two paths of data are being isolated from each other. In WDM (wavelength division multiplexing) two different wavelengths are used to isolate the paths. There is an optical filter at the receiver's end so that only the right wavelength is being received and processed. Usually the downlink is using visible light whereas the uplink is IR.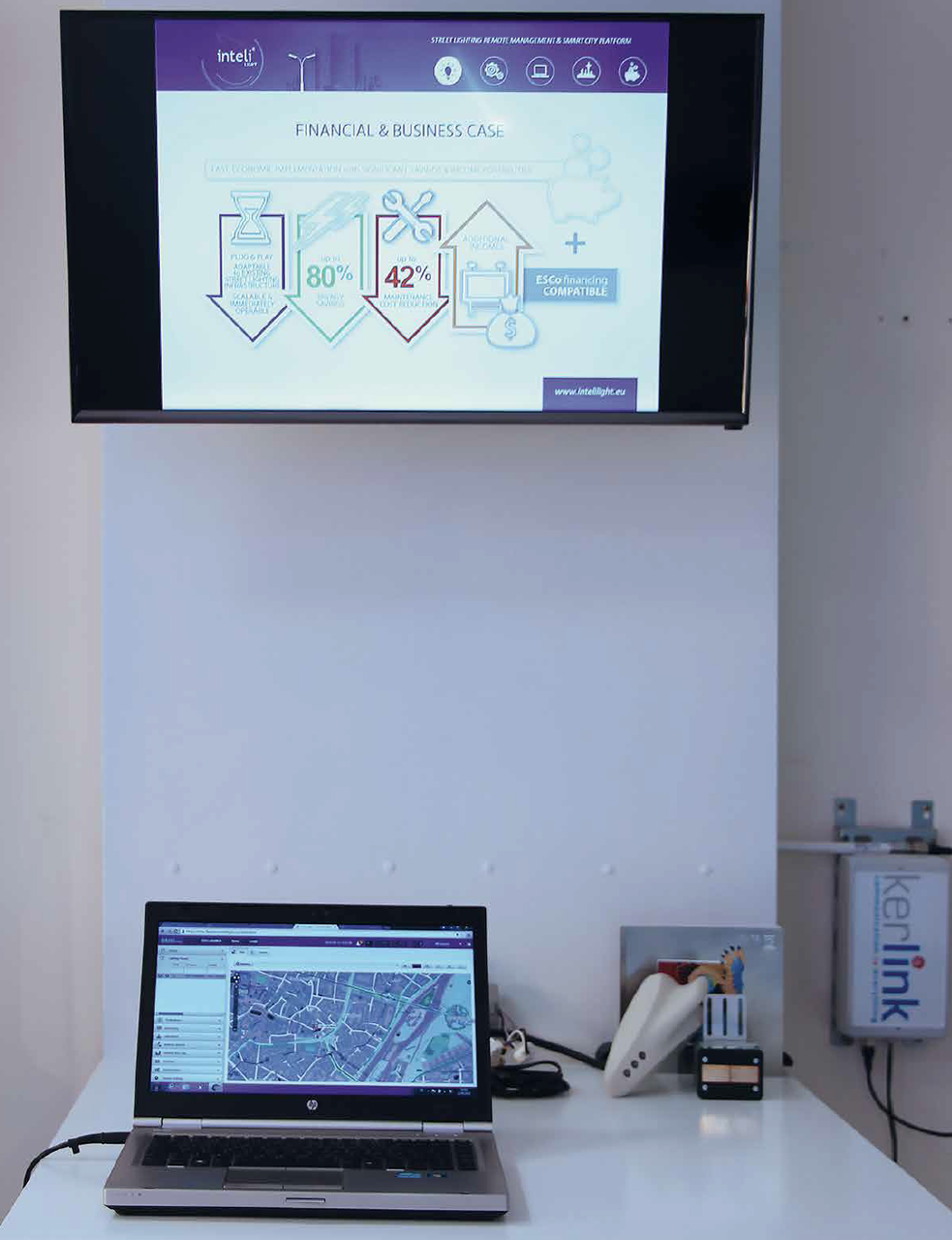 Sebastian Huelck is convinced that IoT based solutions are an important topic for value-added solutions. He feels that even more value could be added with a VLC implementation in the system
LED professional: But doesn't the luminaire need the sensor?
Sebastian Huelck: Yes, it does, and we have several solutions for that, ranging from PIR to 24 GHz radar sensors for presence detection up to ALS (ambient light sensors), all to optimize the overall power consumption.
You are heartily invited to our LightSpeed Experience Center once it's ready. We will showcase different technologies there.
LED professional: What about Human Centric Lighting? Do you see it as an additional benefit?
Sebastian Huelck: Yes, there is a lot of interest in this. We just had a global webinar together with Infineon on the subject with 500 registrants from all over the world. As you know, during the day we need to have a high cortisol level to help us concentrate and towards the evening you need to produce melatonin. That means that the cortisol level has to be reduced otherwise melatonin cannot be produced. So it is all about dynamic lighting instead of static lighting in order to mimic natural sunlight. You need micro-controller circuits because you have to control the two channels. I invited Professor Bob Karlicek from Rensselaer Polytechnic Institute in Troy, NY, Director of the Smart Lighting Engineering Research Center (ERC), to our EBV Lighting Academy in March 2016 in Frankfurt am Main. He who showcased light applications where the light system can also detect, for example, if someone is having a heart attack and collapses. It will call an emergency number automatically.
LED professional: How is that done? What is the idea behind that?
Sebastian Huelck: The principle is "time of flight": it detects or retrieves the reflections of light from an object. If someone falls down, the distance between the person and the light is increased so the time needed for the light to travel back is longer. A sensor detects this and it realizes what is happening. It's the same principle as LIDAR (Light Detection and Ranging).
LED professional: Can you comment on the Internet of Things?
Sebastian Huelck: IoT is indeed the buzzword in the industry today. I don't think we have any suppliers that aren't concentrating fully on the subject of IoT. For EBV it's the biggest marketing campaign in the history of our company because we're talking about another 50 billion nodes to be generated and connected globally during the next 5 to 7 years.
A "thing" can be anything - for example it can be a luminaire or a lamp. So often in the HABA-space (home and building automation) people are interested in connecting their light bulbs or their luminaires and controlling them via the Internet. But this could also comprise heater and ventilation controls, door locks up to controlling cleaning robots, baby monitors or even making sure that your coffee machine brews fresh coffee according to your wake-up habits.
LED professional: Can you give us an example from practice?
Sebastian Huelck: We have started a collaboration with a Romanian company, and we are about to install a new system in a French city where basically hundreds of streetlamps will be connected via LoRaWAN (Long Range Wide Area Network). You don't need a very high bandwidth because you're just sending over control data for turning the lights on and off or for dimming them, but these need to be transmitted over long distances. You also want to detect an error and then using a GPS system to locate the broken luminaire on a map. And the whole system, in that case, is connected to a cloud based system: here, the inteliLIGHT services. You log into a web-based front-end and have control over the whole installation. This is a typical Internet of Things application.
LED professional: Can you tell us a little more about the LightSpeed Experience Center?
Sebastian Huelck: Yes, of course. We will have a HCL (Human Centric Lighting) panel light featuring MP LEDs and CCT color steering from 2700 K to 6500 K, shop lights featuring COB (chip-on-board) LEDs with new custom phosphor blends ranging from bread to meat, fresh meat and even a fish type and a street lamp with new HP multi-die arrays driven by a digital SMPS (switched mode power supply). The next street lamp version will contain future HP CSPs (chip scale packages) enabling cost-down with dedicated optics. As we are covering the whole field of optoelectronics you can also see future automotive front lights such as laser lights and laser beam scanning front lights featuring TI DLP (TI Digital Light Processing) and a 2D LIDAR (Light Detection And Ranging) scanner. In the scope of our "EBVchips" program we are defining our own semiconductor solutions, which we are developing with and for our customers. These are new product creations and fill gaps where there was no solution before. They don't necessarily need to be chips but could also be modules.
We, for example, work on new high-irradiance UV-A-LED-modules for the printing industry and innovative UV-C-LED reactors and purification arrays. Among biometrics identification palm vein scanning belongs to the most secure methods where we have realized a functional model.
LED professional: Where will the LightSpeed Experience Center be located?
Sebastian Huelck: It will be at our headquarters in Poing opposite to the EBV Light Lab. The Light Lab was well-accepted by our customers from the very beginning, however, most mid-sized luminaire manufacturers have their own measurement equipment available these days, so that we wanted to come up with something modern and compelling - able to captivate our customers again.
LED professional: One last thing from our side. I'd like to bring up the topic of insurance. You deliver all kinds of different components in a solution so how to you ensure that the quality of the products are the same as what is required and what happens in the case of failures?
Sebastian Huelck: We follow the legal directives. So basic legal structure is from B2B (Business to Business) and there is a one year warranty. In lighting ECG customers usually want a 5-year warranty and we provide this. In some cases we provide up to 7 years for ECGs. Usually the claims are handed over to the component or device supplier.
LED professional: EBV will take part in the LpS 2016 in Bregenz again this year. Could you tell us what your expectations are?
Sebastian Huelck: I have personally attended the LpS from the very beginning. Our EBV booth wasn't the best looking in early days but since last year we have been jointly exhibiting together with Osram Opto Semiconductors. I believe it will be one of the biggest booths at your show and from my point of view, among the most exciting ones. I'm really looking forward to coming to Bregenz in September with some new, fancy stuff again! We will bring along exhibits from our LightSpeed Experience Center and come up with two especially thrilling highlights providing an outlook on the future.
LED professional: Can you tell us any of the highlights you will be presenting?
Sebastian Huelck: "Pepper", a humanoid robot able to recognize human mimic, gestures and hence emotions and adapting his behavior to the mood of his interlocutor, will entertain our guests and guide them through our booth. You can call presentations to each exhibit on Pepper's tablet located on its chest. Next to three high-definition cameras and obstacle sensors, Pepper is also equipped with six LIDAR sensors that we want to highlight there.
We will also show a brand-new Audi R8 V10 featuring Osram OS and Osram GmbH laser front light technology. You can virtually walk through the Sistine Chapel as we are providing Virtual Reality headsets during the show. In addition to that, we will showcase a street lamp featuring the new Duris P10 device - a four die power package delivering more than 1200 lumens with an unprecedented thermal resistance.
LED professional: You will also have a lecture this year about logistics and market technology views so we are very excited about that.
Sebastian Huelck: Thank you. I'd also really like to talk about our new LightSpeed Experience Center so people get a glance of the future.
LED professional: Thank you very much for the interview.


About Sebastian Huelck
He studied Electrical Engineering and Information Technology at the Technical University of Munich and has 14 years experience in the semiconductor industry. In his current position he is responsible for EBV's Lighting and Optoelectronics Segment, including a team of business development managers, sales engineers and marketers, selling and developing electronics, optics and thermal solutions for the general lighting, consumer, medical, automotive and industrial markets. In his previous job he was Regional Marketing Manager for Power and Lighting Solutions and Interface Products at NXP. Prior to that he was the Key Account Manager of Appliances at Everlight.