Cree LED | Color LEDs | Element G LEDs | XLamp | Featured | SSL

|
Jun 02, 2022
Always the Best Performance: XLamp® Element G LEDs for Color Mixing
Cree LED, an SGH company, offers one of the broadest portfolios of application-optimized LED chips and components, leading the industry in performance and reliability. Our team delivers best-in-class technology and breakthrough solutions for applications in High Power and Mid-Power General Lighting, Specialty Lighting and Video Screens.
With thirty years of experience, Cree LED develops products backed by expert design assistance, superior sales support and industry-best global customer service.
Cree LED XLamp® Element G (XE-G) LEDs are for color-mixing lighting applications that require high levels of light output. The LEDs have full control over spectral content and are available in 17 different colors. There is also a complete portfolio of white options, for unprecedented flexibility to change and optimize product light output properties.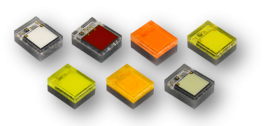 Read more...
Datasheet, Application, Press-Release
---
CREE LED

4600 Silicon Drive
Durham, NC 27703
USA
+1 919-313-5330
www.cree-led.com/Our name has changed, but our commitment to superior LED technology, reliability, innovation, support, and service remains steadfast. The same team with years of Cree LED experience is newly energized to help our customers improve their LED-based products and develop new applications. Our global distribution channels and sales team remain in force. Operations continue at full speed. Our new name embodies our relentless focus on advancing LED technology. For more information please visit:

 

https://cree-led.com/about-cree-led/
PRODUCTS




Light Modules

|

LEDs/OLEDs
---
Global Lighting Directory (GLD)
© 2022 Luger Research e.U. – Institute for Innovation & Technology