LUXEON Rubix | Lumileds | Color LEDs | SSL | Featured

|
Mar 08, 2023
Color LEDs Take Center Stage As The Lines Between Architectural and Entertainment Lighting Blur
The lighting industry continues to evolve as new lighting possibilities are enabled by LED technology. The demand for increased value and capability in fixtures is accelerating and consideration of the circular economy and sustainability are top of mind.
Lumileds LUXEON Rubix high-power, high-efficacy offerings expand to meet the need for very high-quality white light and saturated colors from the same solution
Three current trends are clearly identifiable. First, deploying fixtures that can be white or have saturated colors. Second, the flexibility to use different colors or white in any ratio that cannot be achieved with RGBW. And third, the need to combine emitters under a single optic. LUXEON Rubix is engineered to enable these new fixture designs and capabilities.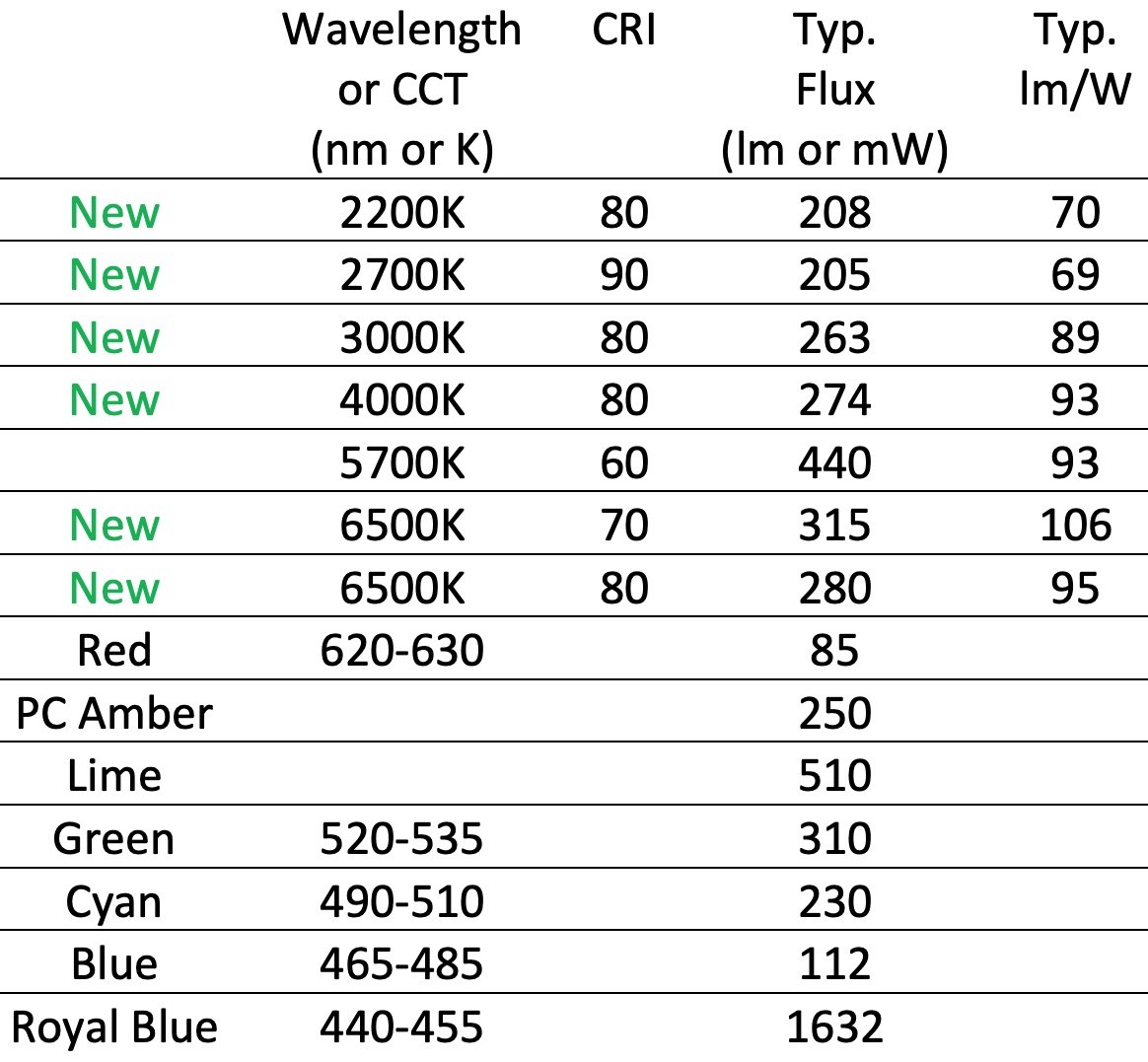 Table: LUXEON Rubix LED Emitters
Because LUXEON Rubix is so small (1.4mm x 1.4mm), it enables the smallest light emitting surface for discrete clusters and the smallest optic size to achieve tight beam angles, as low as 10 degrees. Multiple LUXEON Rubix can fit under a single optic, this results in improved optical mixing at the source, smaller sizes and reduced optical spacing.
With LUXEON Rubix, customers have a flexible platform they can use in multiple products across various markets while maintaining a common footprint and optical height regardless of the color or colors they are targeting.
To support luminaire manufacturer and end-customer objectives, Lumileds has released 6 additional LUXEON Rubix white LEDs with CCTs from 2200K to 6500K, CRIs of 70, 80, and 90, and minimum luminous flux of 140 to 220 lumens.
"With Lumileds' advances in LED design and phosphors, allowing for phosphor converted colors as well as direct colors, and with multi-channel drivers and controls gaining momentum, the lighting industry can finally incorporate both white and saturated colors in a luminaire," said Noman Rangwala, Director of Product Marketing. "This creates additional value and creative lighting effects that simply weren't possible with previous sources and we're seeing adoption in a broad range of environments from buildings to entertainment venues, and even stadiums."
LUXEON Rubix LED emitters are immediately available through Lumileds' global distribution network. Datasheets and more information are available https://lumileds.com/products/color-leds/luxeon-rubix/.
About Lumileds
Lumileds is a global leader in OEM and aftermarket automotive lighting and accessories, camera flash for mobile devices, MicroLED, and light sources for general illumination, horticulture, and human-centric lighting. Our approximately 6,000 employees operate in over 30 countries and partner with our customers to deliver never before possible solutions for lighting, safety, and well-being. To learn more about our company and solution portfolios, please visit https://lumileds.com.
---
© 2023 Luger Research e.U. – Institute for Innovation & Technology