Event Post Show Report

|
Nov 13, 2017
Guangzhou International Lighting Exhibition 2017 Welcomes Record Number of Over 156,000 Global Visitors
The fair remains true to its mission of promoting global dialogue and exploring the convergent future. Visitors celebrate the fair as an effective sourcing and networking platform. Kicking off on 9 June, the 22nd edition of the Guangzhou International Lighting Exhibition (GILE) welcomed visitors for the four-day fair during which key industry players had the chance to explore the convergent future of the lighting industry.
The fair maintained its position as an influential and comprehensive lighting and LED event by receiving strong industry support – support that was demonstrated by its largest visitor figures in recent years. The fair welcomed 156,898 visitors (2016: 145,080) – an increase of over 8% from last year's exhibition – from 134 countries and regions. The top 10 overseas visitors were from Hong Kong, India, Korea, Taiwan, Singapore, US, Thailand, Russia, Malaysia and Australia.
The trade fair spanned 17 halls of the China Import and Export Fair Complex including a total of 2,428 exhibitors (2016: 2,399). The exhibition was segmented into three sections; production, technology and applications. These sections covered the entire industry spectrum from components and materials to packaging and implementation. The show's 180,000 gross sqm of floors were abuzz with visitors, cutting-edge products and talks by experts in the lighting community.
Regarding this year's show, Ms Lucia Wong, Deputy General Manager of Messe Frankfurt (Shanghai) Co Ltd, commented: "The convergence of lighting with different technologies is a defining factor for the achievement of GILE 2017. I am sincerely grateful for the global lighting community's support in demonstrating the diverse application of core lighting technology beyond illumination. Unrelenting innovation and the exchange of market intelligence are vital for progression. We will continue with our efforts to link up technological innovation, lighting design and sales channels into a platform for the lighting industry to network and achieve its business objectives."
The convergence of lighting with state-of-the-art designs and technologies was prevalent in every aspect of the 2017 fair. Fixtures such as panel lights, linear lights and hidden lighting have moved into the mainstream. Concepts like smart control, programmable lights, anti-glare, super slim and frameless designs are the in-demand products for this year. Split into three defining sections, the below are some of the highlights from each:
Production sector: Equipment and assembly solutions
Exhibitors presented light and display metrology products which can quantify lighting quality as well as new colour metrics and flicker. Also on display were assembly solutions such as silicone adhesives, conformal coatings, encapsulants, silicone adhesives, conformal coatings, encapsulants, gap fillers and thermal interface materials. In response to the emerging trend of Chip Scale Package (CSP) use, the LED package industry is moving in the direction of downsizing its components. Silicon encapsulation techniques meanwhile have seen upgrades in terms of photo-thermal resistance and mechanical stability.
Technology sector: LED packaging and lighting control
One of the highlights within the technology sector was to see high CRI (Colour Rendering Index) LED packages on display. These products project light in a way which significantly reduces the problem of glare and faithfully reveals the true colour of objects as seen under natural light sources. LED applications in automation, medical and horticulture lighting were also prominently featured. Visitors were able to see first-hand how a wide variety of packaged LEDs, including filament LEDs, IR LEDs, LED backlights and displays, each contain their own unique features to be applied for different functions.

Packaging exhibitor Shenzhen Refond Optoelectronics Co Ltd demonstrated its significant expertise by exhibiting its "Sulfur resistance solution", which prevents the formation of sulphur dioxide and stabilises the luminous flux of LED packages. Mr Guowei Wan, General Manager of Shenzhen Refond Optoelectronics Co Ltd commented on the fair: "I am proud to report that the 2017 fair exceeded all our expectations. Most of the buyers we liaised with are from medium to large size enterprises and we found the fair to be an effective platform for networking with overseas buyers."
Application sector: Smart lighting and speciality lighting
With the advent of IoT (Internet of Things), more and more electrical devices are becoming 'smart' due to greater analytical capabilities and improvements in sensor technology. Exhibitors presented lighting which highlighted the theme of "Intelligent and Human Centric", focussing not only on the functionality of lighting but on a person's physical and emotional needs and responses.
Smart home lighting systems, smart bulbs as well as Internet Protocol (IP) camera were also widely seen during the fair. Many smart streetlight manufacturers showcased products that offer traffic monitoring and rerouting, security, parking availability, temperature control, humidity and flood monitoring through sensor integration and city-wide networking. VLC (Visible Light Communication) technology gave fairgoers an insight into a not-so-distant future where light sources will be used for transmitting data.
Return exhibitor, Foxconn Technology Group / Champ Tech Optical (Foshan Corporation) showcased its smart lighting systems, which included thermometers, cameras and air sensors installed on light poles to detect environmental changes. Mr Eric Cho, Global Marketing Director LED B.U. commented: "We see lighting products as devices which can help society. GILE is an influential platform as we can showcase our products to the global lighting community".
The fair remains true to its mission of promoting global dialogue while exploring the convergent future
Embracing the theme "THINKLIGHT: The Convergent Future", the 2017 edition of the fair curated a matching event programme with over 100 seminars featuring expert speakers from the lighting community.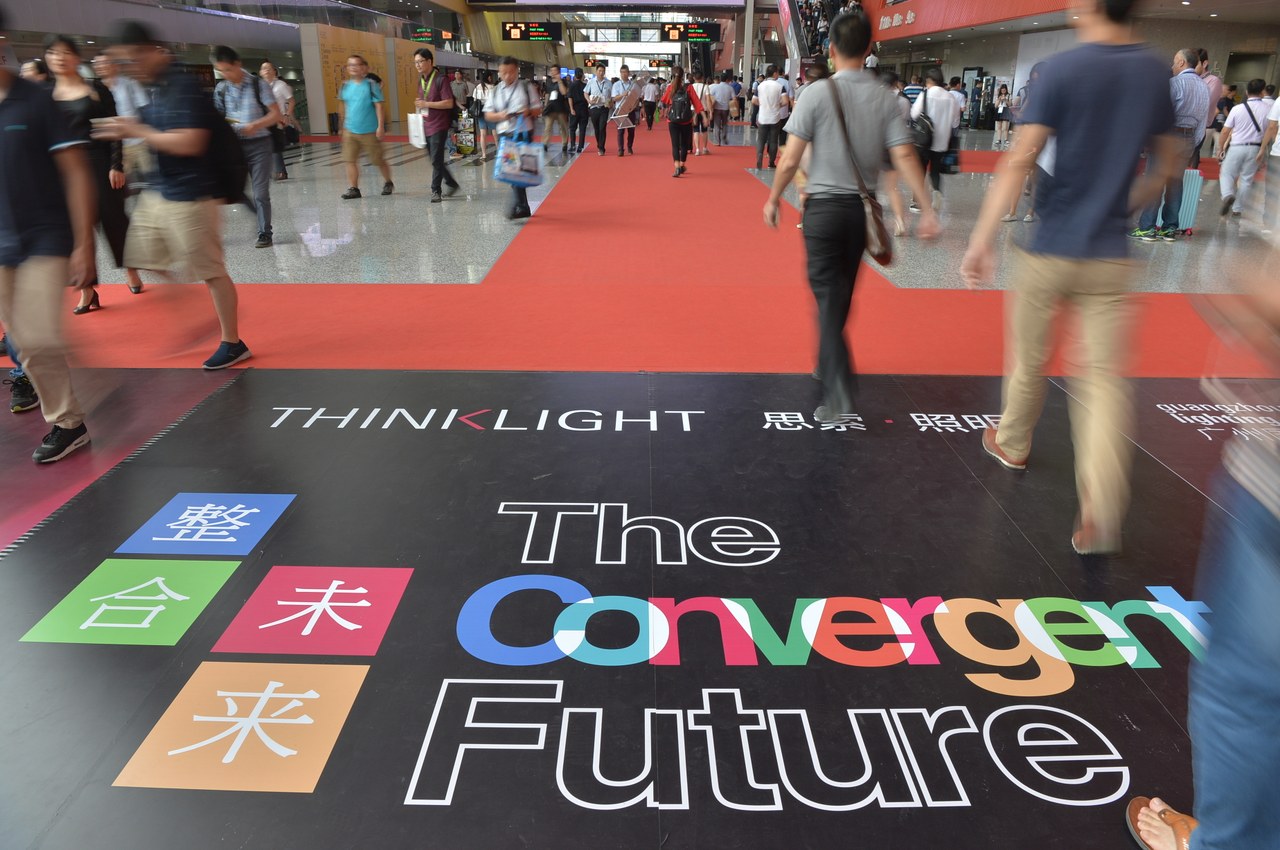 The convergent future: Light and IoT, lighting and digital art
Guest speaker, Mr Tjaco Middel, Head of R & D, Tridonic (Shenzhen) Co Ltd stated: "I think the future belongs to IoT and connectivity. To make your devices connected is the key to success. What I like most about the fair is the level of interaction with the audience. Sessions were packed to the rafters and the audience was extremely engaged and ready to participate in the discussions. GILE is truly a great event."
Another guest speaker, Mr Jack Chen, Business Director, Taiwan, Telensa, shared a similar view: "In the future, the development of smart control systems will be more and more integrated, not only in the lighting sector but in other applications such as the monitoring and control of traffic and temperature. The organisation of the event has been superb with many valuable audience discussions."
The forum also touched on the convergence of lighting and digital arts to reach new aesthetic levels. Guest speaker, Dr M Hank Haeusler, Director of Computation Design, UNSW Built Environment, UNSW Australia, shared: "Outdoor media advertisements exist in many cities around the world and making sure these advertisements are effective is crucial. Convergence is what the industry must do, bringing building, lighting, software and other kinds of technology together to facilitate developments".
New concept of lighting: Embedded technology, plant factory
Guest speaker Mr Brad Koerner, Product Marketing Manager, Philips Lighting, shared his new concept for embedded lighting: "IoT and digital controls add tremendous value to lighting, they allow full customisation, rhythm, temperature control and dimming of animated lighting. I believe embedded lighting will be the future of architectural lighting as we move away from simple LED fixtures. I think the conference and exhibition were great. It is a high-level event worth returning to in the future".
Facing continued issues caused by pollution, Professor Toyoki Kozai, Chief Director, Japan Plant Factory Association, shared his company's new method of plantation. "LED is the key technology for Plant Factory as it can increase the plant yield and quality by 20% to 30%. Since LEDs are small we can grow plants in a much more compact space."
Lighting application: City and museum lighting
Mr Qu Guojun, National A – Level Lighting and Stage Designer, Production Department, Technical Production Centre, China Central Television, shared his professional view on city lighting: "Among China's tourism sectors, night tours are the most popular. The so-called "Moon Economy" implies extending the stay of tourists and thus increasing their expenditure. Telling unique stories with lighting to attract tourists is now the main way to achieve this purpose."
Museum Lighting is another issue undergoing greater levels of discussion. Ms Ai Jing, National Level 1 of Lighting Designer, National Museum of China, said: "Museums are all unique and require extremely high quality lighting. The ultimate concern should be the preservation of the museum's cultural relics, but with more and more people visiting our museums we must ensure that they are also aesthetically pleasing.
LEDs offer endless possibilities to designers, such as the use of intelligent control and colour control, but museum lighting and its installation must be thought about very carefully."
Visitors celebrate the fair as an effective sourcing and networking platform
Once again, GILE cemented its position as a gathering point for the global lighting community. Worldwide buyers are increasingly attracted to source from the fair and they spoke positively about achieving those goals.
Mr Rohit Patel, Senior Manager, Business Development & Product Planning, Anchor Electricals Pvt Ltd (a member of Panasonic), visited GILE for the fifth time, bringing 20 delegates to the fair: "We were looking for SKD (semi knock down) material. This exhibition is a good platform for business networking and you get to meet many different suppliers."
Mr Randy D. Gananathan, President, TDA Secure Access Inc in Canada, also made the journey to attend GILE once again. "The quality of the displays and products improves every year, hopefully this will translate into more innovative products in the industry. I will definitely return next year."
Another loyal visitor, Mr Isaac Ritz Herskovic, General Manager, Laiting, affirmed: "I have come to GILE more than six times. Our company imports more than 7,000 different kinds of lighting products and we come to see updated technologies, especially energy saving products like LEDs and solar panels. I think the business matching programme was particularly useful and I was able to interact more with the suppliers."
Mr Tommy Lo, Vice President, Hong Kong WEE Recycling Association, Hong Kong, explained: "For our company, the primary business model has been sourcing products from Chinese manufacturers and bringing them to the Hong Kong market. Recently, however, we are moving towards building our own brand with the target of tapping into overseas markets; this is where GILE can assist us. Not only can we seek the latest products and network with manufacturers, but we can also keep up with various market trends in this fast changing industry. There are always new opportunities to explore at GILE every year."
Ms Lucia Wong added: "The lighting industry is evolving with opportunities abound. The creation of lighting solutions is a joint effort in the industry, which requires the support of a number players, including planners, designers and manufacturers. Otherwise, these concepts will never be made into reality. GILE will always continue to support these innovations in the industry."