Products, Materials + Tools

|
Jan 20, 2012
Everlight Announces "The Right LED" for the Right Application
Everlight Electronics Co., Ltd. [TSE:2393] world's leading company in LED Lighting, announces a series of Low/Mid Power LEDs* especially suited for using in solid state lighting. New Low/Mid Power LED family has ability to provide customers a total solution for lighting applications.
General Lighting is an interesting and broad market segment. For any individual segment of lighting there are multiple categories and sub categories with different requirements and functionalities. Outdoor lighting encompasses street lighting, tunnel lighting, parking lot lighting, landscape lighting, as well as a slew of other applications. Indoor Lighting encompasses Replacement Bulbs, Down Lights, Light bars, etc. As an example, Replacement bulbs are further categorized down to Directional Bulbs, Decorative Bulbs, and Omni Directional bulbs. Furthermore, Directional Bulbs are sub categorized into MR16, PAR, AR111, etc.

With a bit of application based marketing, "The Right LED" can be paired with the appropriate applications to provide the best performance and quality. Everlight's recent announcement of its Low/Mid Power LED series is directed towards light bar and replacement omni directional bulb applications. This series consists of 0.06W, 0.2W, 0.4W, and 0.5W products with efficiencies of >100lm/W. These LEDs are of different form factors; 3020 and 3528(0.06W), 5050(0.2W), and 5630(0.4W and 0.5W) package sizes.

The 3020 and 3528(0.06W) packages are ideal for light bar applications. Many of these small packages can be densely packed onto a linear heat sink to provide the required light uniformity of linear solutions. As a result, a linear LED light bar can emulate the appearance of traditional fluorescent tubes. In addition, because these are small, low power LEDs, the minimal thermal dissipation of linear fixtures is sufficient in maintaining a low substrate temperature as well as a low junction temperature within the LED, resulting in better performance and lifetime. To increase the advantage of using low power LEDs and improve overall light quality in the fixtures, Everlight can offer 200mcd/bin for intensity uniformity and 0.1V/bin for more consistent electrical design.

The most recent market trend and direction for the general lighting market is towards cost conscious, consumer price acceptable replacement A-bulbs. It is predicted that 257 million A-bulbs will be sold worldwide in 2013. With current price and performance pressures, the Mid Power 5630(0.4W and 0.5W) package is aggressively surpassing traditional COB and high power LED light sources as the preferred package type for A-bulb applications. 5630 packages have superb Lm/$. This is derived from the combined resources of the backlighting and the general lighting market. This shared capacity results in stable quality and commercial competitiveness over other types of LEDs. In addition, the balance of lumens output, power consumption, and package size allow the 5630 to optimally spread light and heat by spatially distributing the LEDs uniformly in the dimensional confines of an A-bulb.

All Everlight Low/Mid Power LEDs follow ANSI binning, have a wide range of CRI values, and are undergoing LM80 testing. The flexibility of Everlight Low / Mid power LED in packaging, binning and chip selection gives engineers more options in creating unique lighting fixtures with acceptable prices.

Everlight is fostering closer working relationships between our R&D, Sales and Marketing teams to meet and exceed our customer's expectations in both product offering and technology. Everlight Low/Mid Power LED Series are expected to satisfy the fastest-growing global LED lighting market.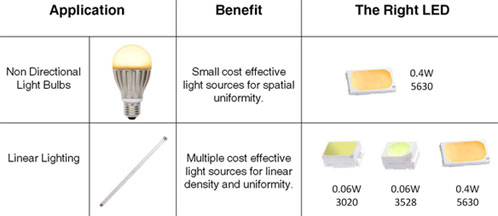 Everlight's new low to mid power LEDs are a cost effective solution for retrofit applications

The Right LED For the Right Application:
*Definition of Everlight Low / Mid:
Power consumption ≦0.2W – Low Power LED
Power consumption≦0.5W – Mid Power LED
Sample Available: Yes. (Upon request)
Mass Production: Now

About Everlight Electronics Co. Ltd:
Everlight Electronics Co., Ltd. was founded in 1983 in Taipei, Taiwan. Playing a critical role in the formation of the global LED industry, the company is rapidly ascending to become a leading supplier due to its dedication to certification, R&D, production, quality, marketing and global customer service. Everlight provides a diverse product portfolio consisting of High Power LEDs, Lamps, SMD LEDs, LED Lighting Modules, Digital Displays, Optocouplers and Infrared Components for various applications. Today, Everlight is a global company with over 6,400 employees based in China, Hong Kong, Japan, Korea, Singapore, Malaysia, Germany, Sweden, U.S., and Canada.
Please visit us at www.Everlight.com