Interview | Products, Materials + Tools

|
Nov 06, 2013
Lighting Innovation - Dialog Semiconductor Introduces New smarteXite Technology Platform for Intelligent LED Lighting
Dialog Semiconductor plc, a provider of highly integrated power management, AC/DC, solid state lighting and short-range wireless technologies, announced its smarteXiteTM platform, enabling a new generation of highly flexible, programmable LED driver ICs for smart lighting applications. SmarteXite, based on fully configurable logic, is the first LED driver technology to directly and easily support wireless connectivity, light sensor control and allow easy integration into lighting control systems. Arno Grabher-Meyer and Siegfried Luger, both from LED professional, talked with Stefan Zudrell-Koch, Business Development Manager at Dialog Semiconductor, about their new technology platform.
The first device from the smarteXite family, the iW6401, supports multiple dimming interfaces, including digital dimming via a simple mains on/off switch, the new Ledotron™ digital dimming protocol and toggle-switch based dimming. All dimming-curves can be memory-configured to enable a highly optimized end-user lighting experience. The integrated digital loadline transmission (DLT) receiver in the iW6401 supports the Ledotron IEC 62756-1 dimming protocol making it the world's first single-chip plug-and-play Ledotron solution.
Using a standard I2C digital interface, the iW6401 can serve as a powerful frontend for wireless communication modules like low-energy Bluetooth, Wi-Fi or ZigBee. Additionally, intelligent sensor devices enabling color- or proximity-sensing can be directly connected. When such a peripheral device is used, the integrated power management unit in the iW6401 provides a stable power source, reducing the external component count and cost.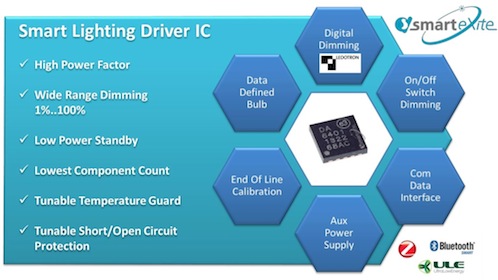 Combining Dialog's strengths in configurable power management with state-of-the-art digital signal processing design, the iW6401 is the world's first programmable AC/DC retrofit LED lamp driver IC, which allows engineers to design and configure the bulb design via software with an optimised bill of material (BOM) versus a time intensive iterative hardware design process. This greatly reduces the time to market and allows a smarteXite-based design to support many different global configurations and lighting requirements.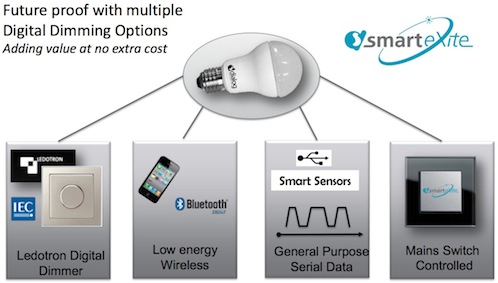 Dimming options with multi-interface solution
"Solid state lighting components and manufacturing costs have fallen to a level enabling LED bulbs to be sold in retail stores for under 10 dollars; this price point drives consumers to adopt the technology and retrofit their homes," said Mark Tyndall, VP Corporate Development & Strategy and GM Power Conversion Business Group at Dialog Semiconductor. "Market analyst firm McKinsey predicts a 57 percent compounded annual growth rate for LED bulbs units to be sold between 2012 and 2016, with more than 2.6 billion units to be sold in 2016."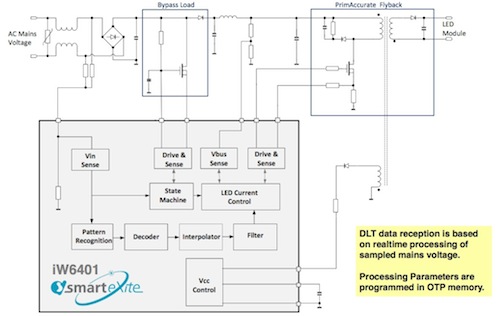 iW6401 is the worlds first single chip Ledotron LED driver IC
SmarteXite supports final stage digital calibration on the production line where the bulb manufacturers can reconfigure the illumination calibration settings like brightness and colour via the A/C mains terminals. This allows lower tolerance LEDs to be used with less binning or waste of LED's. Additionally, using this final stage calibration feature, the adjustment of the LED currents can be done even in the installed state making the smarteXite platform also ideal for Zhaga compliant power supplies. The iW6401 can be configured to actively manage lamp temperature using either on-chip or off-chip temperature sensor and a configurable state temperature control.
"The smarteXite technology addresses smart lighting applications like dimming and dimming interfaces including the Ledotron (DLT) specification. It can be widely configured based on a very flexible data-memory model during the design process. Designers work with a design-wizard to configure the smarteXite ICs during the engineering process, in production or in the field.", Stefan Zudrell-Koch
LEDs are especially suitable for wide-range dimming. Unlike CFLs and other discharge lamps, LEDs can be set to almost zero current by applying digital control principles. With smarteXite, intelligent control algorithms can be employed and configured to provide a wide dimming range. Additionally, the smarteXite platform offers a range of protection and supervision functions, which can be customized for the different bulb requirements.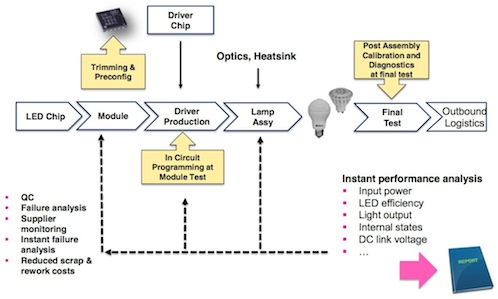 Multi-stage programming - added value at no extra cost
"There is another completely new feature we're offering with the smarteXite technology, which we call - Post Assembly Calibration. Technically, it is possible to reconfigure the complete device when installed in the field working at the mains. A possible use of this feature might be that lamp distributors can re-configure lamp behaviours and settings before delivery into lighting projects. It is also possible to read data out of installed lamps. For example, to check real-time values during development and production. With this feature it's possible to trim the light output of a lamp exactly to the point at which it is needed." Stefan Zudrell-Koch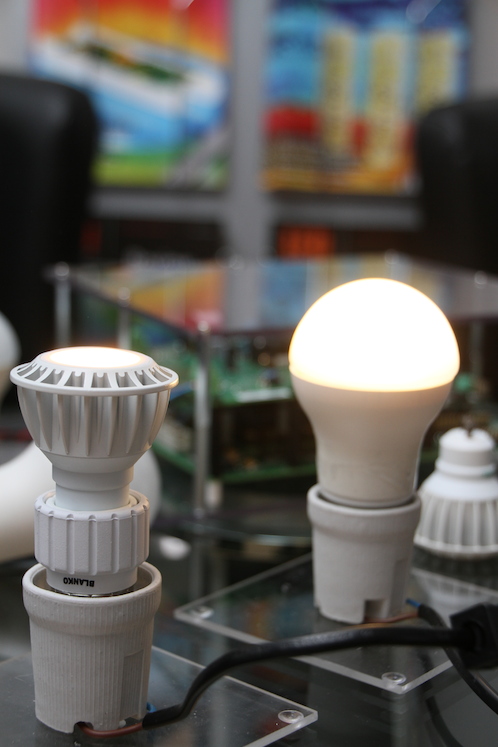 Lamps being tested with smarteXite driver ICs (photo (c) LED professional)
Cooperation with Shenghui Lighting
Today, Dialog Semiconductor also announced its partnership with Shenghui Lighting to collaborate on the commercialization of Dialog's smarteXiteTM platform. Based on fully configurable logic, smarteXite integrates the latest digital dimming standard – LedotronTM – and enables a new generation of highly flexible and intelligent LED driver ICs for smart lighting applications. Shenghui Lighting is a leading provider of LED lighting solutions in China.
The collaboration between Dialog and Shenghui includes the exchange of R&D data, joint development of new product concepts and prototype bulbs, common system level tests, and qualification processes for new smart lighting solutions. Shenghui will create LED lighting solutions using ICs from the smarteXite platform.
"Smart lighting is one of the most important growth segments in LED lighting, with digital dimming and wireless control as the next major steps in creating innovative products," said Johnson Shen, Founder and President of Shenghui Lighting Cooperation. "With Dialog's smarteXite family of LED driver products, we can accelerate our innovation cycles and create new lighting experiences for our customers." Mark Tyndall, VP Corporate Development & Strategy and GM Power Conversion Business Group at Dialog Semiconductor said, "We were looking for a fast moving, innovative technology partner with a global presence. With Shenghui, we gain one of the emerging players in solid state lighting, and a partner that shares our vision and energy for this market. We are excited to enter into this partnership with the clear target to make smart lighting real."
The iW6401, the inaugural smarteXite product, will be the world's first LED driver IC to support the new Ledotron dimming standard. Ledotron overcomes the limitations and system performance degradation associated with traditional phase cut dimmers. The Ledotron Marketing Alliance, including partners OSRAM and INSTA have been instrumental in establishing and encouraging the adoption of Ledotron systems, which are fully compliant with all relevant standards worldwide.
"With Ledotron we have created a digital dimmer for a digital light source which resolves all compatibility and performance issues known from traditional dimmers. Beyond being retrofit, Ledotron makes LED lighting future-fit and smart-fit," said Dr. Herbert Schliffke, CEO of INSTA. "The adoption of Ledotron in LED lighting is picking up speed as the integration into lamps is made easy with iW6401, the first in a range of smarteXite products from Dialog."
Solutions based on Ledotron combine manual dimmer control with easy connection to the Internet of Things, and to any building and home automation systems. In a typical Ledotron configuration, the maximum number of devices that can be connected to the dimmer is only limited by the peak power of the dimmer. The communication between the dimmer and lamps is done via baseband data modulation around the zero crossings of the AC mains voltage.
Lighting systems based on the Ledotron standard are extremely easy to install and use, and greatly extend the control over LED retrofit lamps by offering addressing, color control and tunable white features. Using Dialog's iW6401 makes the design of the Ledotron lamp a simple task. The iW6401 is configured via a comprehensive design wizard which programs the device and generates an optimized bill of materials and component specification. Dimmers and lamps sold with the Ledotron logo are guaranteed to operate at full performance regardless of the model and manufacturer.
Volume production for the iW6401 is expected in the first half of 2014.