Lumileds | LUXEON Rubix | SSL

|
Jan 26, 2022
New LUXEON Rubix Cyan LED Enables 96-98 CRI Across CCT Range in Color Driven Solutions for Entertainment, Stage, and Studio
Lumileds added cyan, its eighth color, to the LUXEON Rubix high-power LED family enabling multi-color driven systems to produce very high CRI white light that is so important in entertainment lighting. Adding the cyan LED fills a significant wavelength gap between blue and green in a system and accounts for the significant increase in CRI.
"We love the finesse cyan contributes to skin tone rendering and the increased gamut and spectral tunability in the blue-green area."
–Wendy Luedtke, ETC Product Technology Specialist – Color

"Cyan delivers the exact wavelength range necessary to take white light to the next level in entertainment lighting," said LP Liew, Senior Product Marketing Manager at Lumileds. "Size, power, and color options drive new designs and ideas in entertainment lighting. With cyan in the LUXEON Rubix portfolio, we have the small size, power and colors to ensure that there's no need to settle for good enough white light."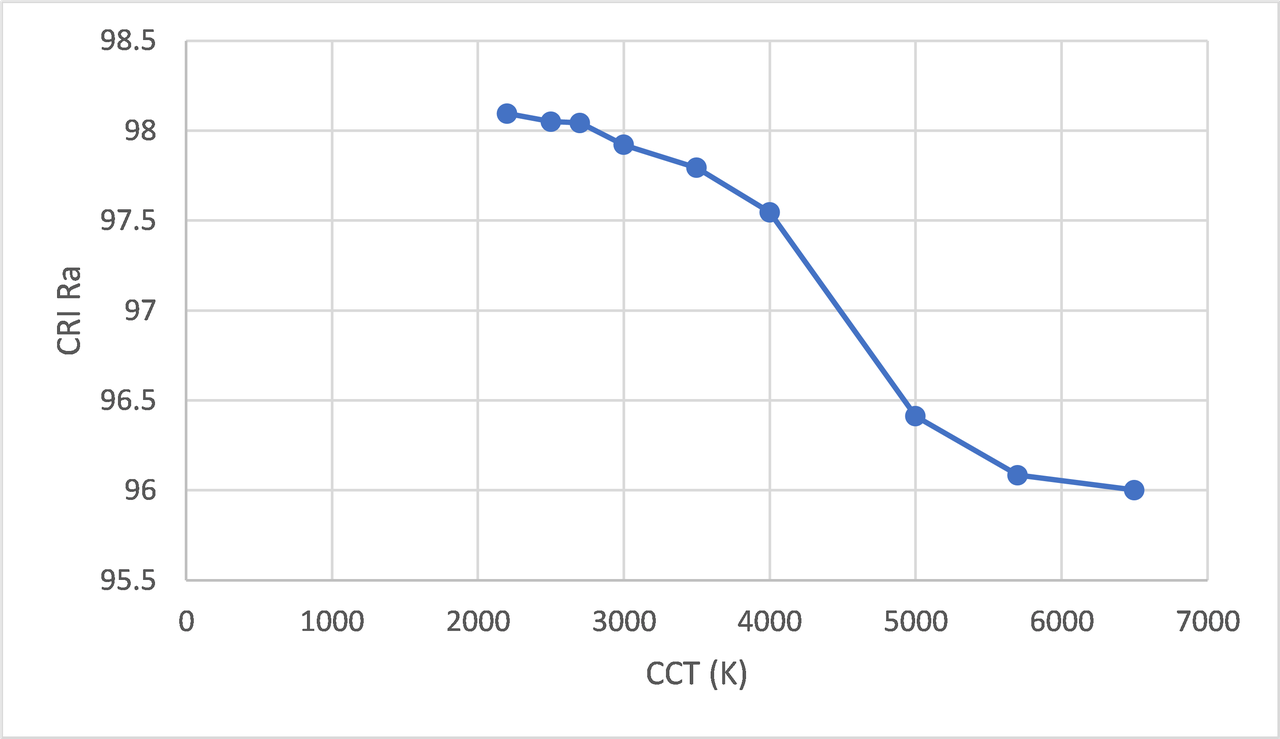 Figure: In a red-green-blue-lime-pc amber-cyan system, 96-98CRI can be achieved for CCTs across the range.
Click here to see a comparison of white light CRI and color spectrums for LUXEON Rubix multi-color solutions.
LUXEON Rubix is a 3 Amp, 1.4mm x 1.4mm high power LED : Cyan, Blue, Royal Blue, Red, PC Amber, Lime, Green, and 5700K White in a 3Amp, 1414 package.  The entire LUXEON Rubix portfolio is available today through Lumileds distribution partners.
About Lumileds
Lumileds is a global leader in OEM and aftermarket automotive lighting and accessories, camera flash for mobile devices, MicroLED, and light sources for general illumination, horticulture, and human-centric lighting. Our approximately 7,000 employees operate in over 30 countries and partner with our customers to deliver never before possible solutions for lighting, safety, and well-being. To learn more about our company and solution portfolios, please visit https://lumileds.com.
For further information, please contact:
Steve Landau, Director Marketing Communications, +1 408-710-4090
___
© 2022 LED professional / Luger Research e.U.