Featured | Products, Materials + Tools

|
Jun 06, 2016
BJB Designs New Fixation Solutions for LED Modules with Push-to-Fix (P2F) Fixing Elements
At Light Fair International., BJB unveiled new P2F fixing elements designed for blind holes and aluminum track applications. BJB's P2F (Push-to-Fix) fixing element is the highest quality method for attaching LED printed circuit boards into luminaire housings on the market today.
Designed for simple, push-in installation, the P2F ensures permanent, contact pressure (10-24 N) to the metal housing allowing for excellent heat dissipation. BJB's unique solution is the industry's first mechanical fixation element specifically designed for optimal attachment of LED PCB light sources, far surpassing metal threaded screws, plastic clips or adhesives.
A silicon ring compensates for thermal expansions and mechanical stresses – eliminating warping or cracking of the LED board.
The electrically insulating connection to the PCB is shock and vibration resistant. There is no need for a torque screwdriver system which has to be calibrated. The P2F can be installed quickly and securely by hand or with the aid of an installation tool.
It's a snap! Optimize assembly, reduce cost and improve your fixture design with the P2F!
Quick, push-in installation (manually by hand or with BJB bit tool)
Permanent contact pressure (10-24 N)
Electrically insulating connection to PCB
Shock & vibration resistant
Color-coded varieties indicate package thickness (1.5 – 4.0 mm)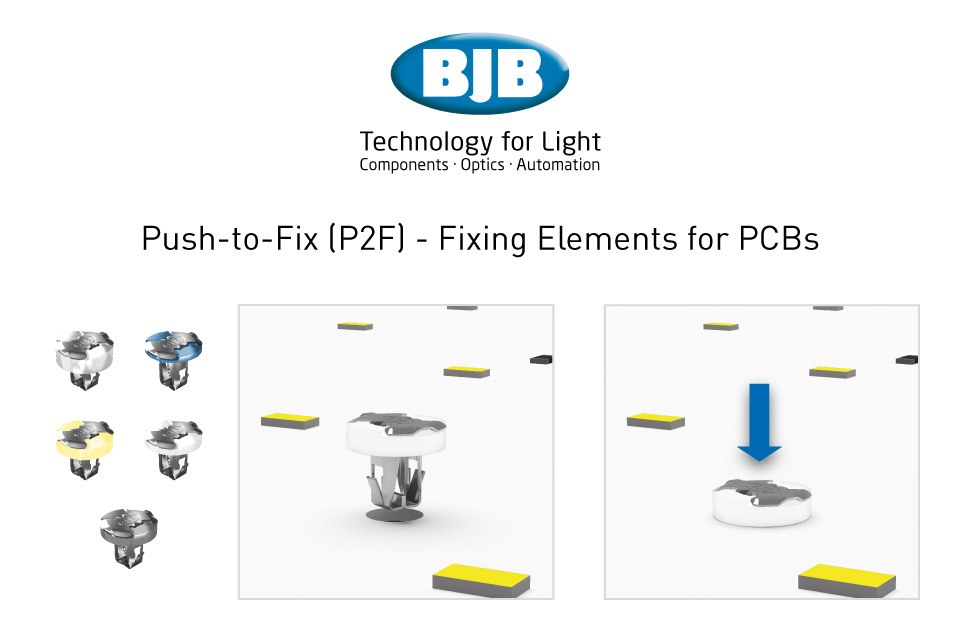 General Product Information
Product Series Number: 28.901/902/903
Material: CrNi spring with silicon insulating ring
rating: 80°C
Ring diameter: ø 8.0 mm
Suitable for Zhaga certified LED modules
Eliminates potential damage from screw fixing due to low insertion force
"Floating" connection offsets thermal tolerances of PCB
Assembly without any additional tools possible
Solutions for automation upon request
Removable from front
Part no.

Thickness of PCB and
Fixture Housing

Ring Color Code

28.901.U162.10

1.5 - 2.0 mm

clear

28.901.U163.10

2.0 - 2.4 mm

yellow

28.901.U164.10

2.4 - 2.7 mm

grey

28.901.U165.10

2.7 - 3.2 mm

white

28.901.U166.10

3.2 - 3.6 mm

blue

28.901.U169.10

4.0 mm

clear
About BJB
BJB is a world-renowned German manufacturer and lighting technology expert offering a comprehensive range of products & services: LED modules, COB holders, optical components, PCB fixing elements, SMD connectors, testing and automation solutions. BJB has been a leader in the lighting industry since 1867 and today pioneers innovative solutions for solid-state lighting technology. 
Visit www.BJB.com for more product information or contact us below for samples.
Contact
BJB USA
BJB Electric, L.P.
6375 Alabama Highway
Ringgold, GA 30736,
USA

Tel: +1 (706) 965-2526
E-mail: sales@bjb.com
Web: www.bjb.com
BJB Headquarters
BJB GmbH & Co. KG
Werler Str. 1
59755 Arnsberg,
Germany

Tel.: +49 2932 982 0
E-mail: info@bjb.com
Web: www.bjb.com