Parking Lots | Smart Lighting + IoT | Lighting Applications

|
May 19, 2016
Inteligent LED Lighting System for Efficient Parking Concepts
Lighting plays a key role in parking management in two important aspects: the cost, including consumption and maintenance, and users experience, which results in customer's loyalty. That's why LED lighting is a key technology for parking lighting because it gets a better lighting for each parking lot while reducing the energy use and, therefore, the cost.
Circontrol has been working on LED lighting for car parks for a while but with LedPark it goes one step further creating a new concept with an intelligent lighting and management system integrated with CirPark Guidance and Occupancy System for car parks. This system adjusts the luminosity regarding vehicles' and people's flow and schedule obtaining a cost reduction in energy use, installation, maintenance and emergency lighting much higher than with other traditional lighting systems.
Among the advantages of Circontrol's LedPark system there's the cost reduction. LED technology represents a 60% saving on energy use and LEDs lifespan is ten times higher than fluorescent light lifespan.
For a car park with 100 parking lots that uses LedPark system the consumption would be 12.709 Kwh in its maximum use and just 5.086 in its regulated use, representing a reduction of energy consumption between 74% and 89% compared with the use of fluorescent lighting (depending on if LedPark is on maximum or regulated use).
Circontrol's LedPark also represents a saving in maintenance and emergency system because our system performs this function.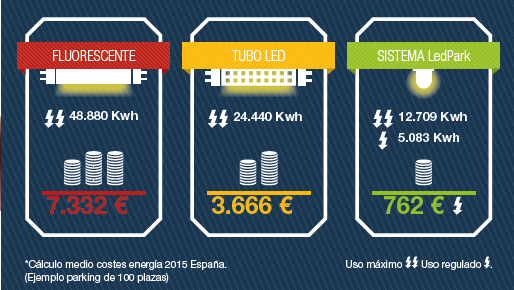 LedPark improvements are not only economical; it also increases customer's loyalty. LED lighting creates a more pleasant and comfortable environment for the users with a lighting management regarding schedule, occupancy and vehicle's and people flow. All this managed by SCADA software and CirPark Guidance and Occupancy system that works together with LedPark in a common installation and amortization. An amortization that will take place in 2 or 3 years, depending on energy costs.
About Circontrol

It is a manufacturer company leader in its sector; with over 20.000 Electrical Vehicle Charging Stations all over the world and more than 450 Car Parks managed by its own Green Parking Platform.